When we hear the word "cacao," we usually think of chocolate and all its different forms and flavors. But, what if we could transform our image of cacao by creating a completely new, delicious product extracted from cocoa beans?
Meiji has been conducting research based on this idea. The result is a total reimagining of chocolate: a unique cocoa flavanol extract with a gorgeous pink color and fruity flavor. In Spring 2023, Meiji plans to launch a beverage using this extract to offer an unprecedented cocoa drinking experience.
The new drink sparks everyone's curiosity with a question: "What is this pink liquid extract from cocoa beans?" We asked Ishida and Toyota of the Cacao Group at the Technical Research Institute about the extract's development story.
What is the new cocoa flavanol extract?
Cocoa flavanols are a component of cocoa polyphenols, which are micronutrients containing powerful antioxidants. The process of transforming cocoa beans into chocolate reduces the amount of cocoa polyphenols. However, we can minimize this reduction and retain a higher quantity of polyphenols when we process cocoa beans into an extract. Ishida offers some insight:
We discovered offering cocoa flavanols as an extract could create new, enticing possibilities for cacao. This was our starting point.
The research led to the creation of the cocoa flavanol extract, revealing a world of undiscovered tastes and experiences in the cocoa industry. Reactions from people who have tasted products using the extract range from, "I could experience that cacao is actually a fruit" to "my entire image of cacao has changed."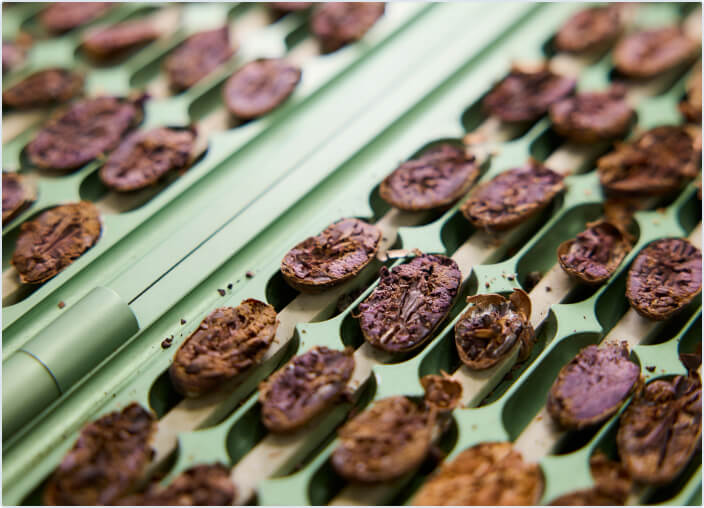 Dried cocoa beans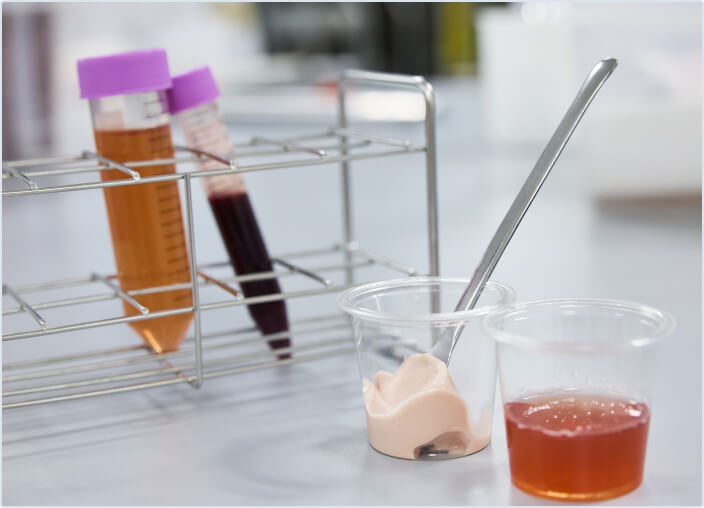 Extracted cocoa flavanols
Collaboration with universities and farms in Vietnam
Meiji's collaborative partnerships with research institutes and farms in Vietnam enabled the successful development of the cocoa flavanol extract. This project would not have been possible without Meiji Cocoa Support, a program we created in 2006 to offer R&D and other industry support strategies for local communities of cacao growers around the world.
Meiji researchers traveled to Vietnam for an extended stay during the program to establish strong relationships with farms and Mr. Phuoc, a leading expert in cacao research and a former professor at Ho Chi Minh City University of Agriculture and Forestry.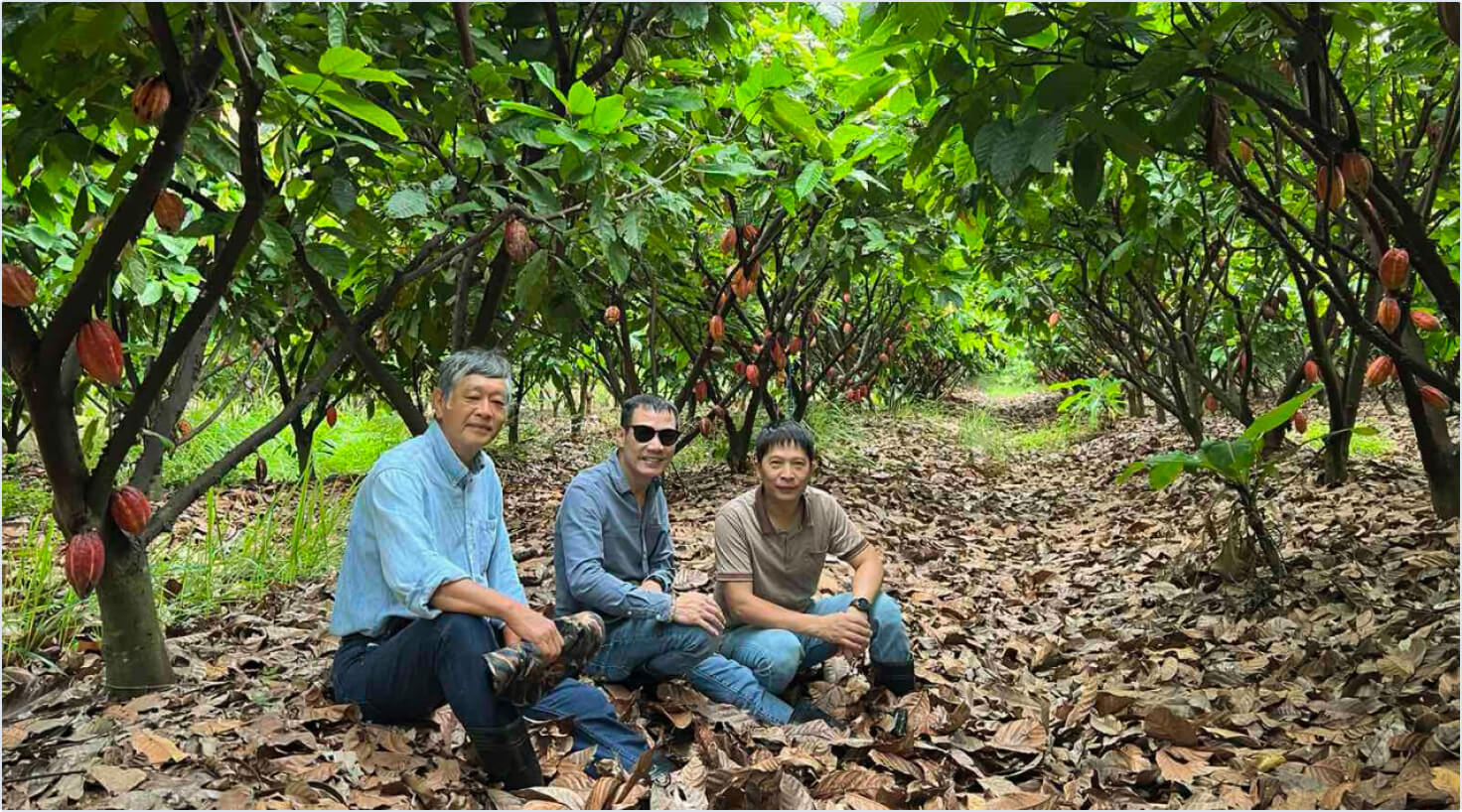 Mr. Phuoc (left), Mr. Tuan (farm CEO, center), and Mr. Lam (member of the board of directors, right)
Cocoa bean production may work well in an experiment, but full-scale production on a farm is not always successful. Additionally, regional differences affect cocoa's flavor and nutritional content. That's why we study the unique, local characteristics of cocoa production and consult with experts like Mr. Phuoc in Vietnam.
Through our joint research, we discovered that Vietnam is the ideal location for cultivating dried cocoa beans, as it provides the best conditions for later processing them into an extract form. We've now optimized the entire process of creating an extract from cocoa beans thanks to the knowledge we accumulated together through research and development.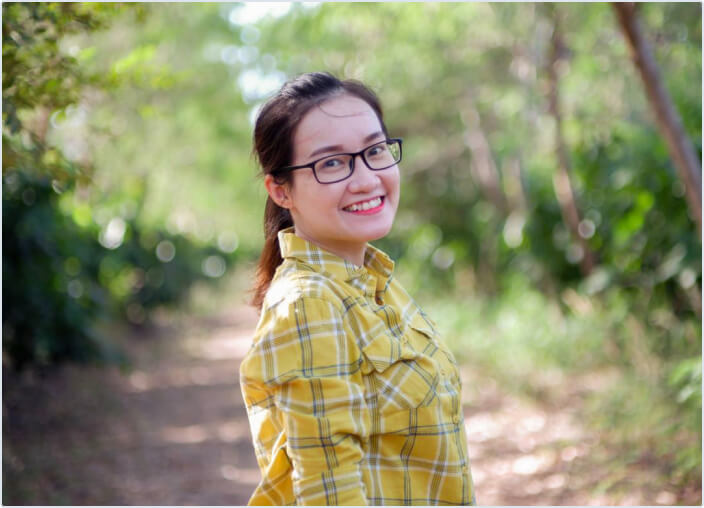 Ms. Phuong, the plantation's procurement manager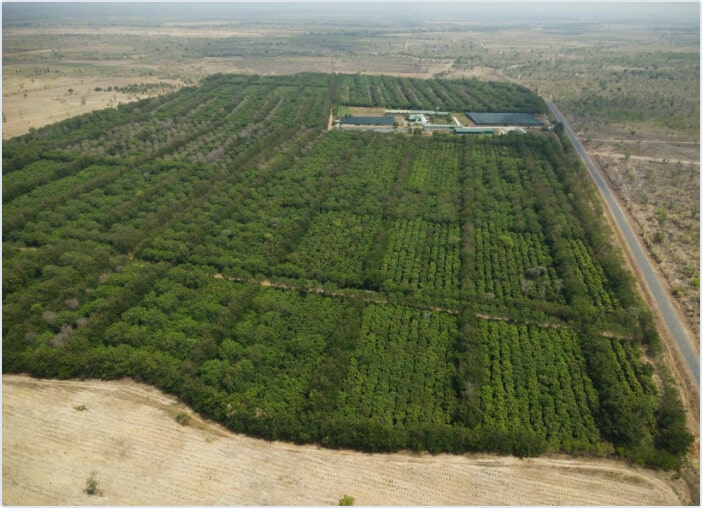 This plantation began by planting cacao trees in the wilderness and has grown to 300 hectares today.
Research expands the cocoa industry in Vietnam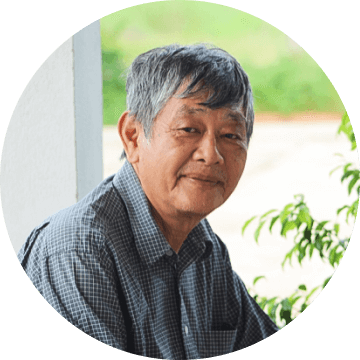 Mr. Phuoc, former professor at Ho Chi Minh City University of Agriculture and Forestry
We've been building a strong, trusting relationship with Meiji since 2009 when we began joint research. Together, we've gained a wealth of valuable data from our experiments, particularly on the cocoa fermentation process, greatly enriching our understanding of the entire industry. This applied research is crucial for business growth since cacao is still a relatively new crop in Vietnam. As a researcher, I am delighted at the opportunity to participate in such research and contribute to the development of the cocoa industry in my country.
Delivering the highest quality cocoa unique to Vietnam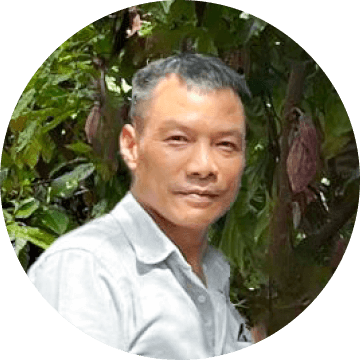 Mr. Tuan, CEO, at the Central Highlands farm in Vietnam
We've learned a lot about cocoa production from Meiji since we started growing cacao trees in 2016. Now, our farm is the largest in Vietnam. Meiji has helped us improve our production process and we hope to further enhance our capabilities by producing the highest quality cocoa beans with flavors unique to our region. We also look forward to collaborating with small-scale farmers to increase employment opportunities and help them earn a stable income from their work in the industry. We're excited to continue growing and working together with Meiji as a reliable partner.
Material development is a process of trial and error
Optimizing cocoa beans for chocolate requires different processing techniques compared to optimizing them for an extract. As a result, Meiji researchers were unable to rely on previously established and proven methods, prompting the need to develop an entirely new technique for processing cocoa beans into flavanol extract. However, the earnest and enthusiastic assistance from the people in Vietnam served as a motivating force for the researchers to push forward. Ishida tells the story:
I am truly happy to have been a part of this team. The researchers and the workers maintained a strong commitment to learning and understanding what worked and did not work during the trial-and-error process.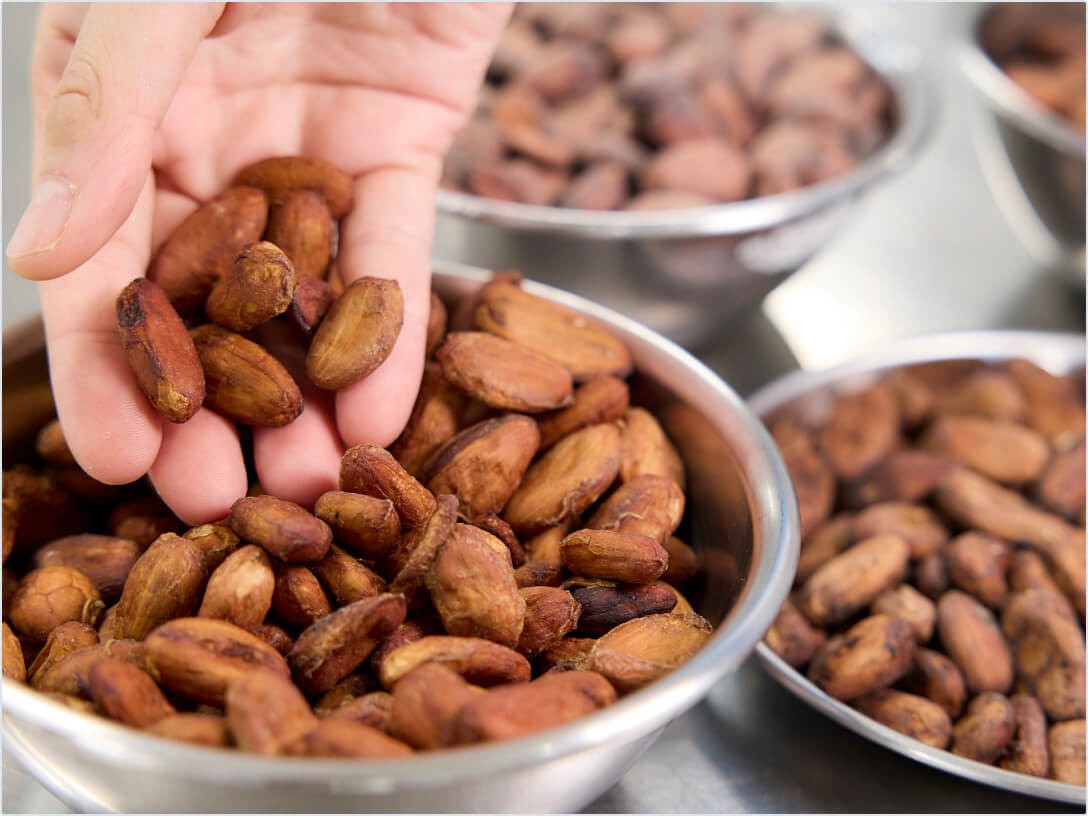 All of the people who worked on the plantations in Vietnam exhibited a strong sense of determination and collaboration throughout this challenging project. Ishida and Toyota, who were both involved in the research, expressed a common objective to reward the efforts of the local workers with solid, profitable results.
Cocoa production gives back to the local communities
As researchers, Ishida and Toyota enhance the value of cacao by expanding product possibilities beyond chocolate. They also ensure reliable product distribution. Their work creates good business with healthy profit returns for cocoa-producing regions.
Researchers like us have the pleasure of meeting the cacao growers in person, often working together on the plantation, so we know success is a direct result of their hard work and dedication.
Toyota says personally knowing the growers deepens his determination to return profit to the local communities. Furthermore, the excessive heat in these production areas often melts chocolate, so local people do not always have the opportunity to enjoy the result of their efforts. Cocoa extracts, on the other hand, provide a delicious alternative—in the form of chilled beverages or even sorbets.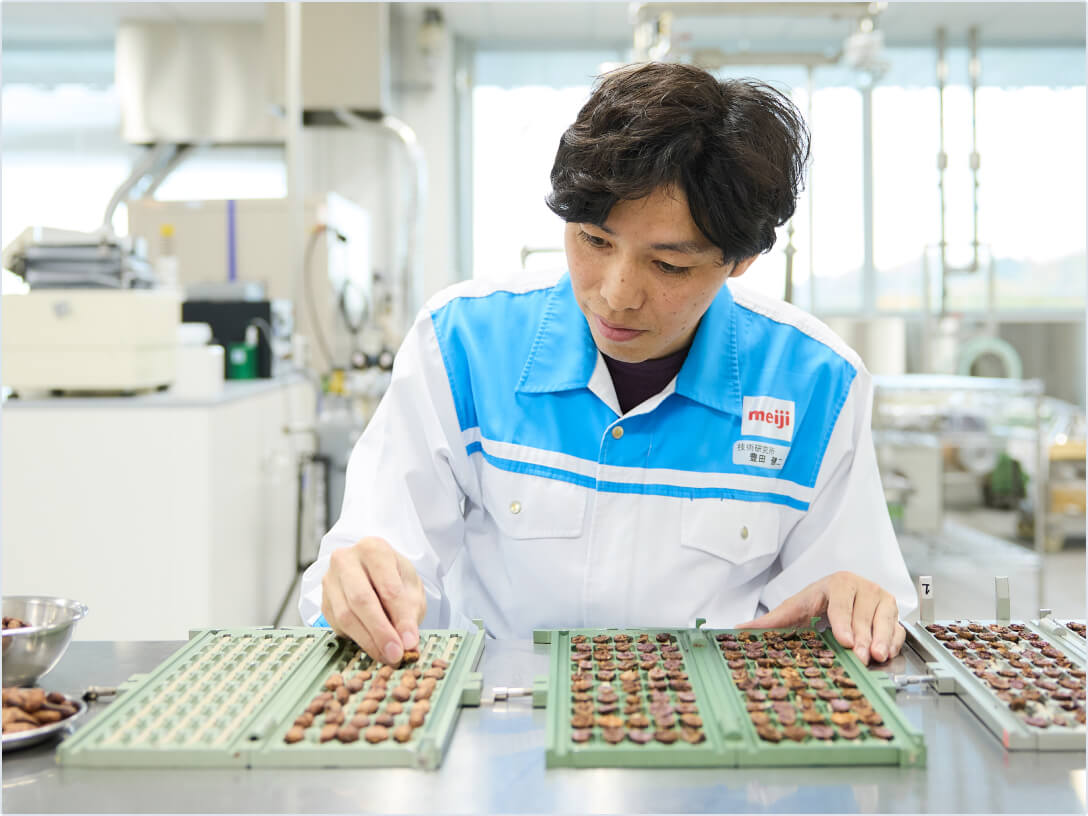 The cocoa industry is still a relatively small-scale operation in Vietnam. However, Ishida has had the opportunity to visit local farms and she believes that this project will generate interest in cocoa production for more communities.
Our hope is to spread cocoa production to more communities in Vietnam so they too can gain the benefits of successful business and experience the joy of cocoa in its many delicious forms.