Nama chocolate, known for its velvety texture and rich flavor similar to ganache-type chocolate, has long captivated sweet enthusiasts. However, its need for refrigeration and limited shelf life make it hard to be readily available. Recognizing this problem, Meiji developed a solution: Nama Chocolat, a game-changing nama chocolate that can be stored at room temperature for a long period of time.
Storage concerns for nama chocolate have always been a purchasing hurdle. The improved shelf life of this innovative nama chocolate makes it easier for consumers to buy. We are currently working to promote the adoption of this new product in the business to business (BtoB) market through our Meiji Application Center where we develop recipes and menus for commercial use. In this article, we will unveil the technological development behind our innovative nama chocolate.
From awareness to innovation—advancing the development of a new nama chocolate
Leading the development of Mizuneri Nama Chocolat was Yuki Nishimura, who is involved in the research and development of confectionery ingredients for the souvenir and gift market. The inspiration came to Nishimura when he tried to buy nama chocolates as a souvenir while on a business trip to Hokkaido. He realized that in order to keep it from melting, he had to purchase ice packs and a cooler bag, which made it inconvenient to carry.
Buying nama chocolate along with ice packs and a cooler bag can quickly escalate the price. Given the high consumer demand for nama chocolate, solving the issues of storability and shelf life would make people happy.
With this, the journey to develop a new type of nama chocolate began.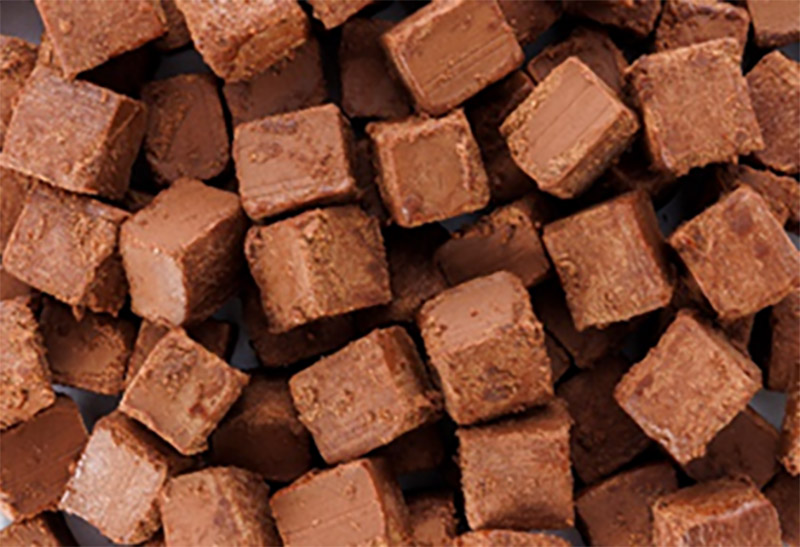 Meiji's unique expertise pioneers technology for a longer shelf life
Nama chocolate is strictly regulated by the Japan Fair Trade Commission. To earn the "nama chocolate" label, it must contain a minimum of 10% water, 10% fresh cream, and 60% chocolate batter by weight. The unique composition of a higher water content gives it a velvety texture, but poses a challenge: its refrigerated shelf life is limited to a mere two to three weeks. Some fixes to extend shelf life, like incorporating alcohol, or additives, present taste-related concerns.
So, how to extend the shelf life of nama chocolate without compromising on quality? Nishimura attempted to mitigate the risk of microbial growth by reducing the water content to the lowest allowable level of the standards and explored innovative approaches to alter the presence of water.
Conventional nama chocolate emulsifies oil in water, resulting in a high water activity*, and thus low shelf life and heat resistance. However, in Mizuneri Nama Chocolat, a special structure is created in which water, oil, and solids intertwine, effectively suppressing water activity and minimizing the risk of microbial growth. This enhances the shelf life and stability of the chocolate.
Meiji's expertise in food product development, extending beyond chocolate, played a key role in developing the unique structure of Mizuneri. With a team of skilled engineers and collaboration between the research and manufacturing departments, Nishimura, the driving force behind the project, conceived the idea of Mizuneri. The result is a nama chocolate that can be stored at room temperature for up to six months without the need for any additives. This breakthrough allows consumers to savor the smooth and rich taste of nama chocolate for a longer period, without compromising on quality or taste.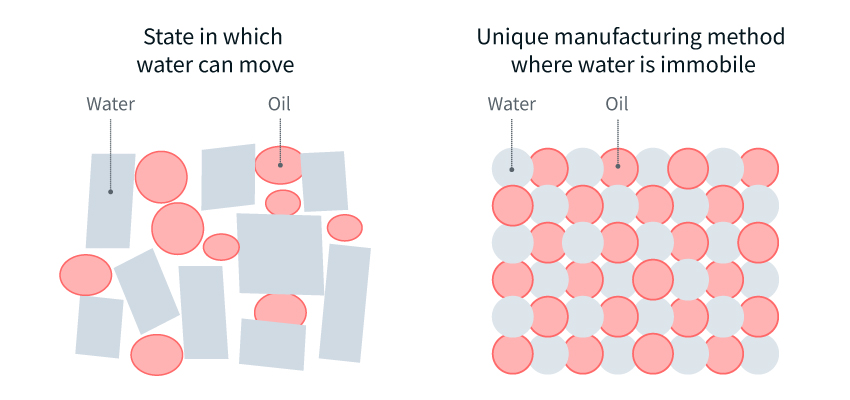 Balancing both shelf life and delectable flavor
The development of this groundbreaking technology has been a challenging journey, and Nishimura reveals that the most difficult aspect was finding the perfect balance between shelf life and deliciousness.
To achieve the smooth texture and rich flavor of nama chocolate, we were particular about using ample fresh cream and Venezuelan cocoa beans with nutty undertones to enhance the aroma. Through extensive trial and error and fine-tuning the ingredients, we achieved a balance that elevates both the shelf life and the taste.
In addition, Nishimura is planning to gradually extend the shelf life of Mizuneri Nama Chocolat and is excited about the future development of this product.
By extending the shelf life, we foresee its potential as an emergency stockpile food for emergency situations. Not only does it last longer, but it also tastes better. I believe that many people would be happy to have such a delicious option.
Expanding the BtoB market and our vision for the future
No matter how good a product is, its significance lies in its widespread adoption in the market. That's why Nishimura is currently focused on expanding the market for Mizuneri Nama Chocolat. One aspect that receives special attention is the collaboration with the Meiji Application Center. Led by recipe development expert Hiromitsu Nagai, this facility actively offers innovative ways for customers to utilize the unique qualities of Mizuneri Nama Chocolat.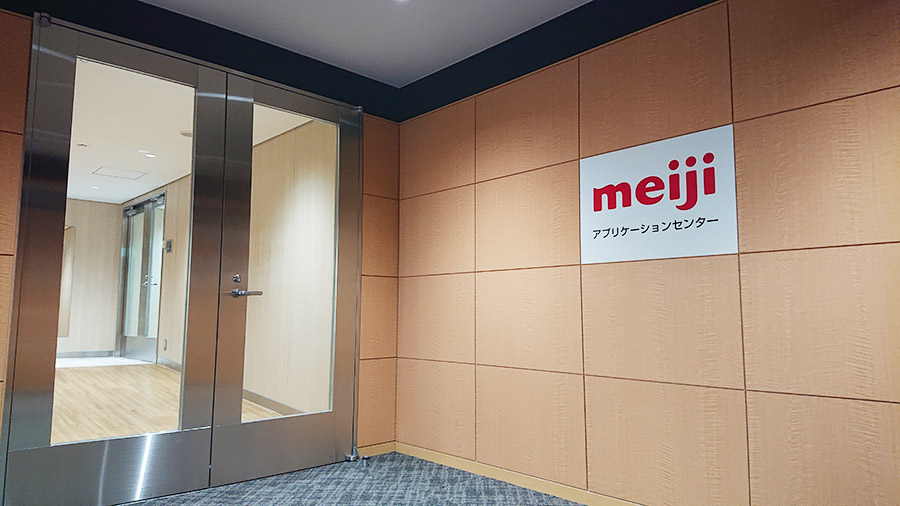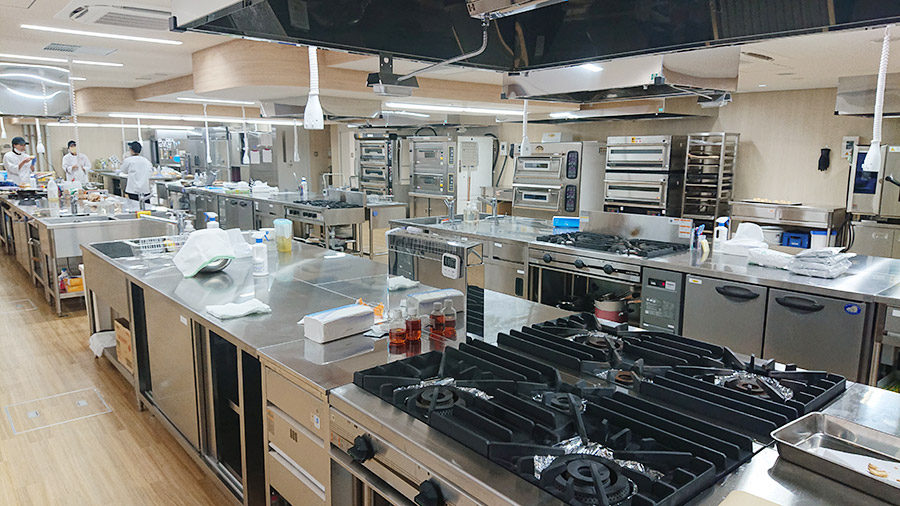 Food processing is a mechanical industry. Even with innovative ingredients, they are meaningless unless they can be incorporated into manufacturing facilities. At this facility, we have a wide range of machines used in factories, and we work hand-in-hand with customers to test and verify the machinery, manufacturing processes, and recipes that are suitable for Mizuneri.
Because Mizuneri Nama Chocolat is a new product, Nagai engages in constant experimentation. He passionately explores nuances of flavor and texture of ingredients and seeks the perfect balance that customers will enjoy. Many customers currently use the product by hand. Nagai's next challenge is seeking out machines that can process and handle its unique characteristics and ensure seamless integration into the customers' own factory facilities.
Nishimura believes that expanding the market for this type of commercial ingredient will also open up new possibilities for chocolate.
The beauty of BtoB ingredients lies in its versatility. Through customer-driven innovation and creativity, we are able to deliver a steady flow of new and exciting chocolate creations to consumers. Moving forward, our goal is to keep developing products that are shelf-stable and improving upon them even more, without compromising on taste.