Circular Society Targets
Targets of the 2023 Medium-Term Business Plan (effective until March 31, 2024)
KPI
Base Year
Results
Target
FYE 3/2022
FYE 3/2024
FYE 3/2031
FYE 3/2051
Consolidated domestic recycle rate 97% or above
(Scope of aggregation: Consolidated domestic subsidiaries of Meiji Group)
-
81%
85%
-
97% or above (zero emission)
Reduce product waste in our domestic food business by 50% by FYE 3/2026
(Scope of aggregation: Consolidated domestic subsidiaries of Meiji Group)
FYE 3/2017
34.1%
42%
50%
(by FYE 3/2026)
-
Reduce domestic plastic usage (packaging, etc.) by at least 25% by FYE 3/2031
(Scope of aggregation: Consolidated domestic subsidiaries of Meiji Group)
FYE 3/2018
TBC
15%
25%
Minimize the use of new natural capital
Ensure 100% effective use of materials used by our logistics division (pallets, crates, and stretch film, etc.) by FYE 3/2031, through reuse and recycling.
(Scope of aggregation: Consolidated domestic subsidiaries of Meiji Group)
-
-
-
100%
-
Expand usage of bioplastics and recycled plastics
(Scope of aggregation: Consolidated domestic subsidiaries of Meiji Group)
-
-
-
-
-
Reduce Environmental Impact
Waste Amount1
Unit
FYE 3/2017
FYE 3/2018
FYE 3/2019
FYE 3/2020
FYE 3/2021
FYE 3/2022
Total Waste2
Japan
10,000 tons
5.4
6.3
2.8
2.8
2.5
2.4
Japan (Per unit of sales)
Ton/100 million yen
4.6
5.4
2.4
2.4
2.3
TBC
Global
10,000 tons
-
-
-
3.1
3.0
2.7
Global (Per unit of sales)
Ton/100 million yen
-
-
-
2.5
2.5
TBC
Hazardous Waste
10,000 tons
-
-
-
-
0.2
0.1
Recycled material3
10,000 tons
5.1
5.9
2.42
2.32
2.02
2.02
Final Disposal Volume (Landfill)
10,000 tons
-
-
-
-
0.1
0.1
Food product waste reduction rate
%
Base Year
15.3
21.9
25.1
29.3
34.1
Plastic usage reduction rate
%
-
Base Year
8.2
9.8
11.7
TBC
Independent Practitioner's Assurance of Industrial Waste
Meiji Group's Integrated Report 2022 contains a report of our FYE 3/2022 domestic industrial waste. In order to improve the reliability of the data obtained, we have obtained the independent practitioner's assurance for domestic industrial waste from Deloitte Tohmatsu Sustainability.
Reduce Final Disposal Volume
We aim to protect the environment, and help realize a sustainable, circular society. In order to do this we are working to make effective use of limited natural resources, and further reduce final disposal volume. For example, by controlling production of waste materials, collecting and separating materials for recycling, and reducing the volume and thickness of containers and packaging.
Reduction of Waste Generated at Factories
The entirety of Meiji Group is focused on taking action to reduce the amount of waste generated.
Meiji has reduced production waste by 24 tons annually by modifying the pan release oil-spraying nozzle* used in Galbo chocolate production to change continuous operation to intermittent operation.
Position on Packaging
Packaging plays an important role in protecting the quality of food and pharmaceutical products, as well as in providing product information to consumers.
The Meiji Group designs the packaging in an environmentally friendly manner. To minimize the input of new resources, we reduce the amount of materials used and devise product packaging that is easy to recycle. In addition to the 3Rs (Three Rs), we work actively to utilize recycled materials and materials made from plant-derived sources and other renewable resources, pursuing "Renewable" as a fourth "R."
We select plastics, paper, glass, aluminum, steel, and other optimal materials in conjunction with the nature of the product in question, striving to ensure all packaging are sustainable. We also pursue research and development to enhance the functionality of packaging and quality retention to extend shelf life and provide other benefits.
Further, we strive in collaboration with the government and other external parties to establish systems for collecting used packaging. In this way, we contribute to the creation of circular economy.
Bottle Reuse and Other Recycling Initiatives
Meiji reuses and recycles the delivery bottles used in our home delivery service. Meiji's agents collect delivery bottles after consumers have finished with the product, after which the bottles are cleaned at our factory for reuse. After cleaning, polypropylene caps are recycled into cushioning materials and other resources by a specialized company. In pursuit of these activities, we encourage consumers to participate in collecting bottles as an environmentally friendly activity. Of course, delivery bottles will become damaged during the cycle of use and reuse. These bottles are crushed and remolded to be recycled as new bottles. Meiji is reducing the weight of delivery bottles, and we are also endeavoring to reduce the amount of glass used.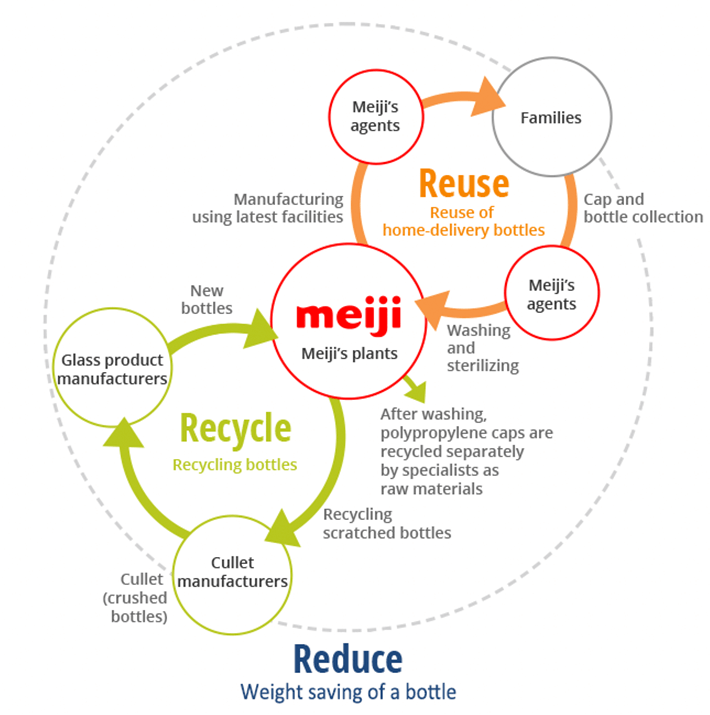 Plastic packaging Recycling Initiatives
Plastic packaging used exclusively for home delivery are made of 100% recycled plastic resin, and new plastic packaging are made from used plastic packaging.
Municipalities collect plastic packaging used for home delivery after use.Some of these packaging are crushed at a plastic packaging factory to become raw materials for new plastic packaging, which are then formed into plastic packaging and shipped to the Meiji factory. This approach reduces the use of petroleum resources and reduces CO2 emissions.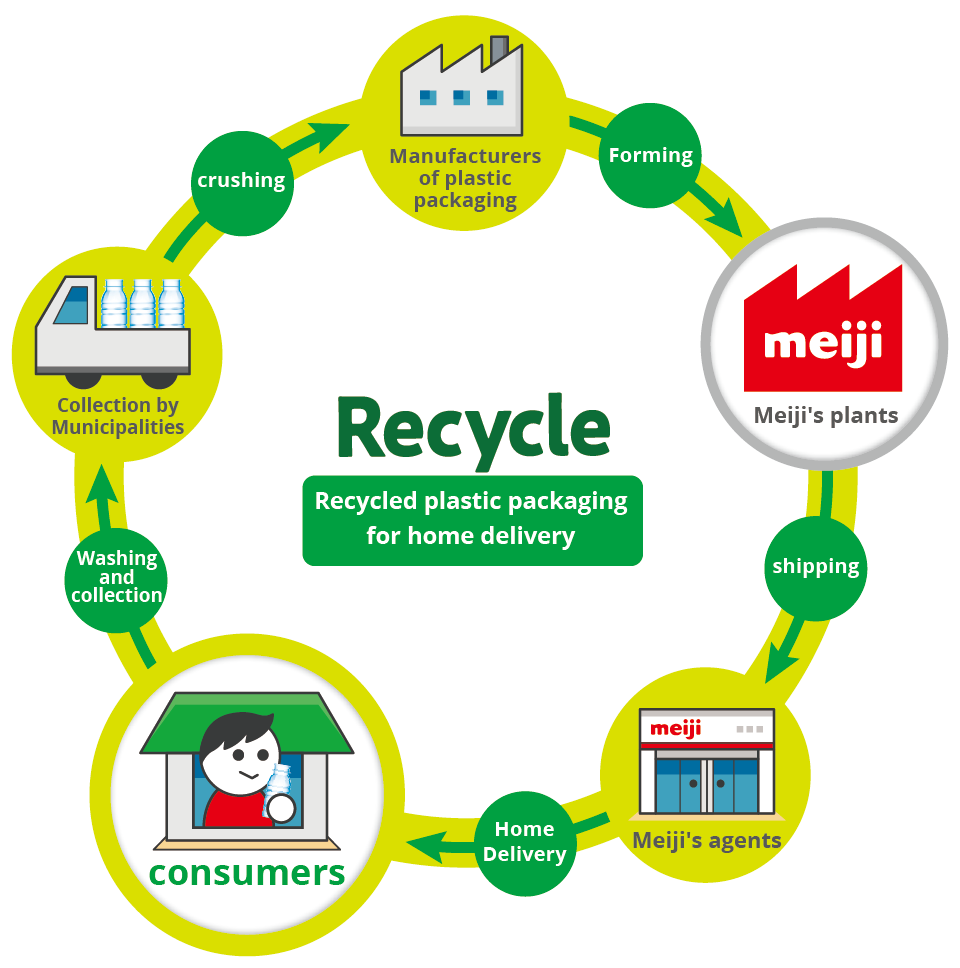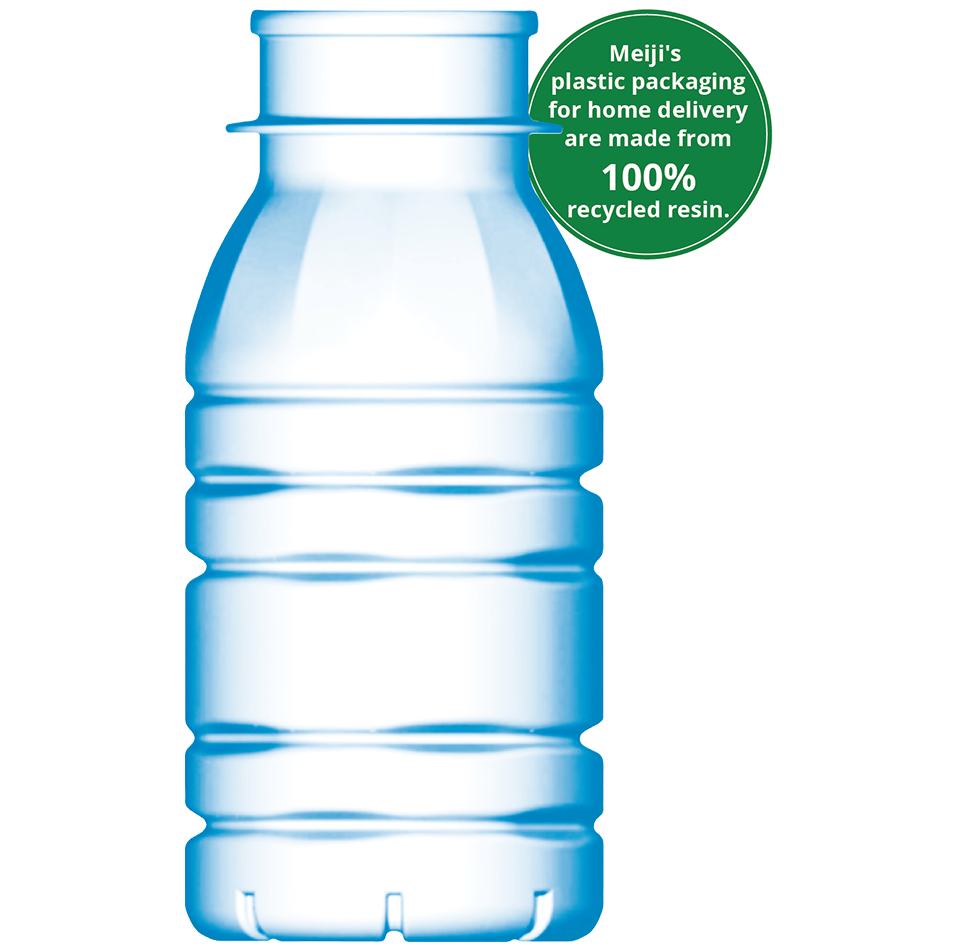 Paper packaging Recycling Initiatives
Meiji Group employees in Japan take part in our "Paper Packaging Recycling Campaign" twice per year. We collect and recycle our paper packaging.
Through this we are aiming to increase our employees' awareness of environmental issues.
Volume Reduction of Containers and Packaging
We are continuing to reduce the size and thickness of our packaging (while always ensuring quality is maintained), in order to avoid waste of precious resources. Focusing on tackling the problem of marine plastic pollution, we are also taking measures to reuse resources.
In July 2020 we established the Meiji Group Plastic Policy with the goal of reducing use of plastic by at least 25% by FY2030 (compared to FY2017). Here is one example of this initiative in action: we are reducing the weight of our products' plastic bottles, as well as reusing and recycling plastic appliances used in storage and transportation. We are also increasing the use of organic bioplastics and recycled plastics for straws and product packaging.
In January 2021 production of our protein brand Savas' plastic cap began progressively switching to a more environmentally-friendly mix of 10% bioplastics. The packaging now carries Japan Organics Recycling Association's "Biomass Mark."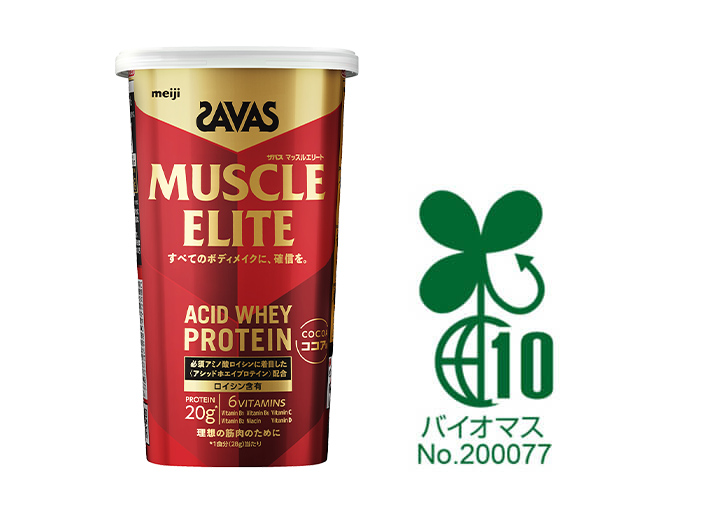 Switching to a bioplastic mix for plastic straws attached to our products
Every year make use of around 650 million plastic straws for attachment to drink products. From February 2021 we began progressively switching to a mix of 5% bioplastics.

Reduction of Food Loss
"Food Loss" refers to food that is still edible, but that is thrown away by manufacturers, retail, the food service industry, or by households. According to estimates in FY2020 by the Ministry of Agriculture, Forestry and Fisheries and the Ministry of the Environment, 5.22million tons of food is wasted domestically each year. Meiji Group is aware that food loss is part of a serious societal problem and is taking the following steps, in line with government guidelines and industry association policies.
Reducing Dead Stock via Improved Demand Planning
Our manufacturing and sales divisions are cooperating to put together demand plans, taking into account various data, such as past sales and upcoming sales promotions. We are into account various data, such as past sales and upcoming sales promotions.
Changes to Best Before Date Labelling
We are progressively changing our food labelling from "Year/Month/Day" to "Year/Month".
We expect this switch to "Year/Month" labelling to enable greater coordination between production, delivery, and sales divisions. Thus, we are anticipating an improvement in logistical efficiency throughout our entire supply chain, leading to a reduction in food loss.
From February 2020, we have changed the best before date of around 120 shelf-stable products, including frozen products, with long-term (at least 1 year) expiration dates over to "Year/Month" labelling.
Extending Best Before Dates Without Sacrificing Quality
We are extending the best before dates of certain confectionaries, drinks, nutritional products, and prepared foods where scientific and sensory analysis has shown it will not affect quality. This will help us reduce waste from expired, but otherwise safe and edible products.
| Products | Food Labelling (Best Before Dates) |
| --- | --- |
| Yoguretto and Hi Lemon | 9 months → 12 months |
| Meiji Hohoemi Rakuraku Milk Liquid infant formula | 14 months → 18 months |
Thanks to impeccable hygiene on the production line, and our new freshness-ensuring cartons (made from light-blocking materials, and filled to the brim), Meiji Oishii Gyunyu's best before date has changed as follows:
| Products | Food Labelling (Best Before Dates) |
| --- | --- |
| Meiji Oishii Gyunyu | 15 days from date of production → 19 days from date of production |
Working with the Distribution Industry to Review the "One-Third Rule"
Progressively changing our food labelling from "Year/Month/Day" to "Year/Month". We expect this switch to "Year/Month" labelling to enable greater coordination between production, delivery, and sales divisions. Thus, we are anticipating an improvement in logistical efficiency throughout our entire supply chain, leading to a reduction in food loss.
The "one‐third rule" is a commercial practice that splits the time before a product's expiration date into three periods of equal length, split between manufacturer, retail, and finally consumer. This rule can lead to otherwise perfectly edible food being thrown away.
Meiji Group is working within industry associations to review time frames for product delivery. At this time we are working with retailers to relax the "one-third rule" to a "one-half rule".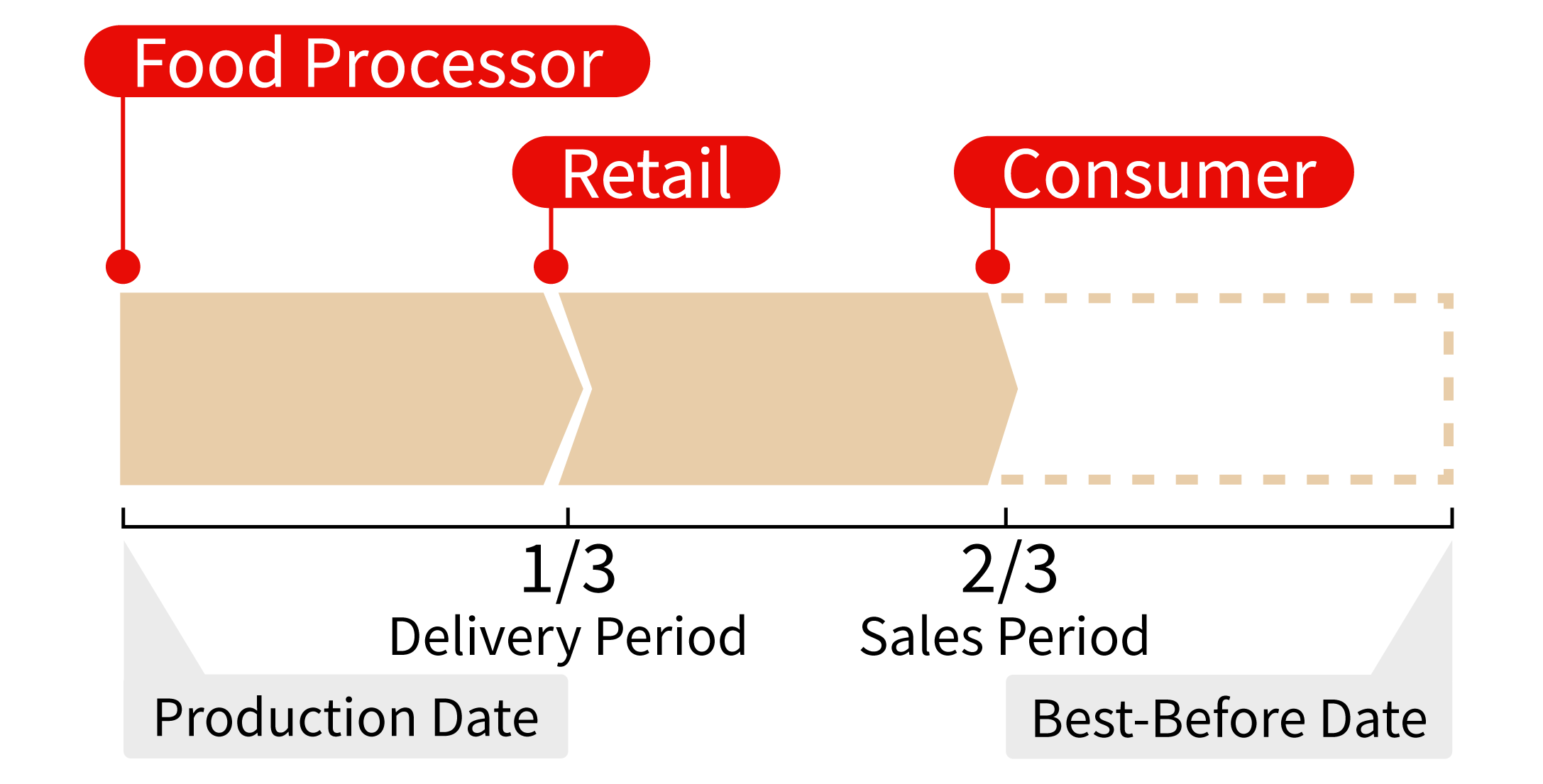 In the future, we will continue with this three‐pronged approach: working to relax the "one‐third rule", extending best before dates, and moving to "Year/Month" labelling.
Cooperation with Related Organizations
Cooperation with the All-Japan Food Bank Promotion Council
Working together with related organizations, we are continuing our efforts to reduce food waste.
Specifically, in collaboration with food bank organizations through the All-Japan Food Bank Promotion Council, we have begun donating products such as confectionery, pouch curry, and jelly drinks to food banks from January 2019. From June 2019 we also began donating our emergency food supplies that are approaching their best before dates, for regular use at food banks.
Cooperation with the WFP
We have been a supporter of the United Nations World Food Programme's "Zero Hunger Challenge" campaign since October 2020. This initiative connects efforts to reduce food loss within Japan with food aid for developing nations.
Appropriate Chemical Substance Management
We strive to reduce chemical emissions. Measures include equipment to absorb vaporized chemicals, switching to safer substances, and improved manufacturing methods that reduce or eliminate chemical substances.
PRTR Substances
We report chemical emissions and transfers in accordance with Japan's Pollutant Release and Transfer Register (PRTR) Act.
PRTR Substances*

FYE 3/2017
FYE 3/2018
FYE 3/2019
FYE 3/2020
FYE 3/2021
FYE 3/2022
PRTR Substance Emission Quantities
15.1
16.1
1.2
9.4
9.8
10.0
(13) acetonitrile
0.4
0.1
0.0
0.1
0.2
0.0
(127) chloroform
4.5
4.2
0.0
1.3
1.6
-
(150) 1,4-dioxane
0.1
1.9
-
-
-
-
(186) methylene chloride
9.2
8.5
-
7.3
7.2
9.1
(232) N,N-dimethylformamide
0.2
0.1
0.0
0.0
0.0
0.1
(342) pyridine
0.0
-
0.0
-
-
-
(411) formaldehyde
-
-
0.5
-
-
-
(438) methylnaphthalene
0.7
0.6
0.7
0.8
0.8
0.8
PRTR Transfer Quantities
625.8
386.0
291.8
56.4
394.6
64.2
(13) acetonitrile
25.5
32.8
7.4
2.5
3.6
2.2
(127) chloroform
1.5
2.8
53.0
0.0
29.8
-
(150) 1,4-dioxane
1.9
2.7
-
-
-
-
(186) methylene chloride
110.0
107.9
-
32.9
25.0
29.2
(232) N,N-dimethylformamide
478.0
239.4
231.3
20.9
336.2
32.8
(342) pyridine
8.9
-
-
-
-
-
(411) formaldehyde
-
-
0.1
-
-
-
(438) methylnaphthalene
0.0
0.0
0.0
0.0
0.0
0.0
Reducing Generation of Volatile Organic Compounds (VOCs)
In our Long-Term Environmental Vision, formulated in December 2020, the Meiji Group established the goal of zero environmental pollution arising from chemical substances originating in its business activities. As part of our efforts to achieve this goal, we have begun to compile data about and monitor atmospheric emissions of VOCs. We will continue to improve our facility operations to minimize VOC emissions into the atmosphere.
| | FYE 3/2017 | FYE 3/2018 | FYE 3/2019 | FYE 3/2020 | FYE 3/2021 | FYE 3/2022 |
| --- | --- | --- | --- | --- | --- | --- |
| VOC1 | - | - | - | - | 561.7 | 102.6 |
PCB Management
Each of our operating bases engages in the appropriate management of transformers and capacitors that contain polychlorinated biphenyls (PCBs).