Confectionery connoisseurs believe Germany created the first gummy candy about 100 years ago. At the time, gummy candies had a texture tailored to Western tastes and were not yet available in Japan, so Meiji set out to create new flavors appealing to domestic preferences in Japan. We focused on making the candy with a hardness and elasticity that combine to create a comfortably chewy texture.
In 1980, we released the first gummy candy in Japan, Cola Up. Later, we adopted the mainstream German "starch mold" manufacturing method of combining gelatin and pectin to achieve exquisite softness while maintaining elasticity. The result captured the natural taste, aroma, and color of fruit juice and pulp. We called it Juicy Gummy, and it was released in 1988, quickly gaining popularity among both children and adults. Juicy Gummy now boasts the number one share of the gummy market at 20.3%.*
Juicy Gummy
Juicy, fruity flavors blended with real fruit juice extract make Juicy Gummy the perfect snack. Try a variety of flavors, including the first product in the series, grape, and many more: tangerine, strawberry, peach, muscat, kiwi, lemon peel, acerola cherry, and lime. All Juicy Gummy flavors come packed with the rich taste of fruit, free from artificial coloring.
Fruit Flavors in Every Bite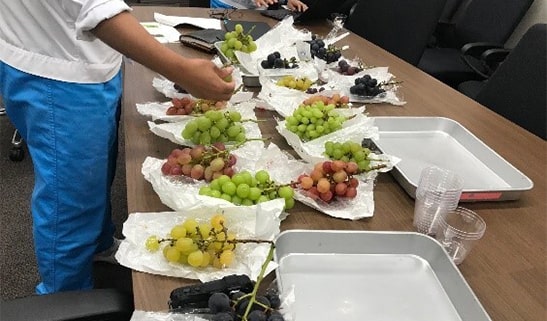 Premium fruit ingredients
We're constantly researching new fruits and blending the best varieties into Juicy Gummy, like our grape flavor made with quality grapes carefully selected from the word's top fruit-growing regions.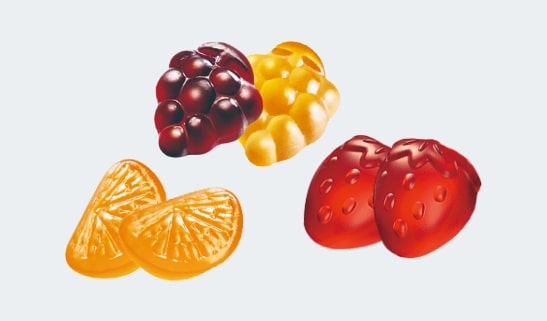 Fun fruit shapes
Each Juicy Gummy comes shaped like a fruit. We take special care to ensure the mold is accurate, like our mandarin orange flavor shaped like a real orange, even down to the pulp.
Product
Product information follows Japanese food labeling standards.
Product information follows Japanese food labeling standards.
Juicy Gummy Grape 54g

Gummy Candy
Contents: 54g
Ingredients: Starch syrup (manufactured in Japan) , Sugar, Grape juices concentrated, Gelatin, Indigestible dextrin, Vegetable oil, Corn starch/Acidity regulator, Gelling agent (Pectin), Flavor, Glazing agent (Contains Apple and Gelatin)
Storage: Store away from direct sunlight and high temperatures.
Nutrition Information


per 1 bag (54g)

Energy

179kcal

Protein

3.3g

Fat

0g

Total carbohydrate

41.4g

Sodium chloride

0.02g

Collagen

2,800mg