When it comes to sustainable sourcing, there's no substitute for a direct relationship with growers and suppliers.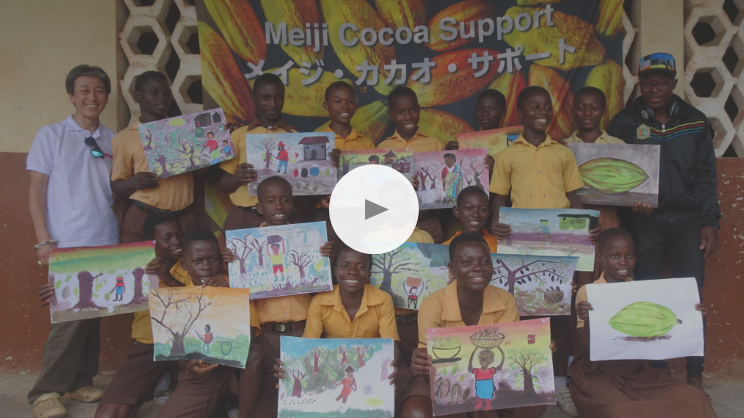 Aserewadi is a village in western Ghana with a most unexpected chief. Yoshinori Doi, the man from Meiji, has the status of a village leader with his own bracelet and traditional robe—even if the 26 thousand km round-trip from Japan means he cannot enjoy these privileges as often as he would like.
The village of Aserewadi happens to be one of the places where Meiji sources its cocoa. It was also the first beneficiary of the Meiji Cocoa Support program established in 2006, after an inspection visit by Doi led to the realization that Meiji needed to do more to support its suppliers on the other side of the world.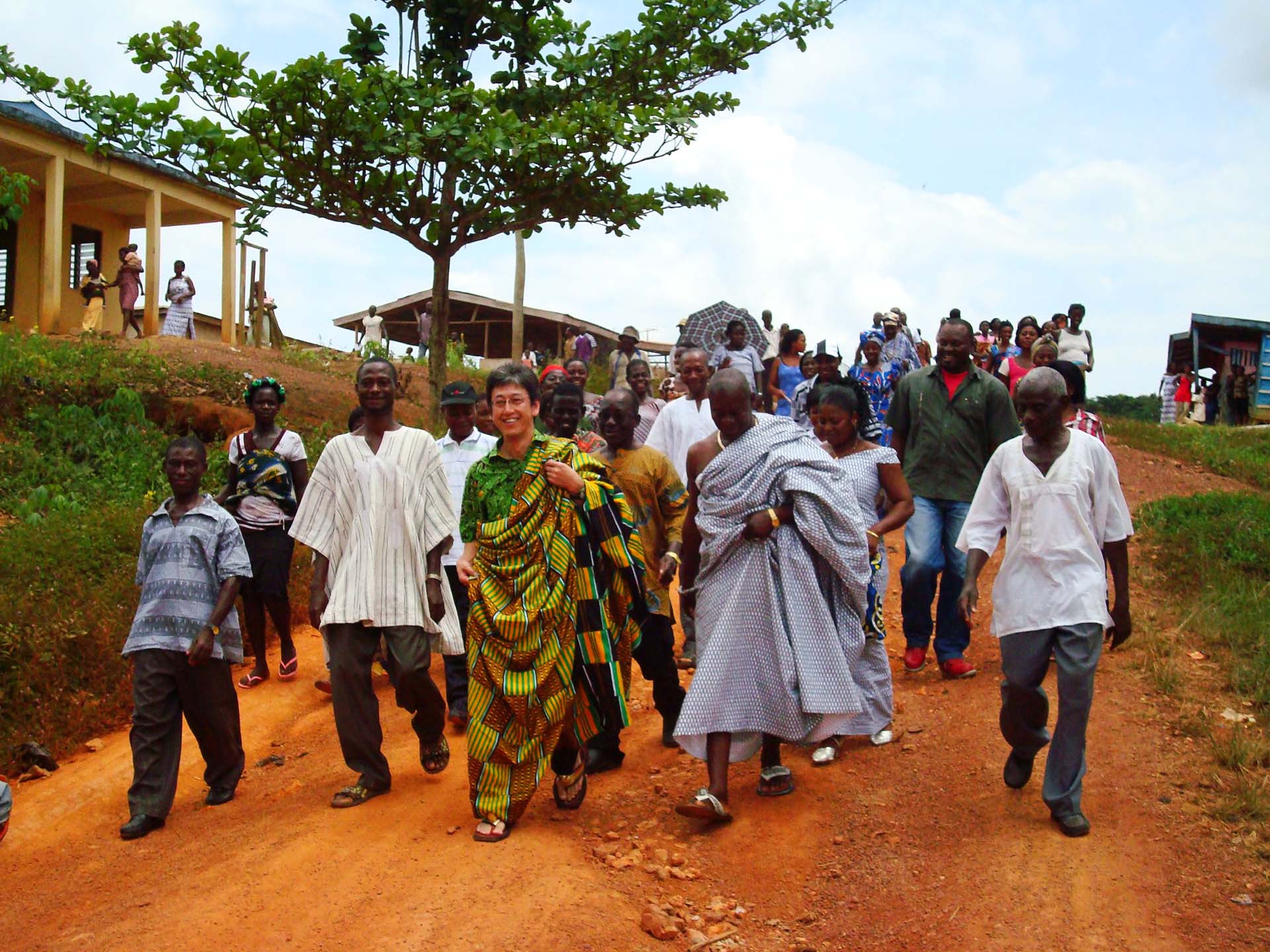 Doi recalls with horror that first trip to Ghana. "When I went to the countryside, there was no electricity or safe water supply," he says. "I heard that 30% of cocoa yield was lost due to diseases and pests. It was not easy for small farmers to get pesticides, fertilizers, and seedlings. Cultivation knowledge was not properly communicated. There was none of the infrastructure that we take for granted in Japan."
After returning to Japan, Doi advocated for a long-term approach that would see Meiji make a real investment in Aserewadi. "I believed it was important to build face-to-face relationships with the local people. There are not many companies that regularly visit remote areas. But by visiting as much as possible, we were able to gain the trust of farmers and the local traders."
To aim big, start small
The primary reason for the Ghana trip had been to conduct quality surveys that would ensure a more stable cocoa supply, against a backdrop of soaring global demand for the crop. Suddenly Doi, an engineer by profession, found himself thrust into the role of development manager for a village that lacked even basic amenities.
"At that time, Meiji had no real idea of how it might contribute to the local community. Back then, we had little budget and no manpower. We had to consider what we could do that would have the most impact." After fielding a range of suggestions from local villagers, the answer turned out to be building wells. "We realized that securing safe water for drinking and daily life would bring the most benefit to everyone."
Support quickly extended to providing farmers with seedlings, fertilizers, and pesticides, and sharing better cultivation techniques. Cocoa production is a risky enterprise. Farmers must grow seedlings for three to four years before they can harvest the beans, with additional time required for fermenting and drying. Pests or climate change can threaten the entire crop. By investing in local farms, Meiji was helping its suppliers to offset those risks.
Even community resources have to be sustainable, as Doi explains: "A system is now being built within the community to collect fees from wells in order to maintain them properly. It's important for the community to be self-reliant. This is how we approach things now."
From these ad hoc beginnings, Meiji Cocoa Support has expanded its remit from support for farmer livelihoods to community and education programs, as well as forest protection and restoration in partnership with the Cocoa & Forests Initiative in Ghana. The program has also been expanded to eight other countries: Peru, Ecuador, Venezuela, Mexico, the Dominican Republic, Brazil, Vietnam, and Madagascar.
The great certification debate
One route to sustainable sourcing is certification, where products that meet certain criteria can display a sustainability label. While these labels have the advantage of being widely recognized by consumers, they are not always what they seem. Some require less than 50% of the contents to meet the criteria for sustainability. Manufacturers, and sometimes even certification authorities themselves, cannot easily verify supplier claims.
With global interest in sustainable products on the rise, Meiji could easily have turned to certification. However, doing so would shift the burden of getting certified onto growers and suppliers themselves. Instead, Meiji chose to invest in its suppliers and ensure traceability in its supply chain. The basic principle that informs procurement at Meiji today is that direct relationships with growers and suppliers are the best way to ensure sustainable sourcing.
Recently, Doi has taken on an internal advocacy role at Meiji. "The company is trying to promote Meiji Cocoa Support more, as there are still some employees who don't know the details. Meiji has also set a goal of sourcing 100% sustainable cocoa beans by 2026 and is now considering what actions it should take to achieve that goal."
He also maintains strong links with the village of Aserewadi. "After the pandemic, I definitely want to go back to Ghana. It's still the place I visit most often. And I have to show my face and explain that I am continuing to support them as a Chief."