Goals for Respecting Human Rights
Targets of the 2023 Medium-Term Business Plan (effective until March 31, 2024)
[ ] Scope of KPI

Meiji G: the Meiji Group (consolidated)
KPI
Results
Target
FYE 3/2022
FYE 3/2024
All domestic Meiji Group employees to attend a human rights training (including e-learning) at least once annually
[Meiji G, Japan consolidated]
Implemented one time (Number of participants: Approx. 13,000/Participation rate: 90%)
at least once annually
All overseas Meiji Group employees to attend a human rights training (including e-learning) at least once by FYE 3/2024
[Meiji G consolidated excluding Japan]
Trained for three overseas Group companies
(Number of participants: Approx. 770/Participation rate: 99%)
at least once by FYE 3/2024
Respect and Promote Human Rights
Meiji Group's Basic Approaches to Human Rights
Meiji Group has declared respect for human rights in its Corporate Behavior Charter, and it manages its businesses based on the strong belief that all people are inherently free and deserve equal respect and rights. We will promote respect for human rights throughout the Group and fulfill the Group's obligations.
Meiji Group Human Rights Policy
Based on the United Nations Guiding Principles on Business and Human Rights, the Meiji Group supports and respects international standards on human rights, such as the International Bill on Human Rights, ILO's core labour standards, and OECD Guidelines for Multinational Enterprises.
In the pharmaceutical business, we will respect the ethical principles of the Helsinki Declaration and the guidelines of the International Council for Harmonisation of Technical Requirements for Pharmaceutical for Human Use (ICH).
We will also respect the Children's Rights and Business Principles of UNICEF, especially with regard to children, who have strong ties to the food business.
In 2020, we established the Meiji Group Marketing Communication to Children Policy, which outlines our considerations for children in marketing related to confectionery and ice cream.
In FY 2022, we are planning an activity to deepen our internal understanding of children's rights. 
System for Promoting Respect for Human Rights
In the Meiji Group, the Chief Sustainability Officer (CSO), who is a member of Meiji Holdings' Board of Directos, is tasked by the President of Meiji Holdings to be responsible for and execute measures related to human rights. Under the supervision of the CSO, Meiji Holdings' Sustainability Management Department leads execution of each of these measures as the main organization responsible for sustainability.
The Meiji Holdings Executive Committee has assembled the Group Sustainability Committee, with the aim of unifying all of Meiji Group's various sustainability-related activities, including those concerning human rights. In July 2019, we established the Group Human Rights Meeting, whose members consist of relevant departments and outside experts, and initiated human rights due diligence activities. Meiji Holdings' Sustainability Management Department, the main department responsible for sustainability, serves as the Meeting's secretariat. The Group Human Rights Meeting has in turn set up sub-committees, each with its own individual area of responsibility. As well as this, they are investigating human rights-related issues, creating action plans for various initiatives, and taking necessary preventive measures. The Board of Directors at Meiji Holdings receives regular reports on these activities and supervises the effectiveness of activity processes and measures.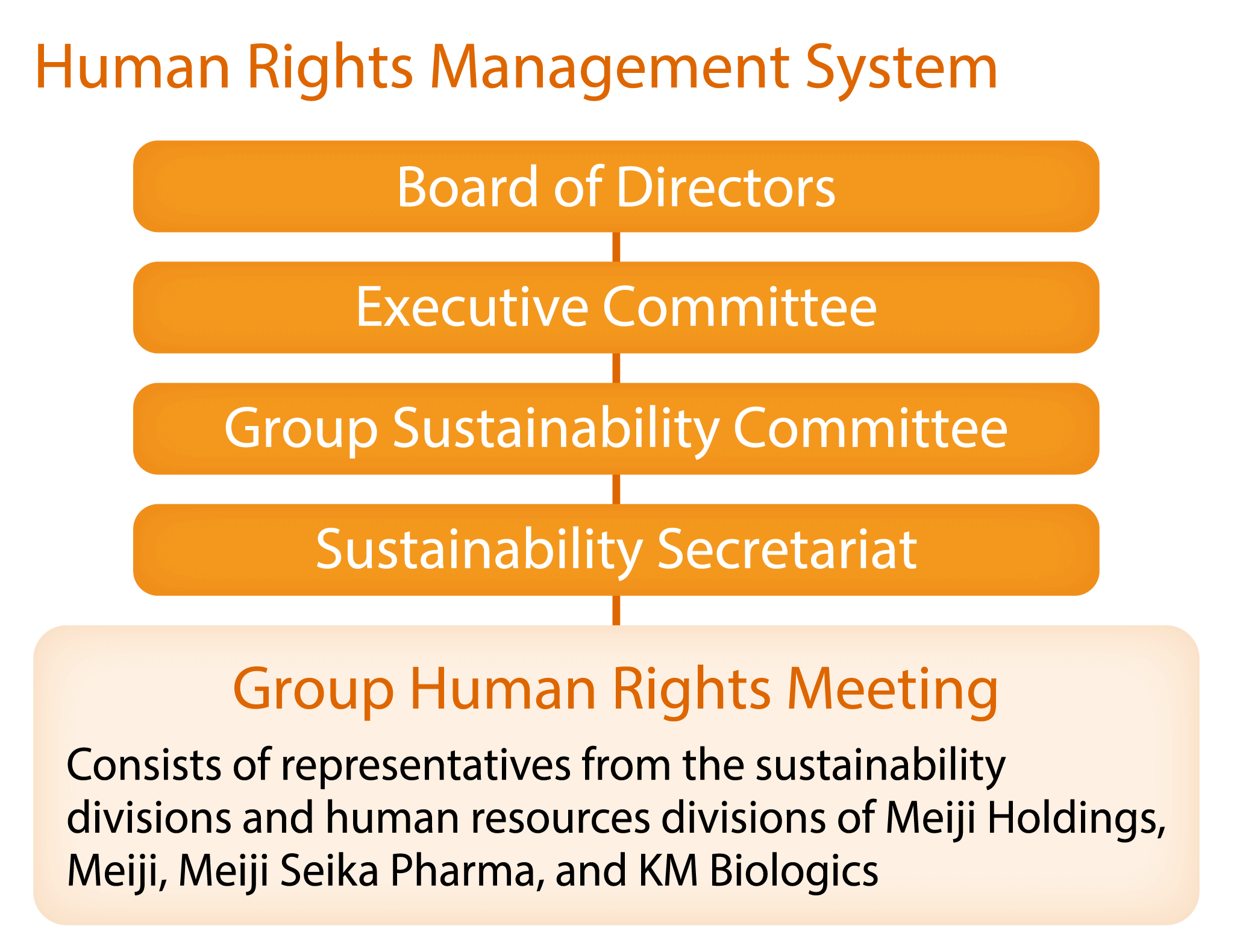 In addition, the Meiji Group has appointed Meiji Brand Promotion Officer and Meiji Brand Promotion Leader at each workplace to spread knowledge and understanding of brand promotion and sustainability. Approximately 840 Meiji Brand Promotion Leaders promote awareness of sustainability issues, including human rights, in their respective workplaces.
Approximately 290 Meiji Brand Promotion Officers supervise Meiji Brand Promotion Leaders.
Meiji Holdings Sustainability Management Department regularly holds online forums and seminars for Meiji Brand Promotion Officers and Leaders to enhance understanding of sustainability activities, including human rights.
Implementing Human Rights Due Diligence
We started human rights due diligence in FY2019 and it forms our commitment to human rights based on the Meiji Group Human Rights Policy. We make constant efforts to communicate with external stakeholders by: assessing the impact on human rights caused by the Meiji Group's corporate activities and identifying issues; incorporating these evaluation results into procedures and implementing them for meaningful improvements; follow-up evaluations to review effectiveness; and timely and appropriate information disclosure. By continuous improvement through these processes, we will achieve both respect for human rights and sustainable growth of businesses.

Identifying Salient Human Rights Risks
In FY2019, we reviewed our entire value chain in the Food and Pharmaceutical Businesses and identified the salient human rights issues.
Salient Human Rights Issues
- Common issues: Discrimination, Harassment, Freedom of association and rights to collective bargaining, Proper labor conditions and wages, Occupational health and safety, Working hours, Rights of foreign workers
- Issues related to R&D: Access to information, Privacy rights
- Issues related to procurement and manufacturing: Child labor, Forced labor, Human trafficking, Healthy lifestyle for local residents, access to water
- Issues related to sales, distribution and consumption: Considering impacts of marketing on children, Customer and user health
- Issues related to disposal: Healthy lifestyle for local residents, access to water
Initiatives for risk assessment, mitigation, and remedy
Our major initiatives in FY2021 were as follows.
1) Risk assessment and response in the supply chain
- Based on the results of a procurement questionnaire survey of 74 suppliers conducted in FY2020, we identified 40 suppliers needing stronger/improved initiatives and requested that they submit an action report. Individual dialogues were also held with two suppliers.
Sustainable Sourcing
- The International Cocoa Initiative (ICI) is a non-profit organization established by chocolate manufacturers with the aim of eradicating child labor in cocoa cultivation in West Africa. In 2021, Meiji Co., Ltd. became the first Japanese company to join the ICI and will continue to contribute to the eradication of child labor and forced labor on cocoa farms.
2) Internal risk assessment and response
- Sustainability assessments of Group companies in Japan and overseas
We conducted sustainability assessments (using EcoVadis or original Meiji questionnaires) for 22 Group companies in Japan and three Group companies overseas. Companies with assessment scores falling below a certain level were required to attend interviews, and efforts have begun to correct issues found.
- Human rights issues relating to foreign workers
In February 2020, we conducted a survey on the presence of foreign workers at domestic direct-affiliated plant and laboratories of Meiji Co., Ltd. and Meiji Seika Pharma Co., Ltd., and confirmed that there were no issues with respect to employment contracts or labor management for foreign workers who are directly employed. In FY 2021, we conducted interviews with labor managers and site managers at 14 business sites (8 plants and 6 group companies of Meiji Co., Ltd.) in which foreigners work, and confirmed the operation status of employment contracts and labor management.
As a result, it was confirmed that there were no major problems with labor management, such as employment contract, confirmation of status of residence, and managing working hours.
Interviews about foreign workers
Interviewed period
Interviewed sites
Person interviewed
Methods
FY 2021
6 group companies
7 labor managers in total
Online interview
6 on-site managers in total
8 plants
8 labor managers in total
Online interview
8 on-site managers in total
On the other hand, we found issues such as differences in the methods and attitudes of each business site regarding the employment of foreign workers and labor management, and inadequate support for foreign language labeling in the workplace. To this end, we compiled the Guidelines for Employment of Foreign Workers in June 2022, summarizing points that need special attention when employing foreign workers throughout the Meiji Group. Aiming to create a work environment that meets international standards that enables foreign workers to work soundly and with a sense of security, we will work to promote the implementation of the guidelines, including cooperating companies, in addition to our own plant and business sites.
<Items to be included in the guidelines for the employment of foreign workers>
1. Matters to be confirmed concerning foreign workers; 2. Points to be noted when applying from foreign workers; 3. Use of brokers; 4. Intermediary fees and other related expenses; 5. Working regulations; 6. Working conditions and employment contracts; 7. Prohibition of forced labor; 8. Wages and working hours; 9. Provision of housing such as dormitories; 10.Consultation Desk and Complaint Processing System, Section;11Occupational Health and Safety; 12.Medical checkups; 13.Training; 14.Assistance for termination of contract, dismissal, and re-employment; 15.Communicating with cooperating companies and dispatching companies.
3) Human rights education
Conducted e-learning on "Business and Human Rights," including the dissemination of the Human Rights Policy, to raise awareness of human rights among employees and reduce human rights risks. Approximately 14,000 employees from domestic and overseas Group companies participated in the course.
Responding to Human Rights Related Laws and Regulations in Each Country and Region
In expanding our business globally, Meiji Group will comply with the laws and regulations regarding the working environment and human rights established in each country, and will act in good faith in all business activities.
UK Modern Slavery Act 2015
Australian Modern Slavery Act 2018
California Transparency in Supply Chain Act
Group Employee Training
We engage in education and training activities related to respect for human rights and prohibition of discrimination, prohibition of forced and child labor, prohibition of harassment, safe and healthy workplaces, respect for fundamental rights of employees, and more, based on the Meiji Group Policy on Human Rights.
In-Company Training
In FY2021, "Business and Human Rights" education program was provided for all employees in Japan (approximately 13,000 employees, 90% participation rate) and employees in the United States, the United Kingdom, and India (approximately 770 employees, 99% participation rate), where priority countries for human rights initiatives. In the education program, we explain the Meiji Group Human Rights Policy and explain human rights issues related to day-to-day operations, such as child labor and the human rights of foreign workers, in an effort to raise employee awareness of human rights and reduce risks.
Education on harassment
We conduct e-learning on harassment, which is one of the human rights issues in the workplace, for all employees. We explain the diversifying examples of modern harassment and the policy on harassment in our group to raise employee awareness of harassment. For managers, in addition to providing education through specific examples, we also provide education on how to respond to harassment consultations, and promote initiatives to prevent harassment.
Training for Hiring Personnel
In Japan, we provide training on fair recruitment and selection to hiring personnel at our offices nationwide, and ensure compliance with prohibitions on discrimination in employment and harassment, and with respect for the fundamental human rights of applicants. In addition to respecting people's ability to work of their own free will, we also strive to prevent forced labor through clear advance presentation of working conditions (including work content, hours, rest periods, vacations, holidays, wages, salary increases, and provisions on retirement, etc.) and conclude of employment contracts. We also take action to ensure that all employees meet statutory minimum age requirements at the time of hiring in order to prevent child labor.