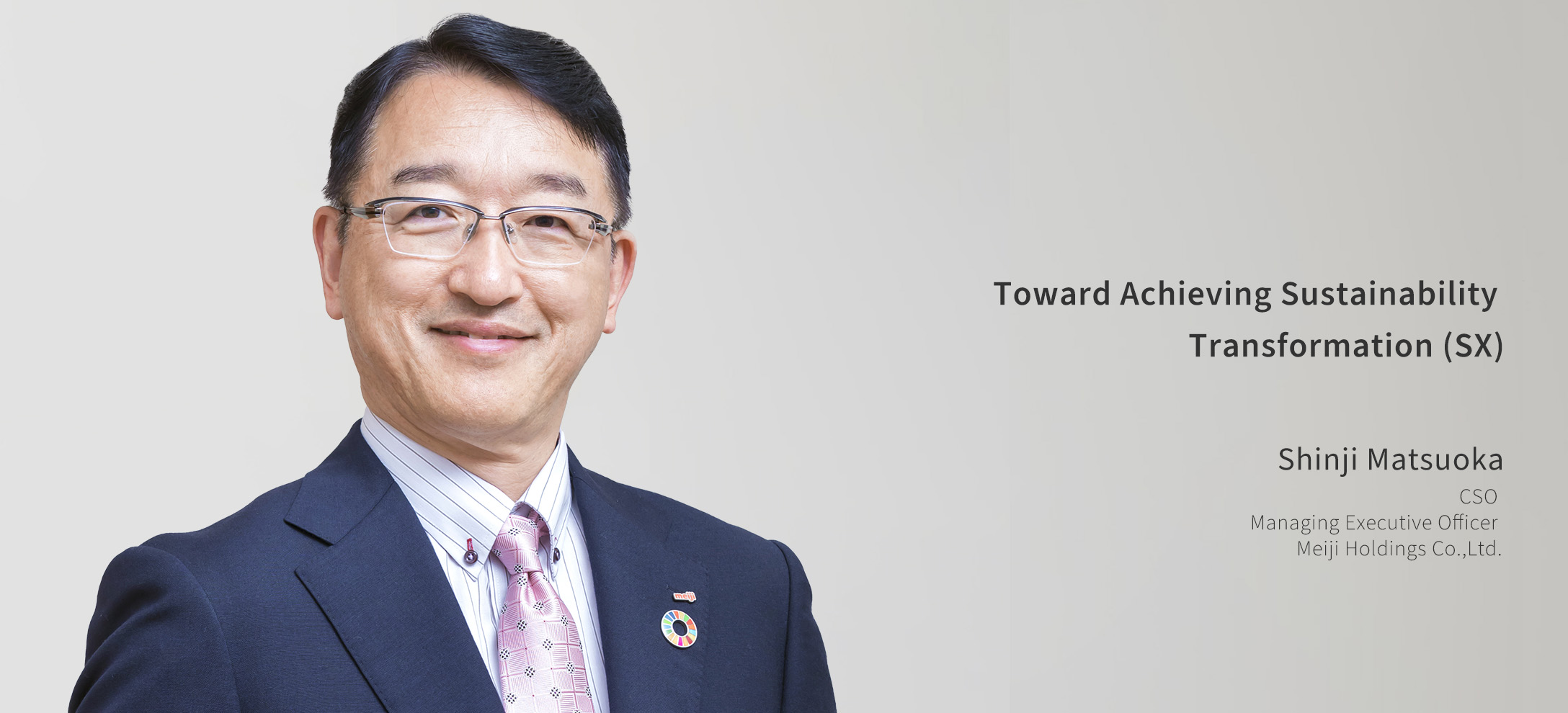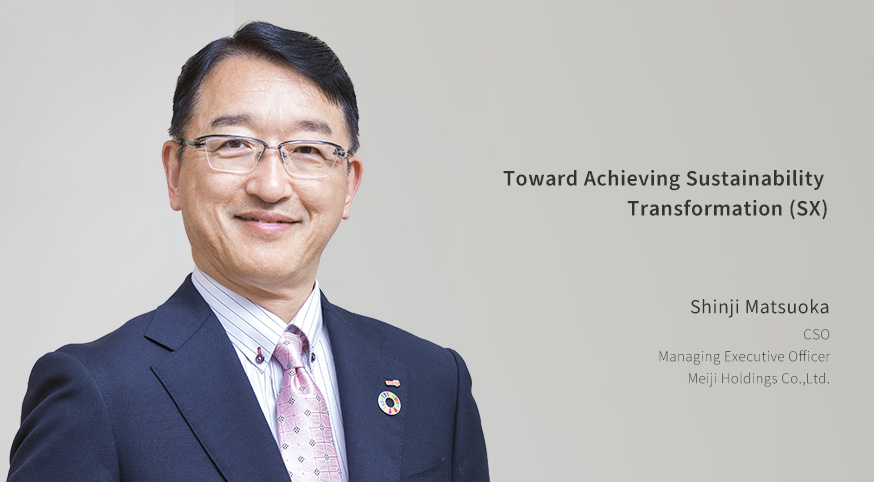 Toward 2026 Medium-Term Business Plan
The Meiji Group is currently executing our 2023 Medium-Term Business Plan. The main concept of this plan is to contribute solutions to social issues through our food and pharmaceuticals businesses, while raising economic value and social value at the same time. We have already largely achieved the eight FY2022 materiality targets under this medium-term business plan. In particular, we began taking on challenges in the environmental field, calculating our carbon footprint and reducing GHG emissions on our dairy farms. In the field of human rights, we accelerated our due diligence efforts through guidelines for the employment of foreign workers. In addition, we initiated stronger cooperation with overseas Group companies in new global meetings to discuss the development of global sustainability activities—an initiative that had been delayed until now. At the same time, we see accelerating sustainability activities around the world, a broadening scope of initiatives, and more strident demands to raise the quality of efforts. The Meiji Group must be sensitive to these and other global trends, acting quickly and effectively. As we maintain a global perspective, we also know that the Meiji Group must step up our efforts if we are to be the frontrunner in Japanese sustainability activities. We view FY2023 as an important year to review materiality and formulate a strategy to make a major leap forward in sustainability activities. This year is also one in which we will finalize our 2026 medium-term business plan, which represents the final step toward achieving our 2026 Vision.
The Challenge to Improve Quality in Environment-Related Measures
Three key ideas of particular importance to Meiji Group environmental activities are carbon neutrality, nature positive, and circular economy. These ideas are interrelated and can even be considered a trinity of sorts. Carbon neutrality is one specific initiative we are addressing with greater emphasis. The major challenge here is to reduce Scope 3 emissions. This we cannot do alone, but only through cooperation with our suppliers. In FY2022, we first calculated the carbon footprint of two mainstay products to understand where and to what extent our products involve CO2 emissions. We found that approximately 90% of CO2 emissions are generated upstream (raw materials procurement) in the product value chain. This result means that efforts to reduce CO2 emissions must focus on raw materials procurement in particular. We are looking into specific measures toward carbon neutrality by expanding the use of J-Credits at dairy farms in collaboration with other companies and by establishing new mechanisms, including carbon farming.
Meiji as a Sustainable Brand
In FY2021, we began holding Meiji Group ESG Advisory Board meetings to solicit opinions from outside experts. Since then, we have received a variety of opinions from outside experts, one of which was that the Meiji Group should seek to be the leader in sustainable branding. We understand that a sustainable brand is a product or corporate brand that holds sustainability as a central concept, and that customers and other stakeholders recognize sustainable brands as a positive value. We plan to investigate specific strategies to develop products that appeal to sustainability unique to Meiji, leveraging sustainability as a driver of business growth for the Meiji Group.
Meiji ROESG®*: An Evolution of Sustainability Management
The approach to CSR used to be largely "defensive" for most companies. With the recent focus on sustainability, companies are becoming more active, playing offense to enhance corporate competitive capabilities. As sustainability and ESG become mainstream management issues, MEIJI ROESG®* serves as an indicator that truly embodies the principles behind these concepts. I believe the essential value of the Meiji Group will be tested by how well we link ESG and ROE in our business activities. In 2026 medium-term business plan, we intend to evolve Meiji ROESG®* further, making significant advances in sustainability management.
June 2023