Sustainability Management
The basis of "the Meiji Group's Approach to sustainability" is to fulfill sustainability by putting the Group Philosophy into practice on a day-to-day basis in mainstay businesses and by remaining a corporate group society needs. Each Meiji Group employee will advance activities based on the Corporate Behavior Charter to meet stakeholders' expectations and continue fulfilling social responsibilities.
Meiji Group Sustainability 2026 Vision
The Meiji Group, as a team of food and healthcare professionals, will help solve societal problems through its business projects. We also aim to help build a sustainable society that will allow people to live their lives healthily, and with peace of mind.
The Meiji Group Sustainability 2026 Vision upholds three main themes: 'Healthier Lives', 'Caring for the Earth', and 'Thriving Communities', as well as the shared theme of 'Sustainable Sourcing'.
We are continuing our work identifying Materiality and setting out KPIs (Key Performance Indicators) for each theme.
Taking these themes, as well as several tangible areas within each (see the image below for more detail) as a framework, we are driving sustainability forward, and helping to solve societal problems.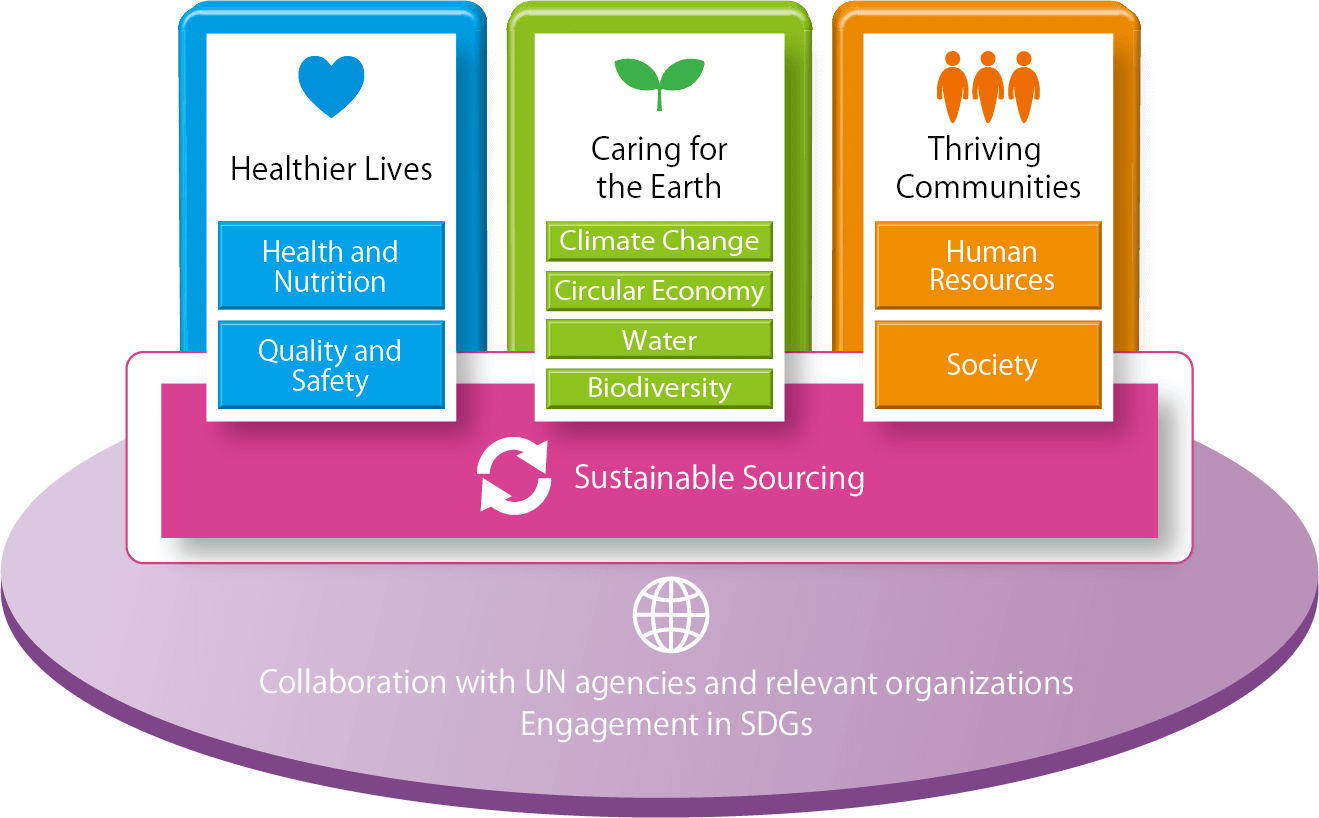 Group Sustainability System
Group Sustainability System
We have established the Group Sustainability Committee with the CEO, President and Representative Director of Meiji Holdings at its helm.
Accordingly, we are promoting sustainability activities following the directions of this Committee. The Committee meets twice annually. It monitors the progress of activities to achieve KPIs in the Meiji Group Sustainability 2026 Vision and establishes sustainability policies. The Committee shares outcomes of activities conducted by each operating company and reports twice annually to the Board of Directors. We have established a Sustainability Secretariat that meets monthly and its members are sustainability staff from Meiji Holdings and the operating companies. In FY2019, we established the Group Human Rights Meeting and the Group TCFD Committee alongside the Group Environmental Meeting, which is linked to the Sustainability Secretariat. We strengthened our systems for considering concrete measures and launched a number of initiatives including scenario analysis based on TCFD recommendations and conducting human rights due diligence.
Additionally, in October 2019 we established the Sustainability Management Department at Meiji Holdings in order to further accelerate our sustainability activities across the Group. As well as this, in June 2020 we appointed a Chief Sustainability Officer (CSO) as the top person responsible for sustainability in Meiji Group. Under the leadership and supervision of the CSO, we will promote integration of our business and sustainability activities.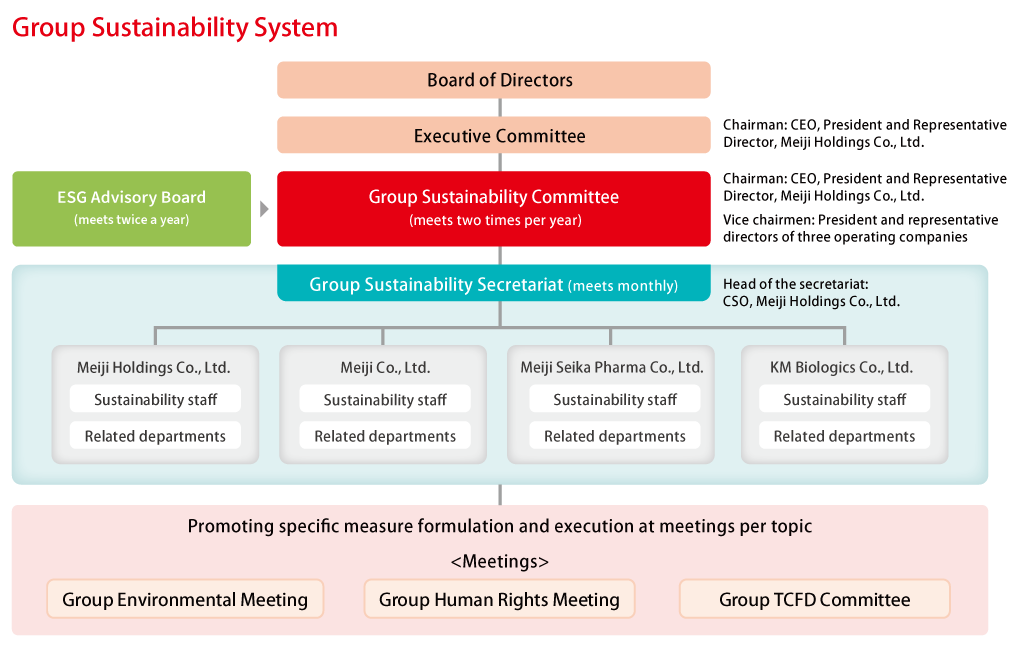 Establishment of the ESG Advisory Board
In fiscal 2021, we evolved the dialogue with outside experts, which had been held once a year, and established the ESG Advisory Board, which meets twice a year.
Recognizing the ever-accelerating pace of corporate sustainability activities, the Meiji Group has set a new target of Meiji ROESG®* and is working to further strengthen its activities. At the same time, in the final year of the 2023 Medium-term Business Plan, we aim to be recognized as one of Japan's leading sustainability companies.
The main purpose of establishing the ESG Advisory Board is to grasp the demands and expectations of diverse stakeholders and appropriately respond to them as we strive to contribute to the sustainable development of society and become a trusted corporate group through our business activities.
We aim to further invigorate the sustainability activities and improve performance of the Meiji Group as a whole while exchanging opinions between external experts and internal member including CEO and CSO.
Advisory Board Members
Experts

Takeshi Kamigochi
Director, Senior Managing Executive Officer General Manager, Oil & Fats Business Unit, J-OIL MILLS, INC.

Mari Kogiso
Co-CEO, SDG Impact Japan

Peter David Pedersen
Representative Director, NPO NELIS

Internal Members

Kazuo Kawamura
Chief Executive Officer, President and Representative Director

Jun Furuta
Chief Sustainability Officer, Member of the Board and Senior Managing Executive Officer

Shinji Matsuoka
Executive Officer, Sustainability Management Dept.

Yuhei Matsumoto
Chief Human Resource Officer, Executive Officer, Group HR Strategy Dept.

Youichirou Yamagata
General Manager, Corporate Development Dept.
Experts profile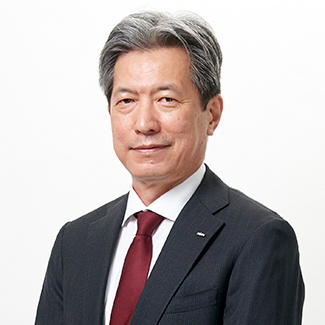 Takeshi Kamigochi
Director, Senior Managing Executive Officer, in charge of Oils and Fats Business, J-OIL MILLS, INC.
Mr. Kamigochi has been involved in global management in the consumer goods business and distribution channels at Unilever Japan K.K., Walmart Japan K.K., and Sunstar Suisse S.A.
He gained experience in finance and supply chain functions, followed by 12 years of experience as CEO at three companies.
He also has more than 15 years of experience in overseas posts, including the United Kingdom, Singapore, and Switzerland.
Since July 2021, he has served at J-Oil Mills, Inc., developing strategies for structural reform and growth. Since June 2022, Mr. Kamigochi has been leading the transformation of the Oils and Fats business in his current position.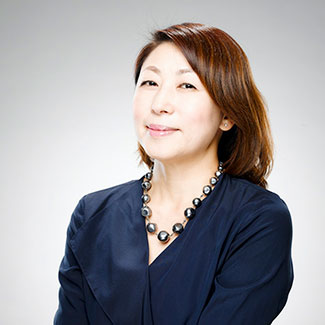 Mari Kogiso
Co-CEO, SDG Impact Japan
Mari is an impact investing leader with extensive background in sustainable finance and social entrepreneurship. Mari cofounded SDG Impact Japan in 2021 and developed the ESG engagement fund to promote sustainable conduct of Japanese medium and small sized public companies. In 2017, she led the establishment of the Asia Women Impact Fund ($100 million) at the Sasakawa Peace Foundation, the first gender lens investment fund in Japan. Previously Mari held several senior positions at the World Bank Group in Washington DC and Tokyo including the representative of MIGA (the Multilateral Investment Guarantee Agency) in Tokyo. She also served as the global head of diversity and human rights of Fast Retailing Group, and Japan Representative of Dalberg, She currently serves as an outside auditor of Mitsubishi Corporation, an expert advisor on JICA's Overseas Investment Review Committee; and a member of the Advisory Board of the CIO office, Nikko Securities.
Mari holds a BA in Economics from Tokyo University and an MA from the Fletcher School, Tufts University.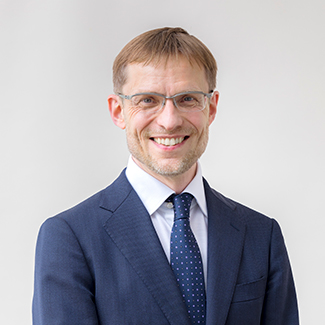 Peter David Pedersen
Representative Director, Next Leaders' Initiative for Sustainability (NELIS)
Born in Denmark in 1967, Mr. Pedersen has lived in Japan for 30 years.
He has been involved in sustainability management since 2000, and has assisted many Japanese companies with their sustainability strategies. Since 2015, Mr. Pedersen has served as representative director of the Next Leaders' Initiative for Sustainability (NELIS), which fosters young next-generation leaders around the world. He was named outside director of Meiji Holdings Co., Ltd. in June 2022, and he serves concurrently as an outside director at Marui Group Co., Ltd.
Creating our Vision
When laying out our sustainability vision, we took a long-term view and set out the activities we believed that Meiji Group should engage in. Our Group Sustainability Committee will evaluate our progress with the KPIs we have established, and publicly disclose this information.
STEP 1Identify issues and select activities
Select activities tailored for the Meiji Group considering business initiatives, community requests and sustainable development goals (SDGs).
STEP 2Identify materiality and set the KPIs
Set the KPIs. Confer with experts outside of the company regarding the selected activities, identify materiality (material issues).
STEP 3Obtain approval from management
Sustainability secretariat and the Group Sustainability Committee discusses, and the Board of Directors makes a decision.
Progress of Sustainability 2026 Vision
2017
Began discussions to establish vision


Mr. Peter David Pedersen, Mr. Hidemi Tomita
2018
Established vision
Identify materiality
Revised how the vision's activities in each area are related to the SDGs
2019
Joined UN Global Compact
Discussions with outside experts


Mr. Peter David Pedersen

Established Sustainable Management Department at Meiji Holdings
Revised human right policy and procurement policy, and established a new marketing policy
2020
Established Water Resources Policy, Plastic Policy, and Social Contribution Activities Policy
Established Long-Term Environmental Vision "Meiji Green Engagement for 2050"
Discussions with outside experts
Prof. Takeshi Mizuguchi at Takasaki City University of Economics


We exchanged opinions on medium-term management targets for sustainability activities and information on the wide-ranging sustainability activities unique to the Meiji Group that span food to pharmaceuticals.
2021
Newly established the Farm Animal Welfare Policy and the Diversity and Inclusion Policy
Newly established the Meiji Group ESG Advisory Board, holding meetings twice a year
External Experts
Takeshi Kamigochi
Senior Managing Executive Officer, Vice General Manager, Oil & Fats Business Unit, J-OIL MILLS, INC.

Mari Kogiso
CoCEO, SDG Impact Japan

Peter David Pedersen
Representative Director, NPO NELIS
Approach to Sustainability Activities under the 2023 Medium-term Business Plan
The 2023 Medium-term Business Plan sets out the concept of realizing both profit growth and sustainability activities. The significance of sustainability has thus increased in business management. We will strengthen our activities so that by FY2023, the Meiji Group will become a company that is highly evaluated internally and externally as an advanced sustainability company in Japan.
Outline of Activity Plan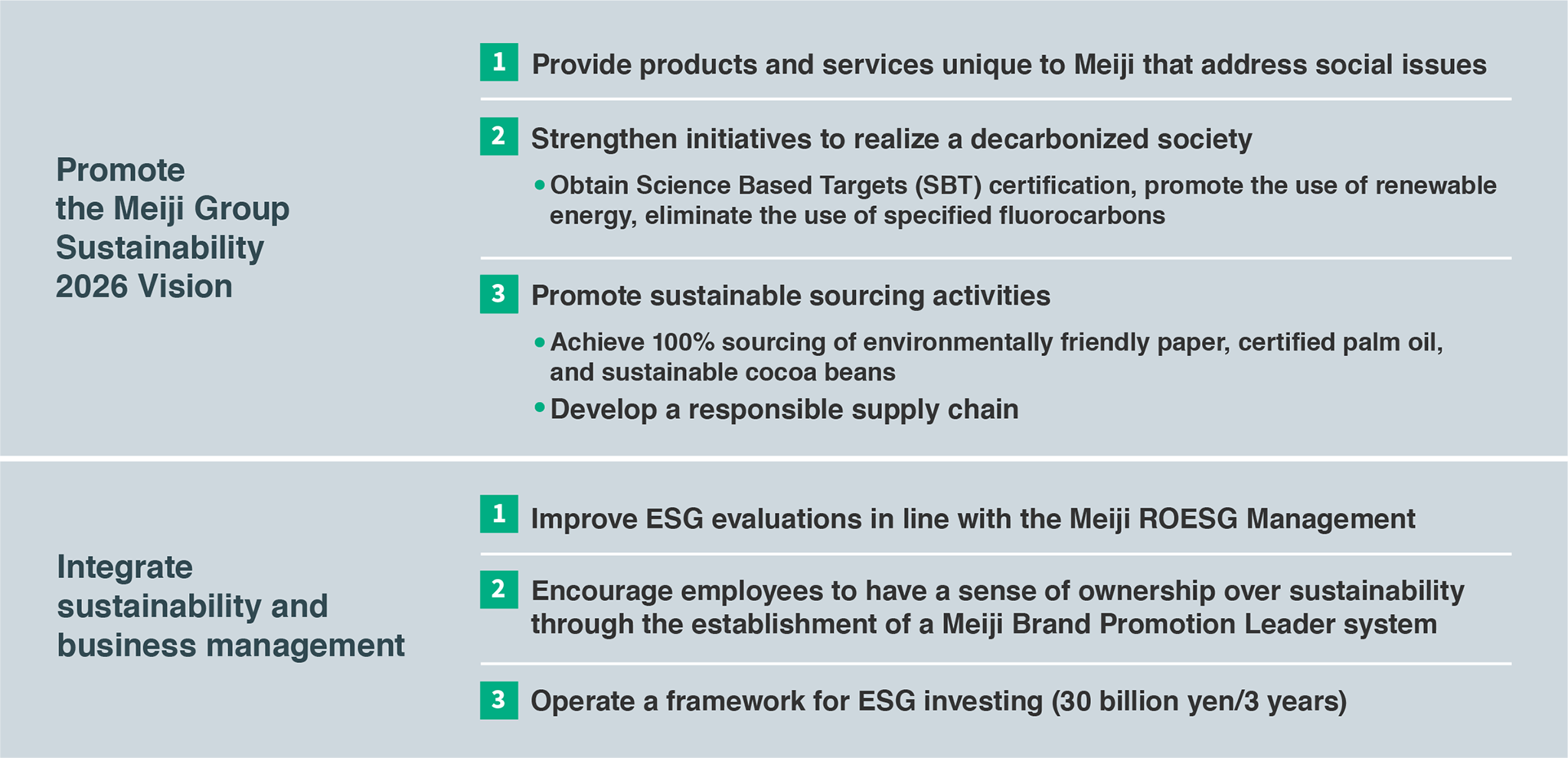 Structure of the Meiji Group' Sustainability Activities
There is a wide range of sustainability activities. We have organized them into initiatives that exhibit the Meiji Group' uniqueness and initiatives that form the foundation of corporate activities. In particular, we consider that the domain unique to the Meiji Group is centered on "Healthier Lives." Japan faces the issues of a declining population and aging society with a decreasing birthrate, and extending healthy life expectancy is a critical social issue. The Meiji Group aims to contribute to solving these social issues with our Food and Pharmaceutical businesses and to realize both economic value and social value.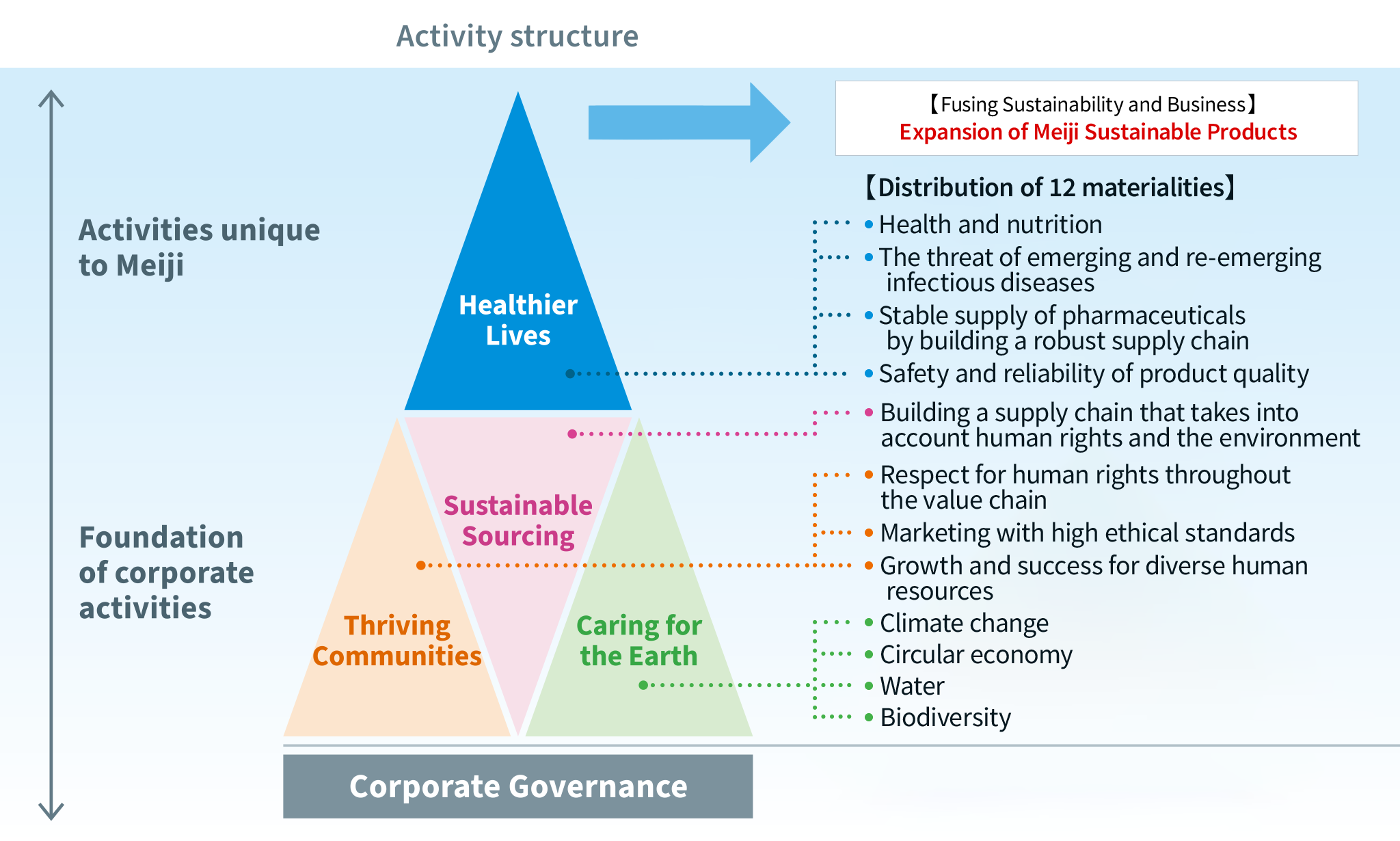 Approach toward SDGs
The Sustainable Development Goals (SDGs) are a collection of the 17 goals adopted by the United Nations in 2015 for the year 2030. In our endeavors, we have identified 13 primary goals that will contribute to society in the Meiji Group' business activities. Recognizing that FY2021 marks the beginning of "the Decade of Action"* to address the SDGs, we are working to achieve the SDGs through the Meiji Group Sustainability 2026 Vision.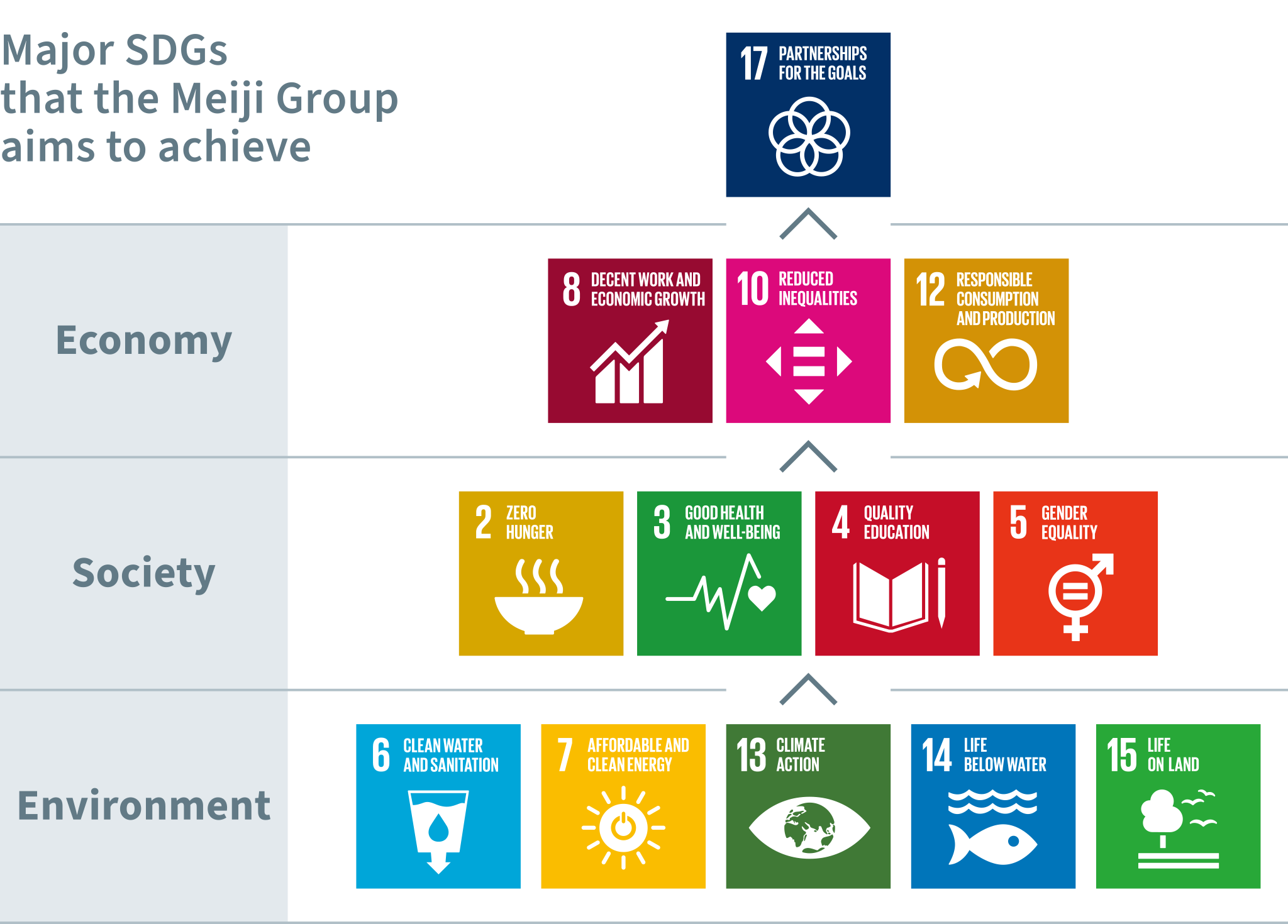 See how our sustainability themes link to the SDGs
Informing Employees
We believe it is extremely important for our employees to understand our sustainability policies and activities. Sustainability is one of the regular topics in domestic and overseas group newsletters, including introductions of key terminology and examples of timely, relevant sustainability activities are.
Additionally, in April 2020 we began a sustainability-focused E-learning program for employees in Japan, at a pace of one session every two months.
Also in April 2021, we installed the Meiji Brand Promotion Leaders system, selecting leaders from each workplace to embody our new group slogan "Now ideas for wellness" and spread further understanding of our sustainability activities.
Furthermore, in April 2022, we launched the Meiji Sustainable College as a comprehensive framework for various initiatives (online courses, e-learning, sustainability communications, etc.) as part of promoting a sense of ownership. Through these initiatives, we will further strengthen our efforts to make sustainability the norm for each and every one of our employees.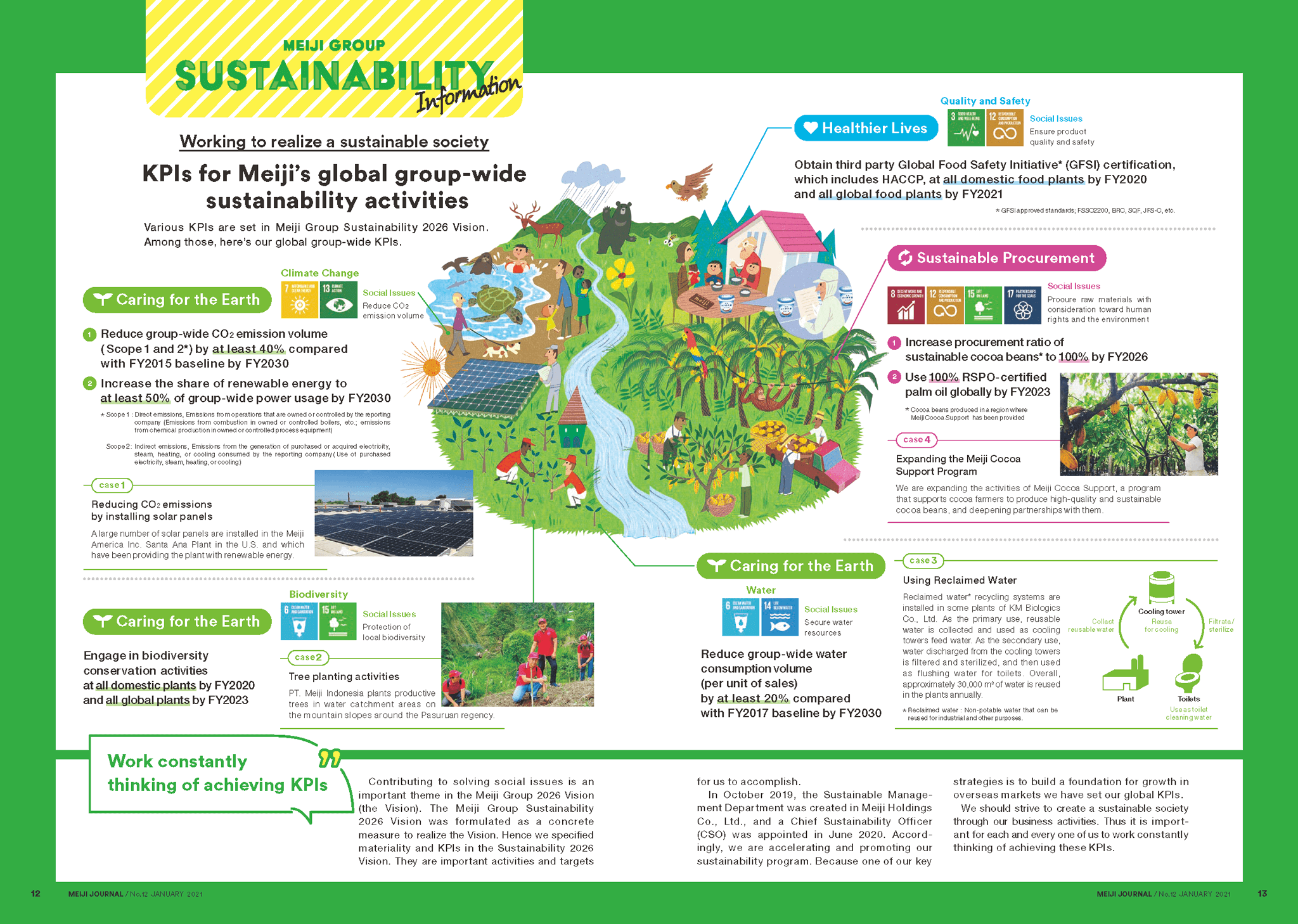 Environmental Management
Meiji Group Long-Term Environmental Vision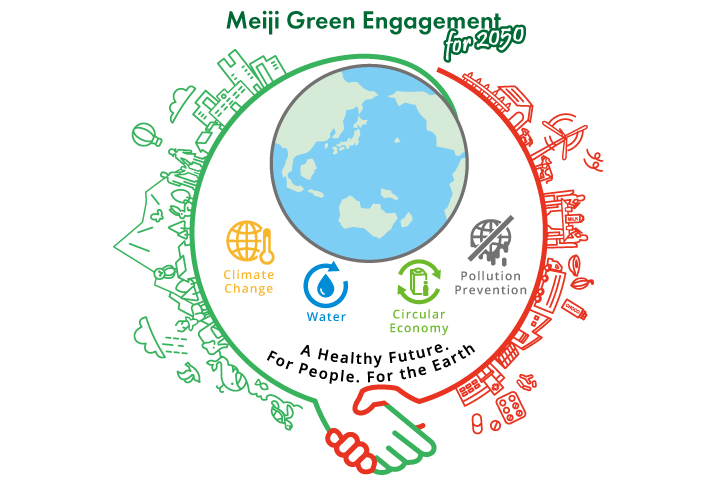 A Healthy Future. For People. For the Earth
The Meiji Group relies on the bounty of nature, including raw milk, cocoa, lactobacillus and microorganisms. We believe it is our duty to live in harmony with the environment and coexist with nature. However, issues such as climate change threaten the sustainability of global environment. The biodiversity provides us the bounty of nature we enjoy, now it is in a crisis. To respond to such crisis we formulated a long-term environmental vision. We are committed to achieving coexistence with nature by engaging in global environmental issues.
The Meiji Group places the importance on delivering health through food and pharmaceutical, creating even more smiles for all. We continue creating value that goes one step further to realize a healthy future for people and the Earth.

Climate Change
Society has become more concerned about the impact of global warming on the intensity of natural disasters and damage to biodiversity. Businesses are being asked to reduce greenhouse gas emissions to help build a decarbonized society. The Paris Agreement, an international framework for addressing climate change, requires efforts to limit global warming to well below 2, preferably to 1.5 degrees Celsius, compared to pre-industrial revolution levels.
The Meiji Group aims to further mitigate its impact on the global environment, considering the aspirational target of the Paris Agreement to keep the temperature increase below 1.5 degrees Celsius. Accordingly, we have set a goal to become carbon neutral by 2050, eliminating all greenhouse gas emissions throughout our entire supply chain.
Our goals


CARBON NEUTRALITY BY 2050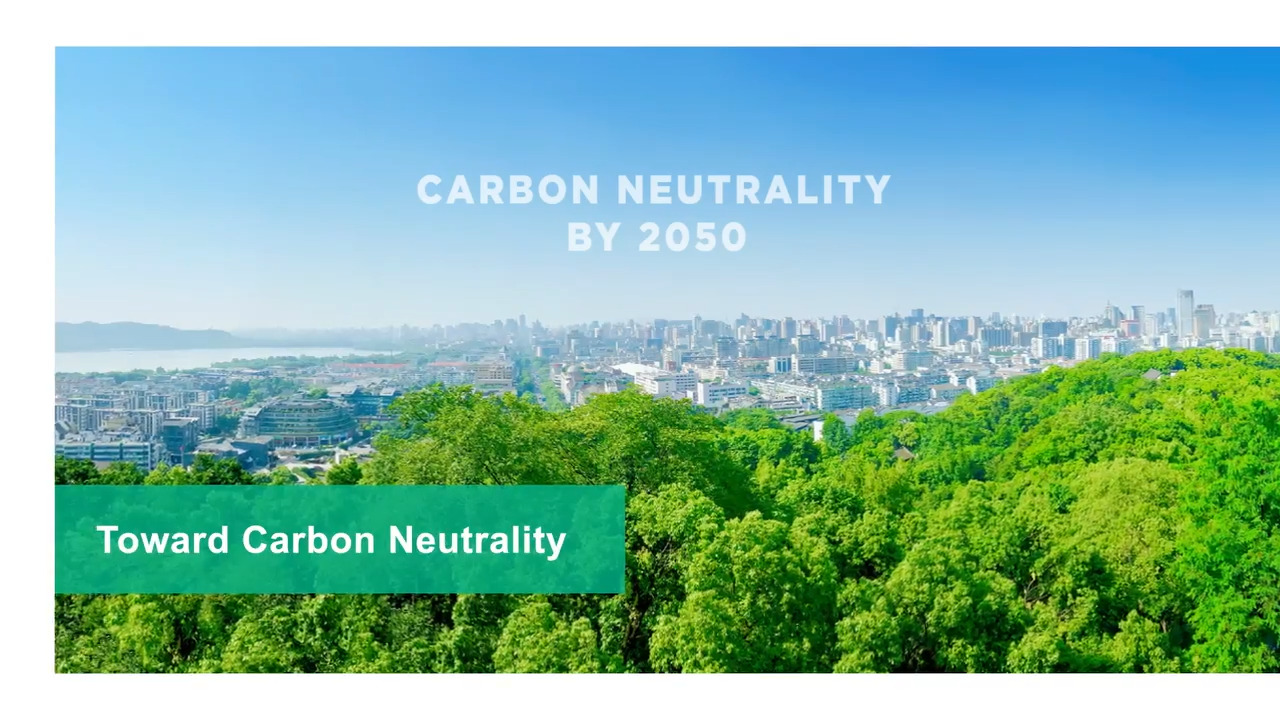 Water
The world's population is estimated to reach 9.7 billion by 2050.1 Consequently, the demand for water is likely to increase by some 55%2 to keep up with the demand due to increase in food production and economic activities as a result of population growth. A total of more than 40%2 of the global population may lose adequate access to enough water due to climate change and the resulting chronic water shortages.
Water is a finite resource. To ensure the sustainability of this limited resource, the Meiji Group aims to become water-neutral. To accomplish this goal, we will engage in initiatives that include reducing water use intensity per sales unit by half and cultivating water resources.
Our goals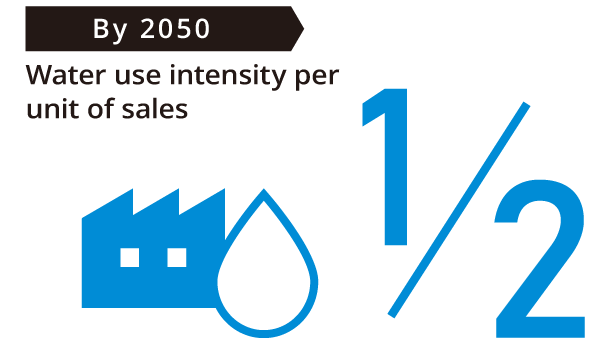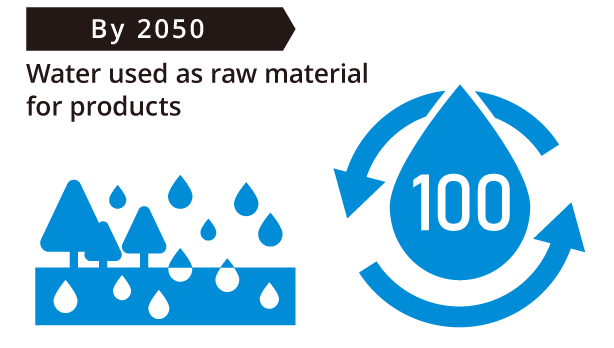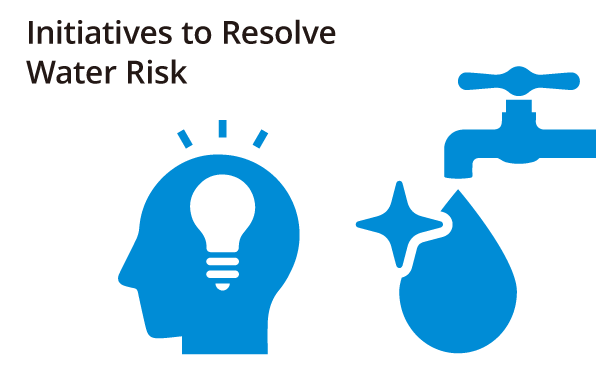 Circular Economy
Although the natural capital of the earth is finite, we have wasted and discarded them for a long period. These negative activities have led to climate change, deforestation, marine plastic pollution, and numerous other environmental issues. The world must improve the sustainability of natural capital. Because the Meiji Group enjoys the bounty of nature and uses natural capital in products and packaging, we must transition to a circular economy.
To achieve this goal, we should minimize the usage of natural capital by recycling and reusing resources, not to mention achieving zero waste. We will take on the challenge of reducing our environmental impact as close to zero as possible all the way through product design to disposal.
Our goals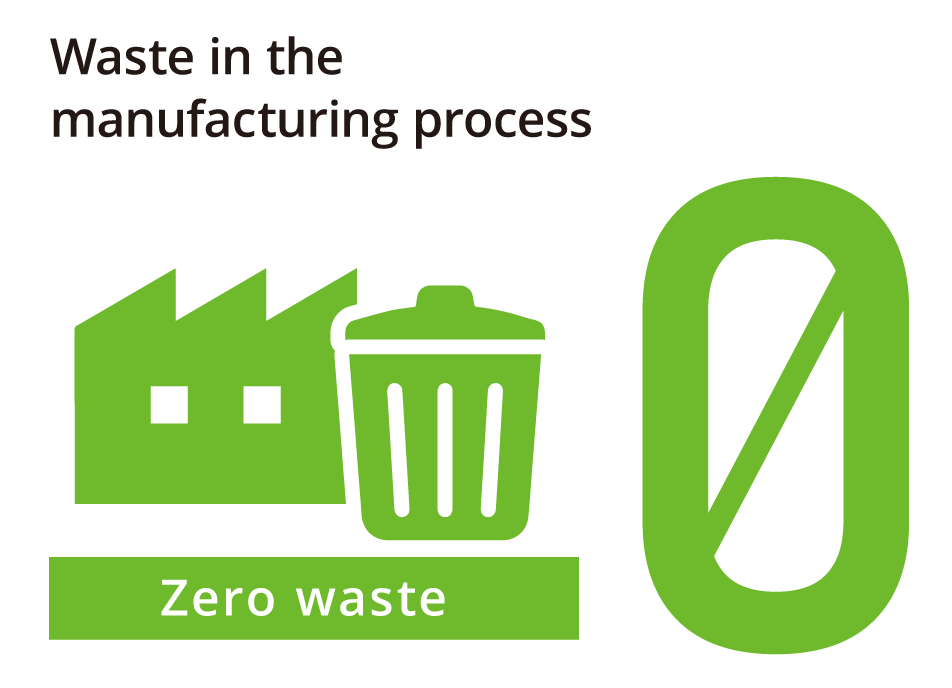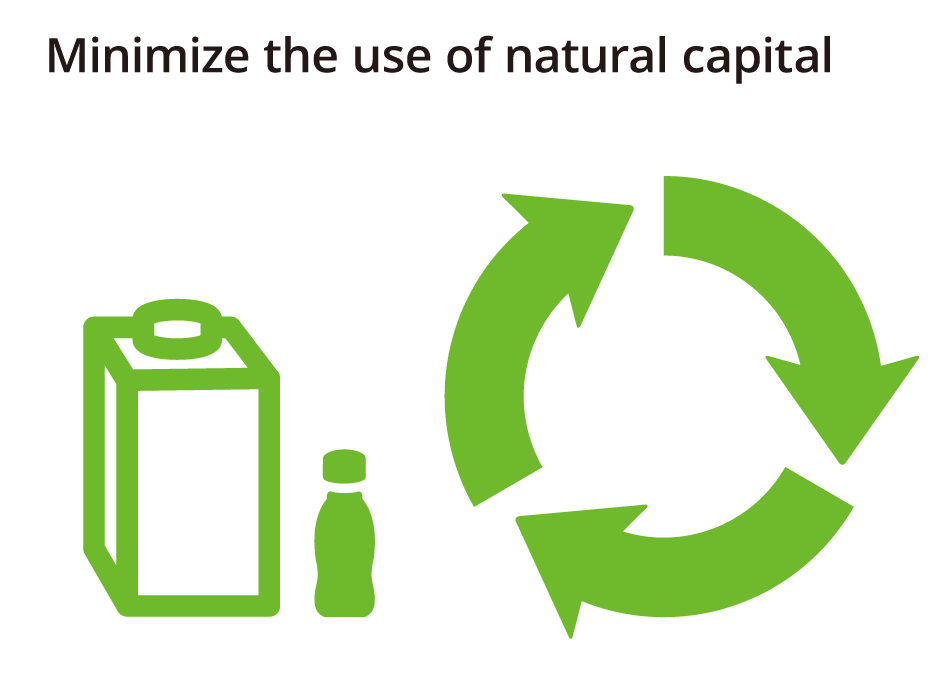 Pollution Prevention
As a result of prioritizing economic growth over the global environment, modern society suffers from air, water, and chemical pollution. As we are breathing polluted air and consuming contaminated food in our daily lives, the health risks are increasing.
The Meiji Group delivers health to the people in the world, and we believe we can build a world that doesn't suffer from pollution. Thus, we are committed to achieve zero pollution throughout the Meiji Group supply chain.
Our goals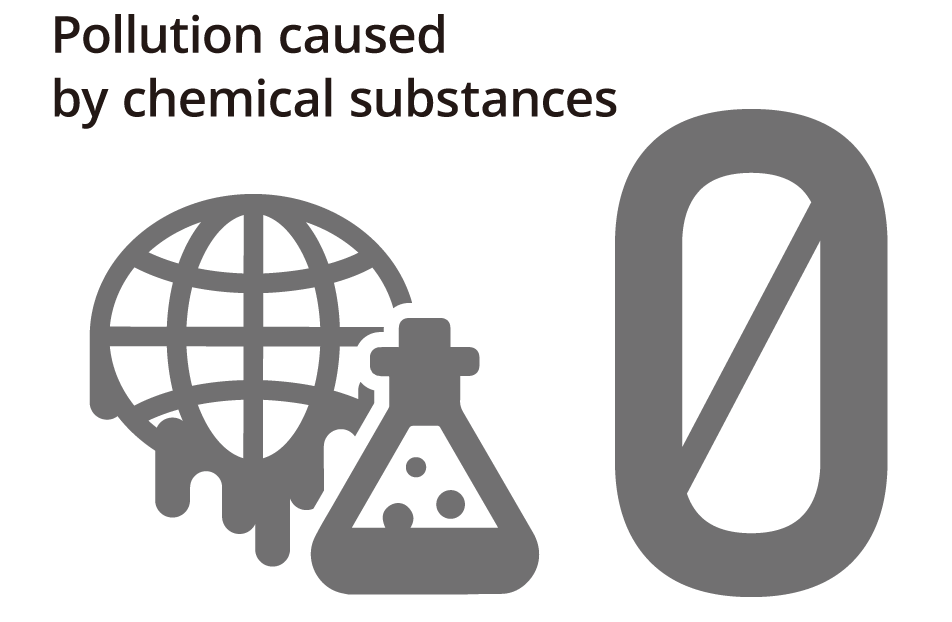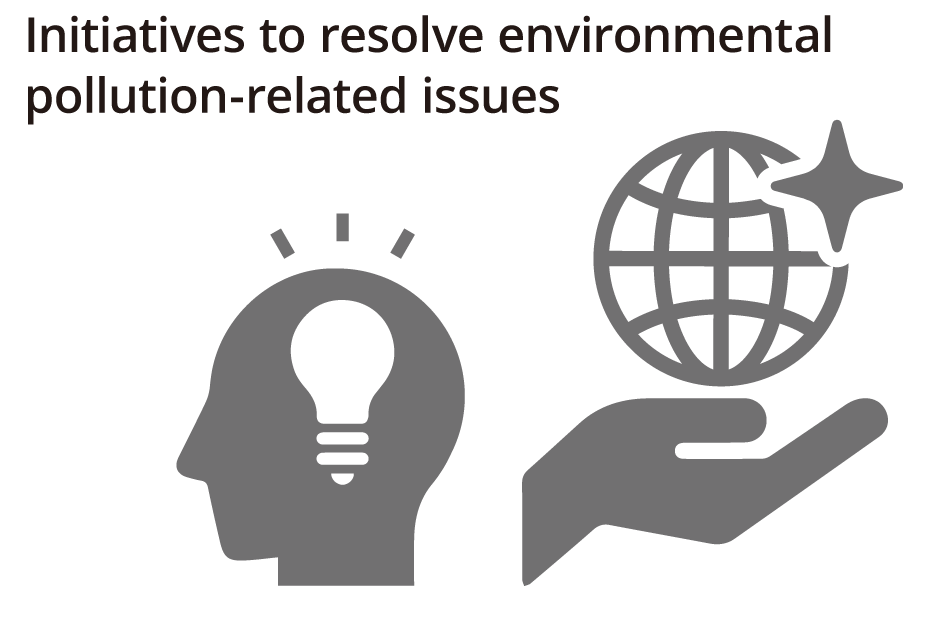 Environmental Management
Environmental Management System
There is The Group Environmental Meeting, which is made up of representatives from our Food segment and Pharmaceutical segment as well as the sustainability representatives from Meiji Holdings. Under this system, the Meeting sets a long-term vision, plans specific measures as well as carries out risk management, and essentially oversees the environmental management for the whole Group.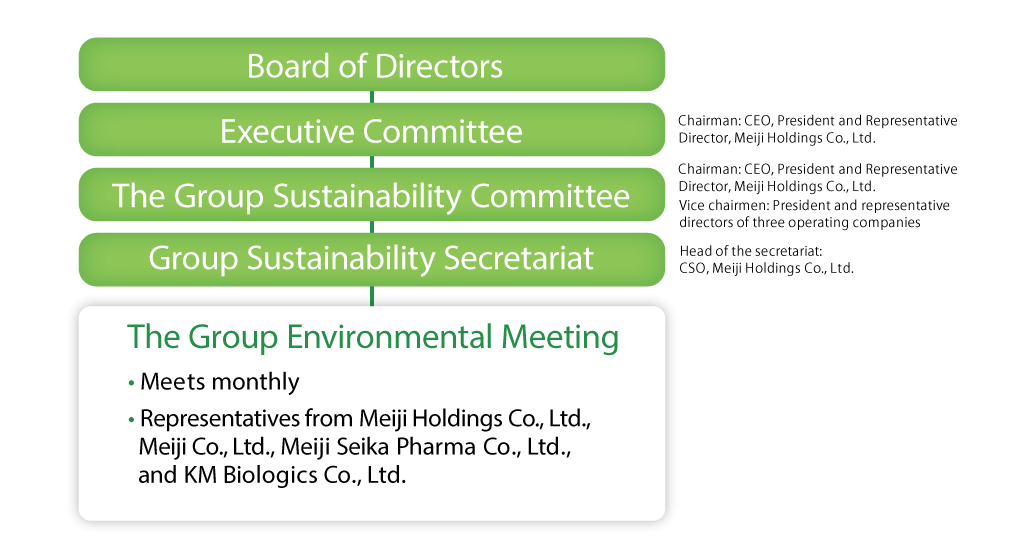 Past Environment-Related Deliberation Topics at the Group Sustainability Committee
Progress toward CO

2

reduction targets
Identifying the state of water risks in Japan and overseas, and exploring prioritization of areas to be addressed
Checking progress toward achieving water consumption reduction targets
Environmental Data Management System
In October 2019, Meiji Group introduced a cloud-based environmental data management system to identify the integrated environmental impact in overall operating sites of the domestic Meiji Group and accurately and quickly track our performance against targets. Using this system we can reduce input errors and thus collect and calculate data efficiently. Accordingly, we have introduced the system in our overseas operating bases from October 2020.
Certification Status of ISO14001
(As of May 11, 2023)
Meiji Group is promoting attainment of the ISO14001 environmental management certificate for its production sites. We have attained for multi-site certification across all production sites in Japan at FYE 2021.
Food Segment
Japan: 24 Plants and 10 Group Companies
Overseas: 2 Group Companies

Pharmaceutical Segment
Japan: 5 Plants, 4 Production Centers, 1 Research Center and 3 Group Companies
Overseas: 1 Group Company

List of Certification Status of ISO14001 and ISO45001
Response to environmental laws and accidents
At the Meiji Group, there were no violations, fines related to environmental laws and regulations during FY2021. In addition, there were no lawsuits related to the environment. There were one major accidents involving fluorocarbon leaks, having an impact on the environment. We reported these immediately to authorities and took measures after identifying the causes.
Number of environmental accidents and regulation violations
FYE 3/2018
FYE 3/2019
FYE 3/2020
FYE 3/2021
FYE 3/2022
Number of environmental regulation violations
-
0
0
0
0
Number of major environmental accidents
4
4
2
2
1
Approach to climate change and TCFD initiatives
The business of Meiji Group is based on the abundant gifts of nature, so natural capital is an important management resource for us. We also recognize that climate change has a significant long-term impact (risks and opportunities) on our business activities and that it is an important management issue for the Group. At the same time, international frameworks such as the Paris Agreement and the Sustainable Development Goals (SDGs) are calling for increased efforts to address climate change. We are therefore implementing climate change initiatives to contribute to these international efforts by helping to realize a decarbonized society in line with our Meiji Group Sustainability 2026 Vision.

Meiji Group agreed to join the Task Force on Climate-Related Financial Disclosures (TCFD), which was established by the Financial Stability Board* in 2019. We also joined the TCFD Consortium, which was established by the Ministry of Economy, Trade and Industry, the Ministry of the Environment, and the Financial Services Agency as a place for collaboration among supporting companies, financial institutions and others. We also established the Group TCFD Committee, which comprises relevant divisions from Meiji Holdings and its Group companies Meiji, Meiji Seika Pharma and KM Biologics, and started implementing TCFD initiatives from 2019. The purpose of this committee is to reflect climate change-related long-term risks and opportunities in our business activities, as a member of the TCFD scinario analysis project organized by the Ministry of the Environment.
The Group TCFD Committee analyzes climate change related risks and opportunities, develop countermeasures, and manage progress of each initiative
The Board of Directors, the Executive Committee, and the Group Sustainability Committee discuss the results of these analyses and we strengthened our systems for reflecting the results in our business activities.
In FY2021 the newly established Risk Management Department took part in the Group TCFD Committee. Their efforts strengthened Meiji Group's governance, as well as our institutional ability to respond to important climate change related risks and opportunities.
With regard to scenario analysis, in FY 2020 they performed analysis of the following key areas: dairy ingredients, cocoa, antibiotic drugs (5 Domestic Key Drugs), and vaccines. At the same time, they expanded the scope of analysis to include the entire Meiji Group, further improving our resilience to climate change.
In FY2021, the Risk Management Department took part in the Group TCFD Committee. Their efforts strengthened Meiji Group's governance by helping to establish institutions to respond to important climate change related risks and opportunities.
In addition to the 2℃ and 4℃ scenarios, in FY2021 we conducted a new 1.5℃ scenario analysis, strengthened our analysis of impact for major raw materials, and deeply probed opportunities to further enhance our resilience to climate change.
TCFD related initiatives at Meiji Group in FYE 3/2021
Climate Change-related Group Sustainability Promotion System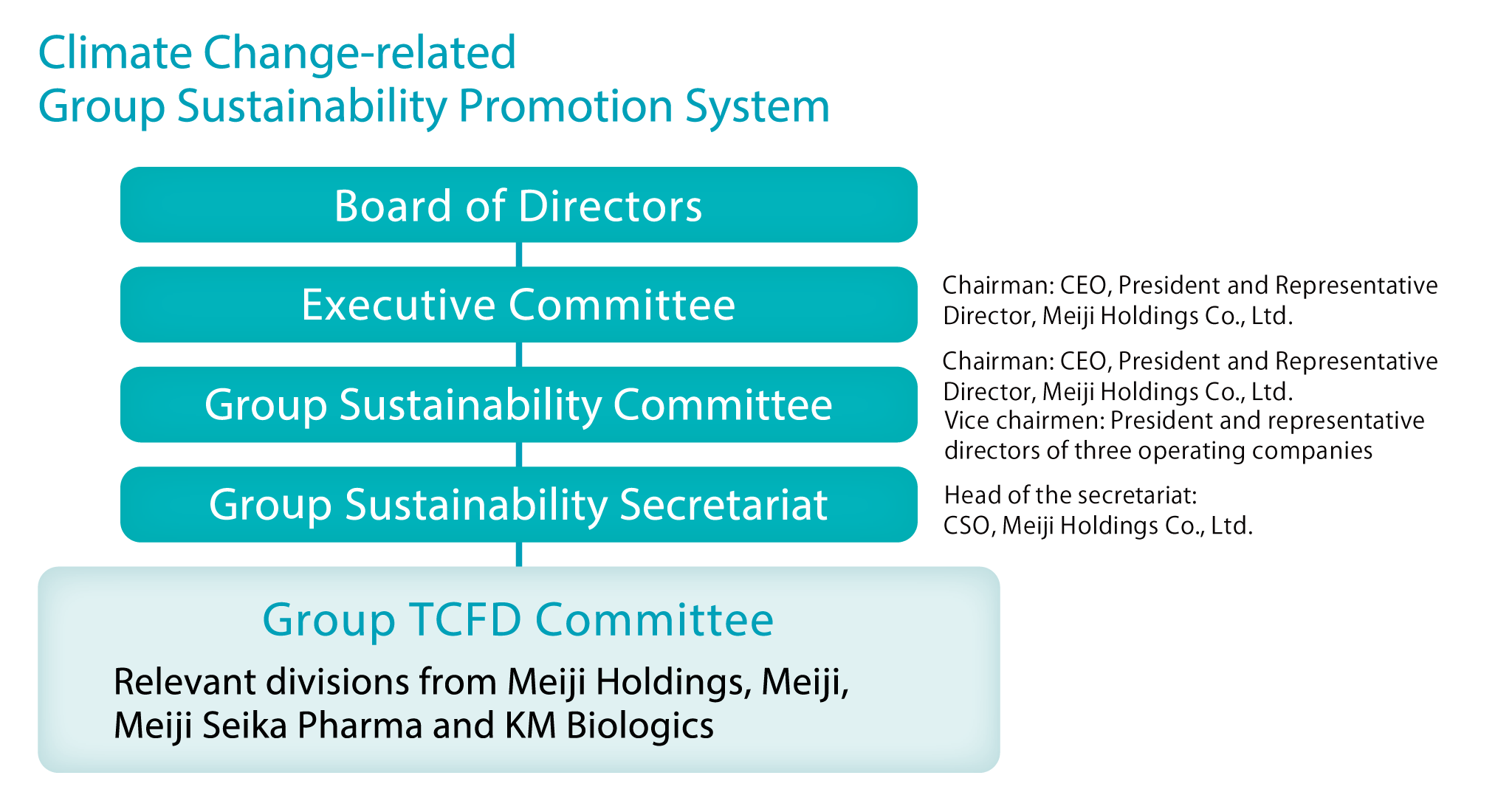 Adopted an Internal Carbon Pricing System
Meiji Group has adopted internal carbon pricing (ICP) system in fiscal 2021 for the Meiji Group's capital investments in energy-saving equipment and other equipment that contribute to reducing CO2 emissions. We have set our internal carbon price at (5,000 yen/t-CO2).
An internal carbon price will be applied to estimate the cost of CO2 emissions. We will use the calculated costs as one of the decision criteria for capital investment plans that entail an increase/decrease in CO2 emissions. By adopting this system, we can now measure financial impact and reduce CO2 emissions.
Material Balance (FYE 3/2022)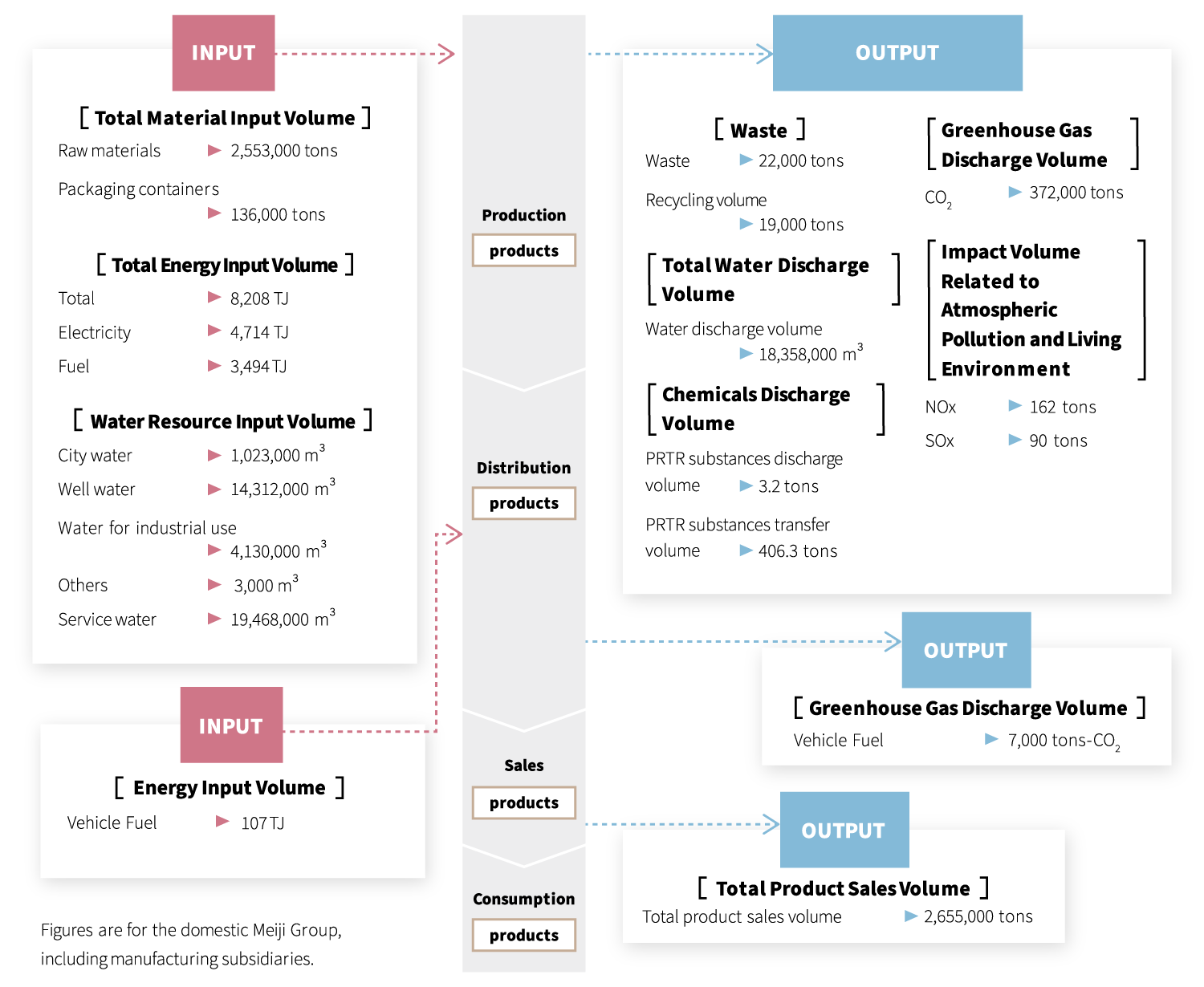 Quantity of raw material used
| | Unit | FYE 3/2018 | FYE 3/2019 | FYE 3/2020 | FYE 3/2021 | FYE 3/2022 |
| --- | --- | --- | --- | --- | --- | --- |
| Quantity of raw materials used | 10,000 tons | 221 | 203 | 172 | 173 | 165 |
ESG Investment Promotion
Establishment of the framework for ESG investment of 30.0 billion yen (plans for FYE 3/2022 ~ FYE 3/2024)
Priorities
Details of Investment
Reduction of CO

2

emissions
1. Installation of or updating to highly-efficient energy-saving equipment
2. Installation of solar panels, etc.
CFC Reduction Measures
1. Installation of or updating to CFC-free refrigerators and freezers, etc.
Reduction of Plastic Usage
1. Reduction in weight of packaging, introduction of equipment enabling reuse
2. Introduction of environmentally conscious packaging equipment
Securing Water Resources
1. Introduction of equipment to reuse the water used for washing in production process
2. Improvement of water quality, introduction of equipment for making use of rain water, etc.
Editorial Policy
Regarding our sustainability activities, we will regularly update and improve our specific initiatives in order to stay true to Meiji Group's Sustainability 2026 Vision and ensure its success.
Scope and Boundary of Reporting
Organizational Scope
This report covers the activities of the Meiji Group, comprising, unless otherwise noted, Meiji Holdings, Meiji, Meiji Seika Pharma, and KM Biologics, and these Group companies.
Period Covered
Fiscal Year End March 2022 (April 1, 2021-March 31, 2022)
Some qualitative information includes performance of FYE March 2023.
Guidelines Referenced
GRI Sustainability Reporting Standards in 2016
SASB
Environment Reporting Guidelines (2018) by the Ministry of the Environment of Japan
Issuance Period
Issued on: November 2021
Next issue schedule: October 2022
Contact Information
Meiji Holdings Co., Ltd.
Sustainability Management Department
2-4-16, Kyobashi, Chuo-ku, Tokyo 104-0031, Japan