Contribute to Healthy Diets
Develop Health Concious Products
In response to the health needs of today's diverse consumers, the Meiji Group released 27 health-conscious products in FY2021. It developed these products by leveraging the strengths of its Food and Pharmaceuticals businesses while making the most of its advanced expertise in nutrition and pharmaceuticals.
About health-conscious products
The Meiji Group defines health-conscious products as those that contribute to bodily health. They include products that utilize healthy ingredients, such as lactobacillus and cocoa, contain added amounts of healthy ingredients designed to enhance health, or meet current consumer needs for reduced sugar, fat, or calories.
Main Products Released in FYE 3/2022

| | | |
| --- | --- | --- |
| | | |
| Meiji Bulgaria Yogurt LB81 Plain, | Oligosmart Nutty Crunch(Chocolate) | Sokko Genki Jelly |
| Only dairy ingredients /No additives | Chocolate sweetened with fructooligosaccharide instead of sugar | Ginseng Plus (Nutritional Drink Flavor) |
Product Development by Utilizing Healthy Lactobacillus and Cocoa Ingredients
The Meiji Group is developing new products made with probiotics, particularly lactobacillus, and plans to expand its lineup of high cocoa-content chocolate products that offer healthy cocoa polyphenols.
| | | | | |
| --- | --- | --- | --- | --- |
| | | | | |
| Meiji Bulgaria Yogurt | Meiji Probio Yogurt LG21 | Meiji Probio Yogurt R-1 | Meiji Probio Yogurt PA-3 | Chocolate Kouka Cocoa 72% |
Promoting Healthy Yogurt Drinks Made with Lactobacillus in China
The Meiji Group began selling Meiji Probio Yogurt R-1 and Meiji Probio Yogurt LG21 in China in April 2021. This was the first time for these yogurt drinks to be sold outside Japan.
In China, nationwide efforts to improve the health of citizens have been underway since the government launched its Healthy China 2030 healthcare vision in 2016.
As consumers became increasingly health conscious, the country's yogurt market has expanded, and is projected to grow to 225.6 billion yuan by 2025, about 1.5 times the level in 2020.*
Furthermore, lactobacillus has been recognized by consumers for its health benefits.
In that context, the Meiji Group is now working to create a market for probiotic yogurt products in China through science-based marketing campaigns for the two products, which are made with lactobacillus and backed by extensive research results. By promoting yogurt made with lactobacillus as a healthy new alternative, the company hopes to contribute to good eating habits in China.
Expanding Yogurt Market in China (Source: Euromonitor International's Passport)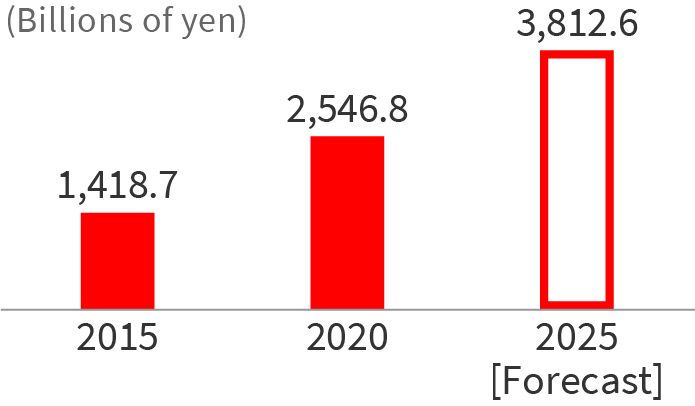 Product Development by Utilizing New Healthy Ingredients
We will discover original ingredients and develop new products that support healthy lifestyles through exercise and physical activity.
Products with Reduced Sugar, Fat, and Calories

| | | | | |
| --- | --- | --- | --- | --- |
| | | | | |
| Meiji Bulgaria Yogurt | Meiji Probio Yogurt LG21 | Meiji Probio Yogurt R-1 | Meiji Oishii Gyunyu low fat | Meiji Offstyle |
| Zero fat | Reduced fat | Reduced sugar and calories | | Low-fat margarine |
Products that support portion size control
The Meiji Group offers a variety of products in different portion sizes (the same content in multiple amounts) to make it easier for customers to adjust the amount of food they eat at one time to suit their own needs.
By expanding the range of product choices with the addition of the small-volume product lineup, we will contribute to the realization of a healthy lifestyle for our customers by curbing excessive intake. 
Develop Nutrition-enriched Products
Amid growing consumer awareness of the importance of getting essential nutrients and improving nutritional balance, the Meiji Group released 35 nutrition-enriched products in FY2021. The Group applied its proprietary research on nutrition and related technologies to ensure that these products provide a good balance of nutrients that people need. Besides the product contents, all other aspects of the products were considered at the development stage, including volume, shapes, and packaging.
About nutrition-enriched products
Baby food
Sports nutrition
Balanced nutrition food
Meiji MIRAFUL powdered beverages, strawberry flavor/ yogurt taste drink

(SAVAS) Milk Protein

Fat 0, fruit mix flavor

TANPACT yogurt taste jelly, muscat flavor
Launched Meiji TANPACT to Overcome Reduced Protein Intake
Poor nutrition is an issue not only in emerging countries but also in developed countries. Currently, reduced protein intake is a problem in Japan. All generations are experiencing insufficient nutrition, for example, women who are dieting excessively and the elderly who are eating and exercising less. In fact, the average daily protein intake per person in Japan has fallen to that of the 1950s. For more than 65 years, we have been developing protein products and successfully expanding the value of protein through products such as milk formula, yogurt and sports supplements. Using that knowledge, we developed Meiji TANPACT, new products containing a good balance of essential amino acids that people consume in milk protein in their daily lives. We will continue to address poor nutrition by promoting the enjoyment of food and offering many Meiji TANPACT products. Consumers enjoy milk protein anytime and anywhere throughout the day.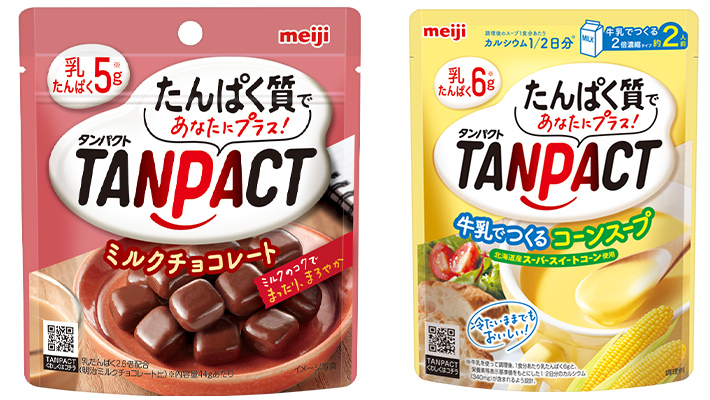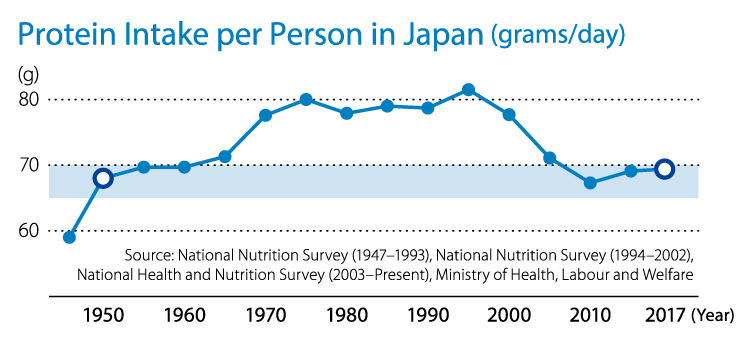 Nutritional and Medical Products for Infants, Seniors, and Sports Enthusiasts
The Meiji Group draws from its research on nutrition and related technologies to develop high-value-added products that provide a good balance of essential nutrients. These products offer nutritional benefits to people of all ages, from infants to the elderly, as well as to athletes and sports enthusiasts.
| | | | | |
| --- | --- | --- | --- | --- |
| | | | | |
| Infant formula | Liquid infant formula | Sports nutrition | Sports nutrition | Nutritional products |
| Meiji Hohoemi Raku Raku Cube | Meiji Hohoemi Rakuraku Milk | SAVAS Whey Protein | VAAM Athlete | Meiji Mei Balance |
Contributing to Healthy Growth with Our Infant Formula Featuring More Added Value
Since first launching in Japan a vitamin B1 fortified infant formula in 1923, the Meiji Group has been committed to the infant and toddler nutrition business to promote their healthy growth. We are currently supporting health in babies and toddlers by focusing on Meiji Hohoemi, which can be used as a breast milk replacement for infants, and on Meiji Step, which helps provide suitable nutrition for toddlers up to age 3. In addition, we developed the world' s first infant formula in cube form to help in the child rearing process. It is designed for anyone to prepare the infant formula easily even for late night feedings, so that everyone in the family can participate in child rearing. In March 2019, we also launched a formula in liquid form that can be stored and fed at room temperature and offers a long shelf life. This is not only convenient when feeding outside of the home but gives mothers peace of mind as an emergency supply in the event of a disaster or emergency situation.
Promote Healthy Diets and a Healthy Food Culture
The Meiji Group implements educational programs and information campaigns about its products, good eating habits, and food culture to encourage consumers to lead healthy lifestyles.
Expanding Nutrition and Healthy Diet Education Activities
Results of nutrition education initiatives


| | | | | | |
| --- | --- | --- | --- | --- | --- |
| | FYE 3/2018 | FYE 3/2019 | FYE 3/2020 | FYE 3/2021 | FYE 3/2022 |
| Japan | 17.3 | 19.6 | 21.2 | 9.7 | 18.8 |
| Overseas | 0.18 | 0.38 | 0.07 | 0.02 | 0.03 |
Nutrition Education Initiatives in Japan
The Meiji Group began offering nutrition education in 2006, one year after Japan enacted a law concerning food and nutrition education. By explaining the value of nutrients, how food is produced, and the challenges faced by producers of milk, chocolate, and other products, the programs aim to encourage people to develop healthy eating habits and foster an appreciation and understanding of food.
In recent years, the Group has been targeting a broad range of age groups through its numerous education programs held at events it sponsors and at high schools, universities, workplaces, and public facilities for senior citizens. The programs focusing on health management, which has been attracting attention recently, have been especially popular among participants.
From FY2020, food and nutrition seminars were held online due to the global COVID-19 pandemic, and attracted large numbers of participants. The online format also enabled greater coverage across Japan, including its island communities. Having received very positive feedback from participants of all age groups, the Group plans to offer even more seminars about food and nutrition as way to promote good health and well-being.
Overview of Activities

Head office and seven workplaces around the country (in the cities of Sapporo, Sendai, Tokyo, Nagoya, Osaka, Hiroshima, and Fukuoka)
Nationwide organization with a staff of about 60 in charge of its nutrition education activities
Participating students: 122,917 from 1,253 elementary and junior high schools (FY2021)

Cumulative Results

By the end of FY2020, lessons were held at over 10,000 elementary and junior high schools with more than one million students participating.

Supervisors for our programs

For cooking recipes: Eiko Egami, President, Egami cooking school
For dairy nutrition: Tadao Saito, Professor Emeritus, Graduate School of Agricultural Science, Tohoku University
For physiology: Hiroshi Nose, Professor, Department of e-Health Science, Shinshu University Graduate School of Medicine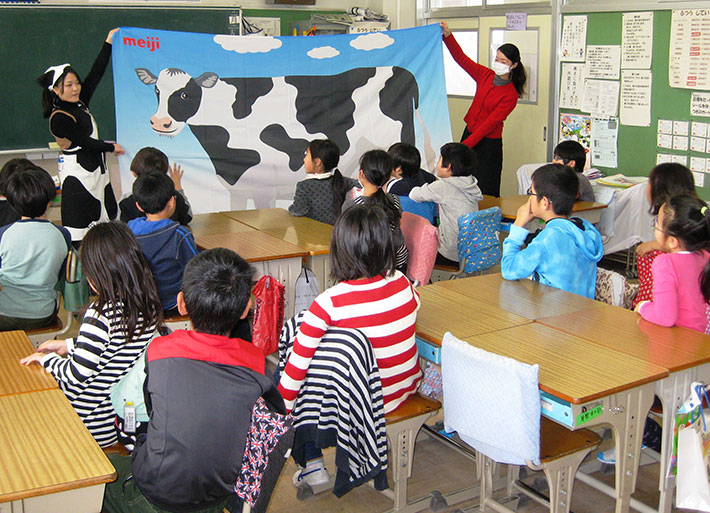 Nutrition Education Initiatives in Overseas
In China, Meiji Dairies (Suzhou) implements an nutrition education for children focusing on yogurt. Through fun hands-on activities, the program teaches kids about dairy cows, milk, yogurt, and nutrition.
Providing Factory Tours for Stakeholders
Participants in Factory Tours


| | | | | | |
| --- | --- | --- | --- | --- | --- |
| | FYE 3/2018 | FYE 3/2019 | FYE 3/2020 | FYE 3/2021 | FYE 3/2022 |
| Japan | 20.5 | 21.2 | 21.3 | 3.8 | 6.3 |
| Overseas | 0.9 | 1.1 | 1.4 | 0.04 | 0.06 |
Factory Tours in Japan
Meiji provides tours of seven of its production plants in Japan, allowing visitors to see up close how the company produces delicious and healthy food products based on strict quality control standards.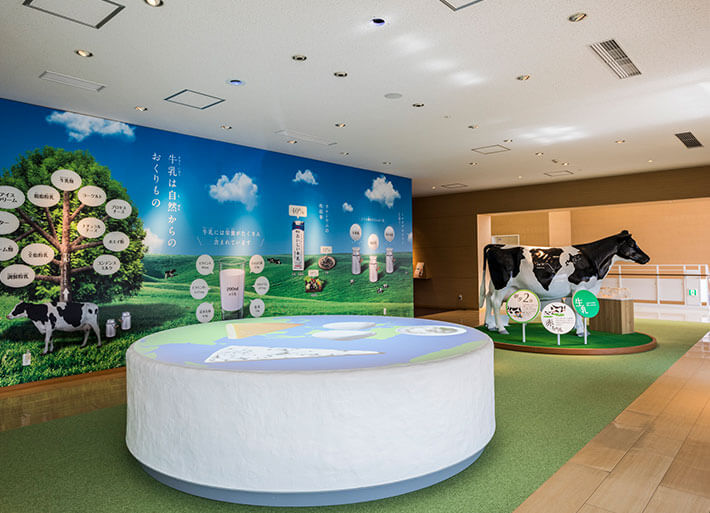 Factory Tours in China
In China, we offer factory tours at three factories: Meiji Ice Cream (Guangzhou) Co., Ltd., Meiji Dairies (Suzhou) Co., Ltd., and Meiji Seika Food Industry (Shanghai) Co., Ltd.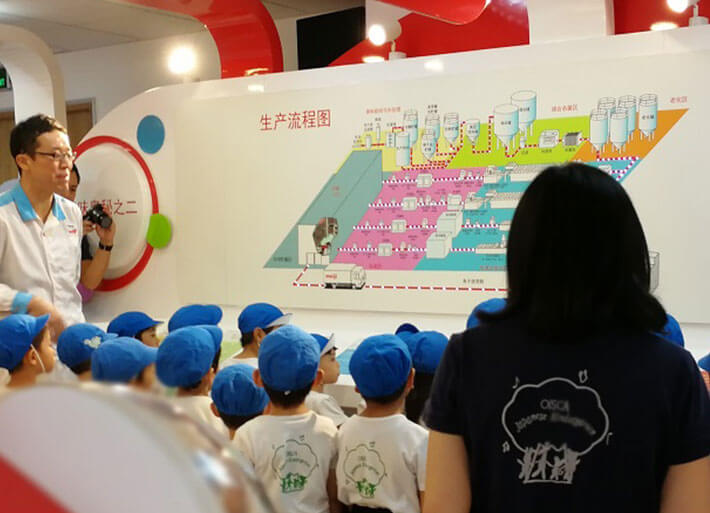 Supporting Nutrition through Sports
The Meiji Group organizes sports nutrition seminars across Japan to help young people improve their physical fitness and enhance their individual performance. The seminars teach aspiring athletes about which foods are preferable and how to effectively use supplements so that they can develop healthily from a young age.
By providing these seminars nationwide, the Group hopes to help young athletes realize their abilities and potential while also supporting coaches at the forefront of sports nutrition.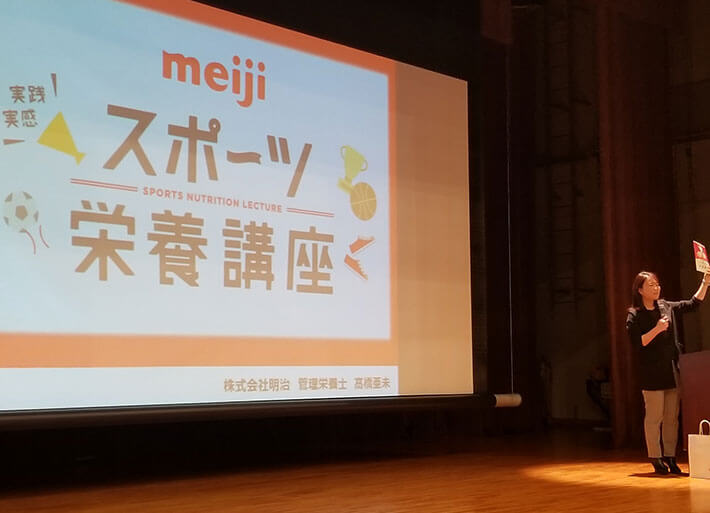 Participants in Sports Nutrition Seminars

FYE 3/2018
FYE 3/2019
FYE 3/2020
FYE 3/2021
FYE 3/2022
Number of participants
in sports nutrition seminars
9.9
7.2
6.4
2.6
3.6
Communicating Information About Milk, Lactobacillus, and Cocoa
We publish and present the results of research on milk, Lactobacillus, and cocoa (raw ingredients in our products) in white papers and at conferences. We explain healthy effects of milk, Lactobacillus, and cocoa to our customers through nutrition and healthy diet education and plant tours. We will continue to pursue our mission of educating the world about health and nutrition.
Employee education on marketing and advertising (food business)
In order to promote responsible marketing, we provide educational programs for employees involved in promotion and public relations, as well as to those who wish to do so.
We will further expand the content of our educational programs to ensure that our employees can provide the right information to customers about our products.
Educational Program Content and Results
| | | |
| --- | --- | --- |
| Educational Program Content | FYE 3/2022 | FYE 3/2023 |
| Meiji Group Marketing Communication to Children Policy | — | 130 |
| Rules regarding the use of SDGs logos and icons in the Meiji Group | 29 | 156 |
Respond to a Super-Aged Society
Develop Products That Contribute to a Super-Aged Society
Through original research and nutritional design, we offer products for consumers to take in the nutrient content and energy they require.
Developing Delicious, Easy-to-Use Nutrition and Liquid Foods for the Elderly
As people grow older, they may have trouble eating and digesting solid foods, which could result in insufficient intake of nutrients and water. In such cases, they must make sure to get enough nutrition. To meet their needs, the Meiji Group develops good-tasting and easy-to-use nutritional food products, liquid food, and nursing care food. All aspects of these products are developed, including volume, shapes, and packaging, with consideration given to the increasingly diverse lifestyles of senior citizens. The Group released five products that benefit the health of elderly consumers in FY2021.
| | | | | |
| --- | --- | --- | --- | --- |
| | | | | |
| Nutritional products | Nutritional products | Enteral formula | Enteral formula | Slurry Preparation Food |
| Meiji Mei Balance Mini-cup | Meiji Nutrition up paste | Meiji Mei Balance R | Meiji Inslow | Meiji Easy Toromake |
Conduct Educational Activities Aimed at Preventing Malnutrition
Malnutrition among the elderly has emerged as a health problem in Japan. In response, the Meiji Group is carrying out educational initiatives to help senior citizens acquire enough nutrition and lead more active lives.
Seminars about Malnutrition for Healthcare Professionals and the Elderly
We conduct educational activities focused on malnutrition and malnutrition prevention. Our goal is for the elderly to avoid malnutrition and lead active daily lives. We hold seminars about malnutrition and malnutrition prevention, targeting healthcare professionals at in-home-care support centers, drug store employees, and the elderly. Specifically, we provide information about nutrition and meals recommended for the elderly. We also discuss the preparation of meals that are easier to eat for elderly people who have difficulty swallowing.
Improve Nutrition in Emerging Countries
Communicate Information on Nutrition Improvement in Emerging Countries
Many people in developing countries and emerging economies suffer from nutritional deficiencies and malnutrition.
As a company in the food business, we want to help solve these issues, working with groups that encourage nutrition improvement to raise awareness about diet and nutrition through educational activities.
Participation in the Nutrition Japan Public Private Platform
Meiji is a member of the Nutrition Japan Public Private Platform, an organization that facilitates joint initiatives in the private and public sectors to improve nutritional intake in developing countries. The platform was established following the Japanese government's declaration to step up efforts to improve nutrition worldwide in the lead up to the 2020 Tokyo Olympic and Paralympic Games. As a member, Meiji has been participating in initiatives for improving people's health and livelihoods and for ending hunger, a goal of the Sustainable Development Goals adopted by the United Nations in 2015.
Nutrition Japan Public Private Platform (NJPPP)
Nutrition Improvement Program for Female Factory Workers in Vietnam
Providing 650,000 female factory workers with nutrition education by 2030
In recent years, malnutrition among women has become a social issue in Vietnam.
Pregnant women, nursing mothers, and female workers in particular face the issue of their nutrition improvement. To contribute to solving this issue, we are working on a program to improve nutrition among female factory workers. The program is aimed at improving the nutritional conditions of women working at factories by nutritionists from MEIJI FOOD VIETNAM CO., LTD. providing them with nutrition education and nutritionally-fortified milk. Up to this point, we have conducted several nutrition improvement seminars at factories of two major Japanese manufacturers, attracting the participation of a total of 370 female workers.
The nutrition research that we conducted in collaboration with Hanoi Medical University has proved that nutrition education and dietary guidance help improve health conditions, including increasing levels of iron, zinc, and calcium in the blood.
The research results were presented by Nguyen Thuy Linh, a Doctor of Nutrition at Hanoi Medical University, at an international symposium marking the university's 60th anniversary. In the future, we will expand our nutrition improvement initiative based on this evidence. Our aim is to provide nutrition education to 650,000 female factory workers by 2030.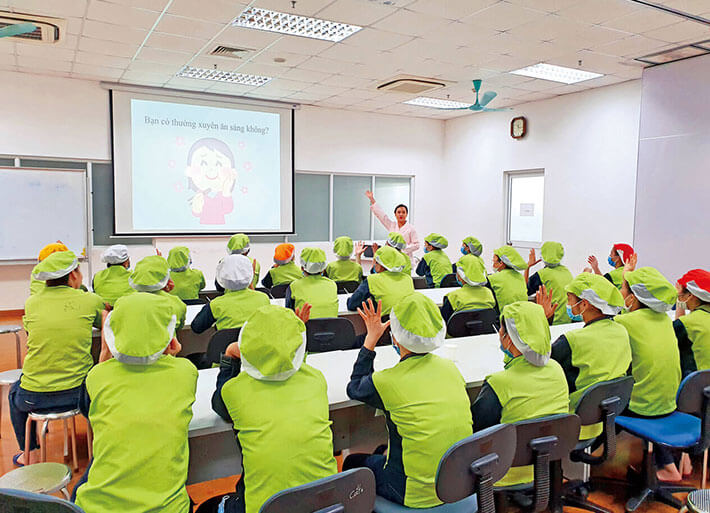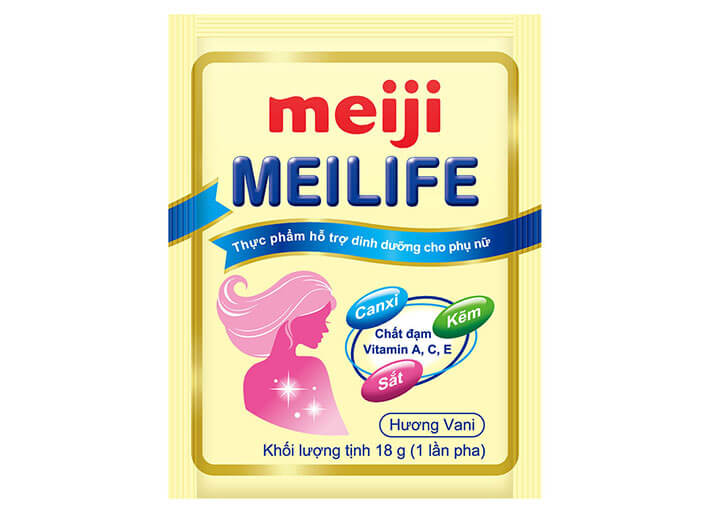 Ensure the Sustainable Supply of Pharmaceuticals
Ensure the Sustainable Supply of Drugs for Infectious Diseases, Drugs for Central Nervous System Disorders, Generic Drugs, and Vaccines
Our Pharmaceuticals business has developed an infrastructure to ensure a reliable, stable supply of drugs in Japan and throughout the world. The business has conducted a risk assessment, preparing a supply network capable of responding flexibly to any unforeseen circumstances.
Optimization of Production Site Allocations in Japan and Overseas to Ensure Stable, and Low-Cost Supply
We have optimized our production site allocations in Japan and overseas (Thailand, Indonesia, India, and China) to form a network ensuring the stable, and low-cost supply of drugs.
Stable Supply of Antibiotics (Strengthening Stable Supply System for Five Key Drugs)
Production troubles at overseas pharmaceuticals manufacturers resulted in the disruption of cefazolin shipments to Japan. Now, many medical institutions in Japan have become concerned about the stable supply of infectious disease drugs (antibacterial agents). Since the treatment of infectious diseases would not be possible without a stable supply of antimicrobial agents, five academic societies1 having profound knowledge of infectious diseases have expanded the list of clinically important drugs (key drugs) for which a stable supply is essential. As of March 2022, the number of key drugs have expanded to 32, 132 of which are supplied by Meiji Seika Pharma Co., Ltd.
To meet our social responsibility and to accomplish a central role in the treatment of infectious diseases, we intend to continue our efforts to ensure quality, to optimize our production bases, and to strengthen the stability of our supply system.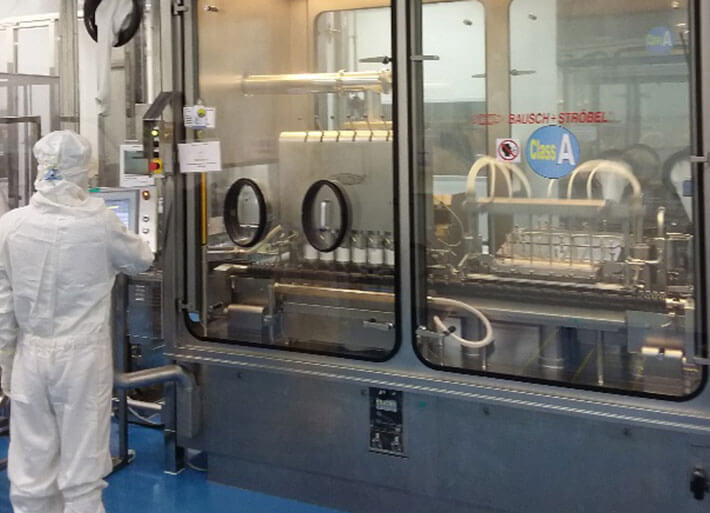 Sustainable Supply of Vaccines
Vaccine Production System Established in Preparation for an Influenza Pandemic
KM Biologics has received funding through a project launched by Japan's Ministry of Health, Labour, and Welfare to ensure the development and production of vaccines for new strains of influenza. In the event of an influenza pandemic, the company is responsible for manufacturing and supplying influenza vaccine to 57 million people (almost half the population of Japan).
Sole Supplier of Drugs
KM Biologics is the sole manufacturer and supplier of various products in Japan, including antivenoms for poisonous snakes (Mamushi and Habu), a vaccine for hepatitis A, an anthrax vaccine for livestock, and various diagnostic agents.
Manufacturer and Supplier of Orphan Drugs
Seven products manufactured by KM Biologics have been designated and approved as orphan drugs in Japan* as of June 1, 2022.
Access to Medicine
We collaborate with certain organizations to improve access to medicine in developing and emerging countries.
Medreich Contributes to Medicine Access through UNICEF
Medreich Limited conducts pharmaceutical-manufacturing business, including CMO (contract manufacturing organization) and CDMO (contract development and manufacturing organization), in India. The company manufactures generic drugs and sells them to markets worldwide, including Europe, Asia, Africa and Oceania. Its U.K.-based subsidiary, Medreich plc, sells pharmaceutical products manufactured by Medreich Limited to the EU and other markets. Medreich plc supplies the antibiotic Amoxicillin to UNICEF. Medreich will continue improving children's access to medicine through UNICEF.
KM Biologics is Developing a Novel Vaccine for Dengue
KM Biologics is developing a novel vaccine (KD-382) for dengue which is wider spread in tropical and sub-tropical climates worldwide, including the developing nations. KD-382 is a live attenuated tetravalent dengue vaccine containing each live attenuated dengue virus for four dengue serotypes 1 to 4 (DENV1-4) as the active ingredient and is expected to provide preventive effect against dengue. KD-382 has shown good immunogenicity and protective efficacy for all four serotypes with a single dose administration in the non-clinical studies.
The Phase I clinical study was conducted to evaluate the safety and immunogenicity of the KD-382 vaccine in 60 healthy adults in Australia, which is a non-dengue endemic country, by administering the KD-382 vaccine subcutaneously once or twice with a 4-week interval. The results show that the KD-382 vaccine is safe and well-tolerated by healthy adults. Moreover, KD-382 showed 100% seroconversion at an early stage and elicited long-lasting and neutralizing antibody response for all 4 serotypes in most subjects over a 1-year follow-up, despite the single-dose administration.
Measures Against Infectious Diseases
Providing Information on the Proper Use of Antibiotics
The Meiji Group's pharmaceutical business has been developing, manufacturing, and selling therapeutics for infectious diseases, particularly ethical pharmaceuticals, since it began producing penicillin in 1946. Besides supplying antibiotics for various infectious diseases, the business provides information for dealing with peaks of epidemics, and informs medical institutions about the proper use of antibiotics.
Public Awareness Activities Concerning Antimicrobial Resistance (AMR)
The Meiji Group actively carries out public awareness campaigns about medical and health issues in partnership with related organizations. For example, the Group is a member of the Japan Pharmaceutical Manufacturers Association's stewardship project that aims to help stop antimicrobial resistance (AMR). The Group requests medical organizations to display posters and show educational videos produced through the project, provides information on drug tolerance, and promotes initiatives taken by the association's members. The Group also raises awareness of One Health, an approach through which organizations work together to address issues related to the intersection of human, animal, and environmental health, which is essential for combatting AMR.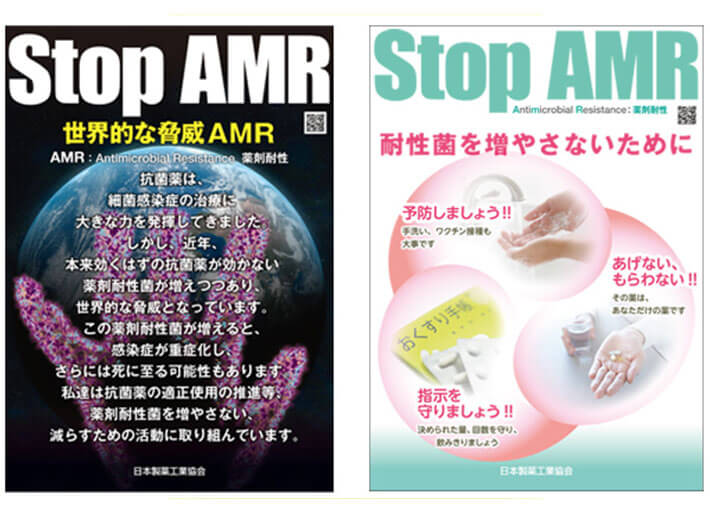 Appropriate Use of Antibiotics Efforts to Control Infectious Diseases Caused by Vancomycin-resistant Bacteria
The risk of infectious diseases caused by drug-resistant bacteria* is increasing globally partly due to inappropriate use of antibiotics. One such example is the infectious diseases caused by vancomycin-resistant bacteria. With the use of vancomycin for MRSA infections, vancomycin resistance increases.
To prevent the spreading of these drug-resistant bacteria, the Ministry of Health, Labour and Welfare (MHLW), the Japan Antibiotics Research Association and pharmaceutical companies established the Vancomycin Study Group. Meiji Seika Pharma has worked as the organizer of the Association since it was established in 2002, leading many efforts to achieve appropriate use of vancomycin. Collaborating with relevant organizations, the Study Group continues to monitor drug quantities used in order to check and understand changes or any signs of increase in drug resistance. The Study Group reports survey results to the MHLW and provides that information to medical institutions.
Plant Tours and Infection Prevention Education
Plant tours
KM Biologics provides tours of its production plants to students to show them how influenza vaccines are made. In FY2021, the tours were reduced in number due to the COVID-19 pandemic, but they plan to resume the tours once the pandemic settle down. Since the tours were not possible, the company started a new initiative to have KM Biologics employees provide lessons on preventing infections at elementary and junior high schools, and others.
School lessons
People have become more aware of public health due to the spread of COVID-19. Against that backdrop, KM Biologics has been sending its employees to schools to teach children about the importance of health and hygiene. The employees use simple methods for teaching the students about the basics of immunity and how to prevent infections, thereby increasing their knowledge and awareness of infectious diseases while helping prevent infections. In FY2021, a total of 1,167 students attended lessons held at five elementary schools and two junior high schools and others in Kumamoto Prefecture. The children expressed their determination to always wash their hands and fight the vaccine, while the school teachers conveyed their gratitude for providing such substantive lessons, which would have been difficult to teach themselves.
Pandemics could occur any time in the future, not only from variants of the coronavirus but also from new infectious diseases. Therefore, to provide information to people about infectious diseases and promote effective preventative measures, KM Biologics intends to expand the scope of these activities and help realize a healthy and prosperous future for everyone.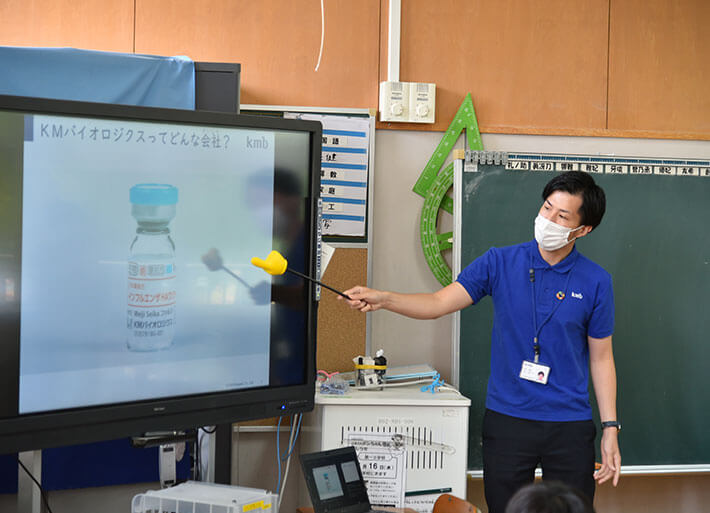 Research and Development
In the pharmaceutical business, we are proceeding with research and development so that products can be delivered to patients as soon as possible. In addition, as a company involved in the field of infectious diseases, we will implement infectious-disease countermeasures including prevention and drug resistance.
Preventing the Spread of COVID-19
Developing an Inactivated Vaccine in Japan
Drawing from its many years of vaccine development expertise, KM Biologics has been developing an inactivated vaccine1 for COVID-19 (KD-414) since May 2020, in collaboration with Japan's National Institute of Infectious Diseases, Tokyo University's Institute of Medical Science, and the National Institute of Biomedical Innovation, Health and Nutrition. An international Phase III clinical trial in adults aged 18 to 40 years and a domestic Phase II/III clinical trial in children aged 6 months to under 18 years old commenced in April 2022 to investigate the safety and immunogenicity of the vaccine. This was the first domestic clinical trial in children under 5 years old, and it was also the first clinical trial of an inactivated vaccine for COVID-19 conducted in Japan.
KM Biologics has acquired approval to manufacture and sell prototype vaccines2 for potential new strains of influenza that could cause a pandemic like that of COVID-19. It has also put a system in place to quickly manufacture and supply such a vaccine in the event of such a pandemic in the future. KM Biologics is now examining whether it is possible to apply to have the inactivated vaccine it is currently developing approved as a prototype vaccine based on the scientific findings.
While COVID-19 vaccines are already being supplied by pharmaceutical companies from other countries, the quick development of a vaccine in Japan is regarded as important for ending the pandemic within the country as soon as possible. Therefore, KM Biologics is focusing its efforts on developing a domestically produced vaccine to ensure a stable and continuous supply.
Supplying the AstraZeneca Vaccine in Japan
Meiji Seika Pharma and KM Biologics have concluded an agreement to supply the COVID-19 vaccine manufactured and sold by AstraZeneca plc (which it jointly developed with Oxford University) in Japan following its special approval in May 2021. Based on the agreement, KM Biologics was in charge of formulating the vaccine after receiving a bulk supply of it from AstraZeneca in March and December 2021. Meiji Seika Pharma is responsible for storing and distributing the vaccine to wholesalers in Japan, making use of its existing vaccine distribution and supply network.
Aiming to Discover Antiviral drugs for COVID-19
In May 2021, Meiji Seika Pharma and the Kitasato Institute began a joint-R&D project to discover ground-breaking COVID-19 therapeutics using next-generation derivatives of ivermectin, and to establish a platform for antiviral agents. The project was selected by the Japan AMED (Agency for Medical Research and Development) as an R&D project in its CiCLE (Cyclic Innovation for Clinical Empowerment) program in 2020. Having designated infectious diseases as a priority domain, Meiji Seika Pharma is aiming to provide innovative treatments for various viral infections, particularly new coronaviruses.
R&D on Antibodies for Treating COVID-19
Meiji Seika Pharma's R&D program on the antibodies for the treatment of COVID-19 was selected by the Japan Agency for Medical Research and Development for its Research Program on Emerging and Re-emerging Infectious Diseases in 2020.
Through the program, the company has been conducting research on human monoclonal antibodies that will provide an additional treatment option for COVID-19. We will study on antibodies, select such promising ones as would have targeted efficacy and further study production method of them to be used for preclinical and clinical trials.
R&D of β-lactamase Inhibitor
Tackling antimicrobial resistance (AMR) is a serious challenge for the world today, and this issue was discussed at the G20 Summit held in Osaka in June 2019. Japan has established an action plan to combat antimicrobial resistance, and is calling for research and development of new methods for preventing, diagnosing, and treating infectious diseases that result from drug-resistant bacteria.
Against that backdrop, the beta-lactamase inhibitor nacubactam (development code OP0595) discovered by Meiji Seika Pharma was selected for a national project (CiCLE: the Cyclic Innovation for Clinical Empowerment program) that aims to spark innovation in Japan's drug discovery process and promote R&D collaboration between the academic, public and private sectors. Nacubactam has the potential to be developed as an effective treatment against multidrug-resistant bacteria, as it possesses a mechanism of action not found in other beta-lactamase inhibitors up to now. Clinical development has begun in Japan and R&D is moving ahead in other parts of the world. Several first-stage clinical trials have already been completed, and plans are underway for an international third-stage clinical trial.