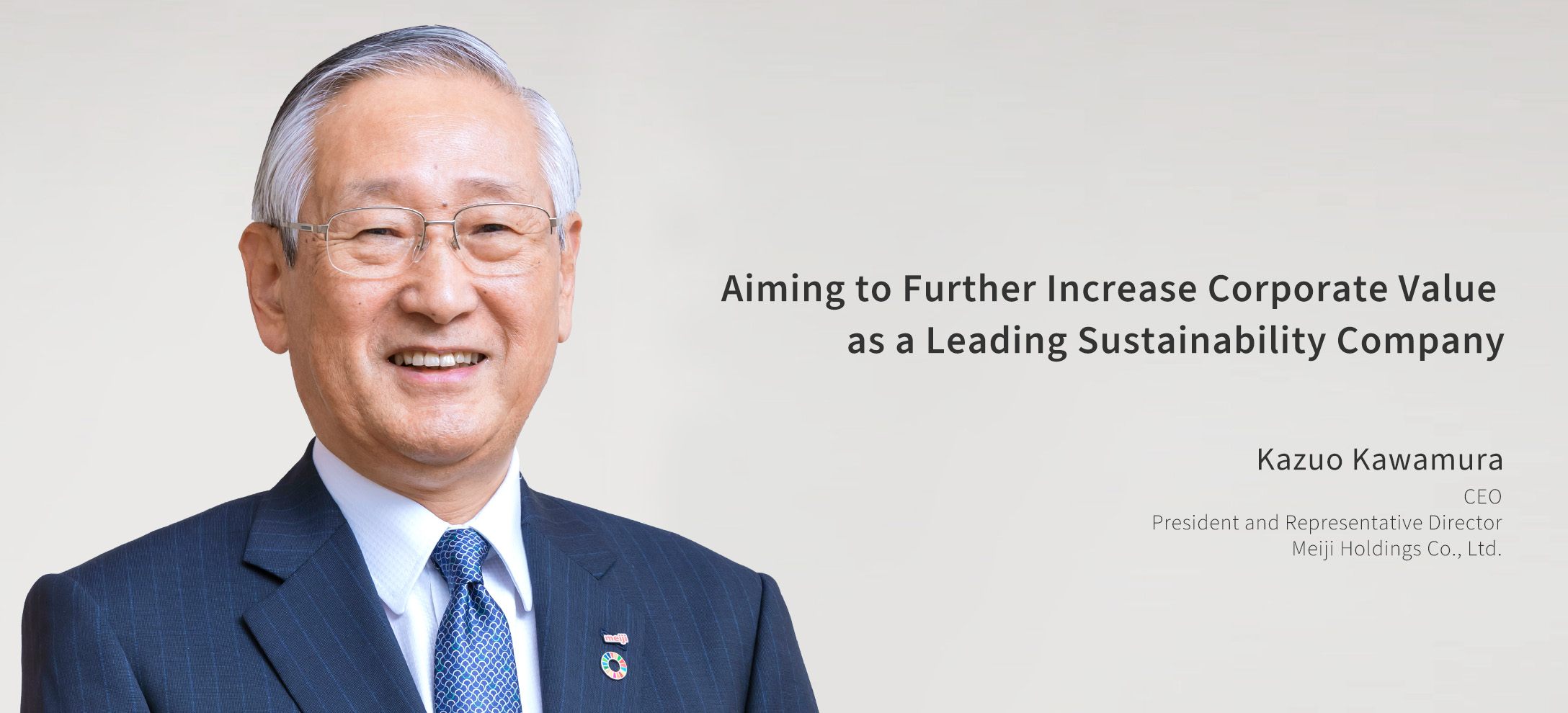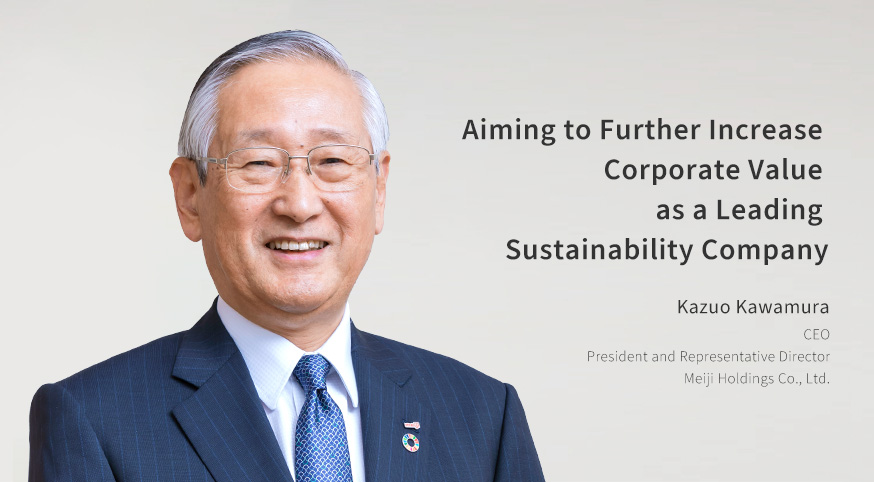 As a corporate group with businesses in the domains of food and pharmaceuticals, the Meiji Group adopted a new slogan in fiscal 2021: Now iIdeas for wellness. We are a corporate group supporting the foundations of human life to live happily and healthily. In this context, we continue to contribute solutions to various health issues that including eating for nutrition and good health, medicines for illnesses, and vaccines to prevent illness.
We made significant progress in fiscal 2021, which was the initial year of our 2023 Medium-Term Business Plan, particularly in our efforts related to the environment and human rights. At COP26 held in Glasgow, U.K., in November 2021, a clear statement was published that companies must pursue efforts to limit climate change to 1.5℃. In response, the Meiji Group revised our target to a more challenging CO2 emissions reduction (Scope 1 and 2) of 50% by the year 2030 compared with fiscal 2019 levels. We expect this will accelerate our efforts to achieve carbon neutrality by the year 2050.
We are endeavoring to identify the current situation of non-Japanese workers laboring within the Meiji Group as part of our efforts in human rights. These workers tend to be in a particularly vulnerable position, and in June 2022, we established the Meiji Group Foreign Worker Employment Guidelines  . We intend to strengthen our future efforts to resolve related issues under a set of unified group-wide guidelines.
In addition, we are expanding our implementation of sustainable procurement questionnaires to strengthen our understanding of and take corrective actions for issues related to the environment and human rights in our supply chain. And we will contribute to creating a responsible supply chain through stronger efforts not only within our own company but also across the entire supply chain.
As a new initiative for fiscal 2021, we established the ESG Advisory Board, aiming understand what our stakeholders want and expect from us and how we should respond. We receive important suggestions from outside experts who serve as board members, including the need to change our way of thinking from a trade-off approach to a trade-on approach. By incorporating these objective perspectives into our business management and improving our efforts to address Meiji Group materialities, we aim to become one of Japan's leading sustainability companies by the final year of our 2023 Medium-Term Business Plan.
In addition to these activities, the Meiji Group participates in the United Nations Global Compact and supports the Ten Principles related to Human Rights, Labour, Environment, and Anti-Corruption1 striving to improve in each area. In this way, we continue to pursue initiatives in collaboration with external organizations, striving for a future society in which people around the world live healthy lives with smiles on their faces.
July 2022