The human mind is invisible to the eye. Sensing the onset of mental fatigue and damage is challenging, which makes it difficult to realize when you are being affected. What if we could catch the signs of mental illness before they develop?
Depression is the most significant cause of long-term leaves of absence from work, unemployment, and suicide. According to the Organisation for Economic Cooperation and Development (OECD), in the midst of the ongoing COVID-19 pandemic in 2020, the number of people with depression reached 17.3% in Japan. This is more than double the figure from 2013. Confronting this serious threat, Meiji Seika Pharma launched a project using DX to prevent depression, in collaboration with Hiroshima University and semiconductor trading firm, Macnica Corporation.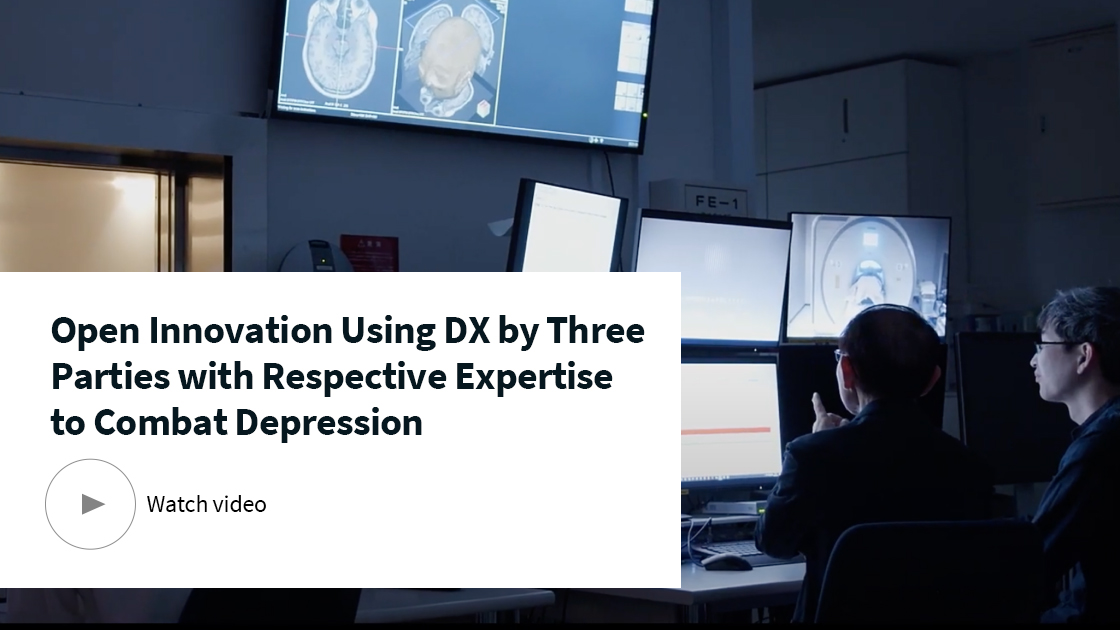 Visualizing the mind with applying brain science
It all started with research conducted by the Center for Brain, Mind and KANSEI Sciences Research (BMK) at Hiroshima University. Led by Professor Yamawaki, a psychiatrist and director for the center, the dedicated team at BMK has been developing a one-of-a-kind training method enabling patients to visualize their mental states. By monitoring these visualizations, patients can learn to regulate and guide themselves to a better state of well-being.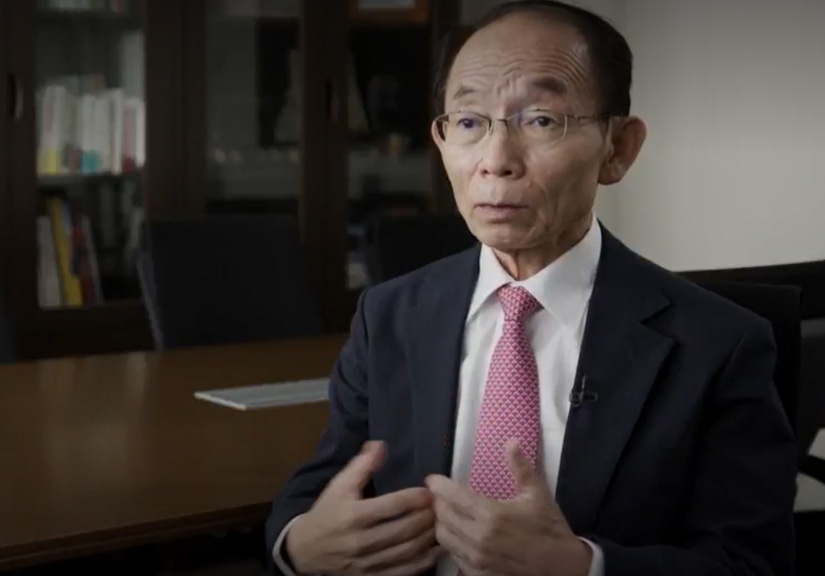 Dr. Shigeto Yamawaki MD, PhD
Specially Appointed Professor, (Former Professor, Department of Psychiatry), Hiroshima University
Director, Center for Brain, Mind and Kansei Sciences Research, Hiroshima University
Professor Yamawaki said, "Depression is a disease that hasn't been fully studied, and many aspects of it are still shrouded in mystery. Our research focuses on using technology to visualize what actually happens in the brain and the body when a person's ability to cope with stress is impaired."
This project was born out of the collaboration of three partners: Hiroshima University, a leader in cutting-edge research, Macnica, an expert in device development and AI technology, and Meiji Seika Pharma, a veteran in the development and marketing of depression medication.
"We have been developing anxiety and depression medication for over 30 years," said Sasaki of Meiji Seika Pharma. "We felt the future role of pharmaceutical companies lies in not only treating illness post-onset, but also providing preventive intervention to detect and recognize disorders before they occur."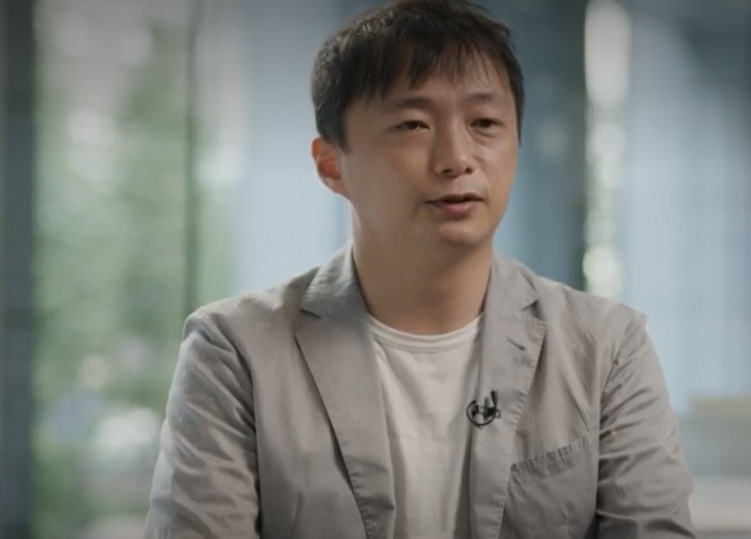 Scientific indicators for depression diagnosis and treatment
Treating depression can be challenging since there are no clear indicators to rely on. Doctors depend on their experience and own interpretation to determine treatment. There are Apps that advocate mental health using digital technology in the market, but the science behind them is often unclear. That's why we focus on scientific evidence in this project.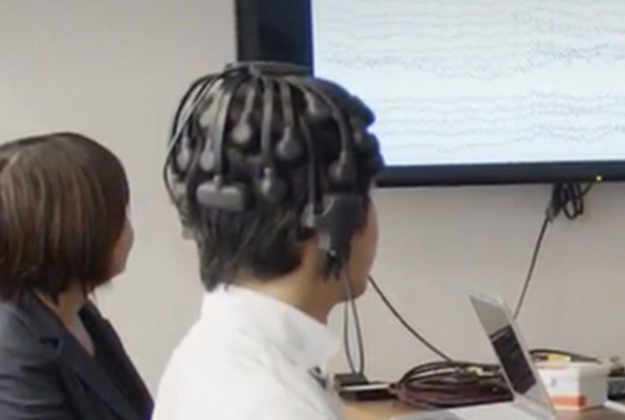 We apply a technology known as "neuro-biofeedback". The brain can grow more aware of an individual's physical and mental state by taking visualized information gathered from brain waves and the body, including markers such as body temperature, pulse, and blood pressure. From this, we gain clues about the state of mind, stress, and how close someone is in approaching depression.
Visualizing the mental state with neuro-biofeedback

Professor Yamawaki, a veteran clinical psychiatrist for more than 20 years, says that this technology may enable early detection and treatment of depression.
"There are several types of depression. Doctors will be able to promptly determine a more suitable course of treatment if they can identify which medication is most effective for a patient."
(Professor Yamawaki)
Preempting depression with open innovation
Sasaki and the team's project also envision a system that will enable people to safeguard themselves against depression by recognizing the signs on their own.
AI will store and analyze the biodata for the body and the brain collected from wearable devices. We foresee a system that not only visualizes the state of mind, but also informs the wearer of the best coping strategies through the device.
Achieving a system like this would make it possible to boost tolerance to stress and improve the ability to bounce back.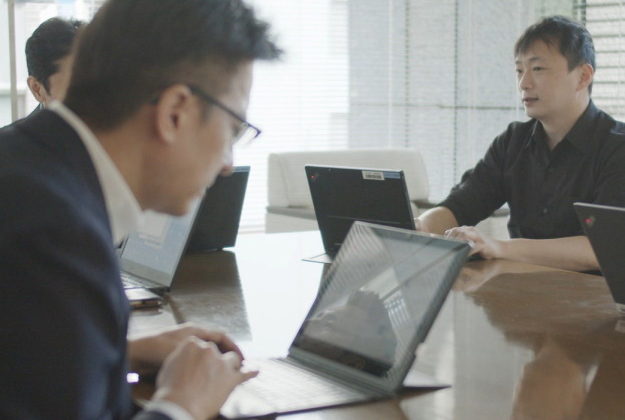 DX solution to prevent depression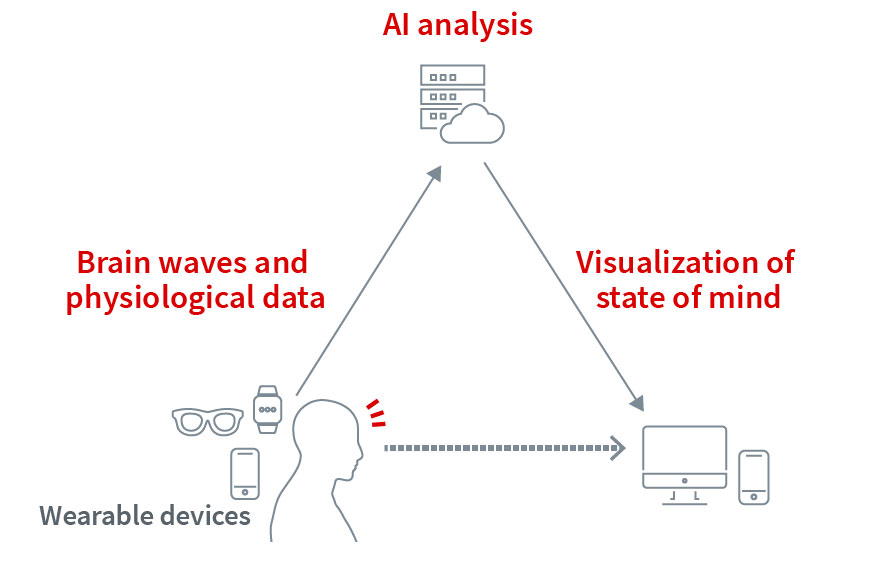 Achieving technology like this requires a high level of expertise spanning multiple fields. This is where open innovation comes into play.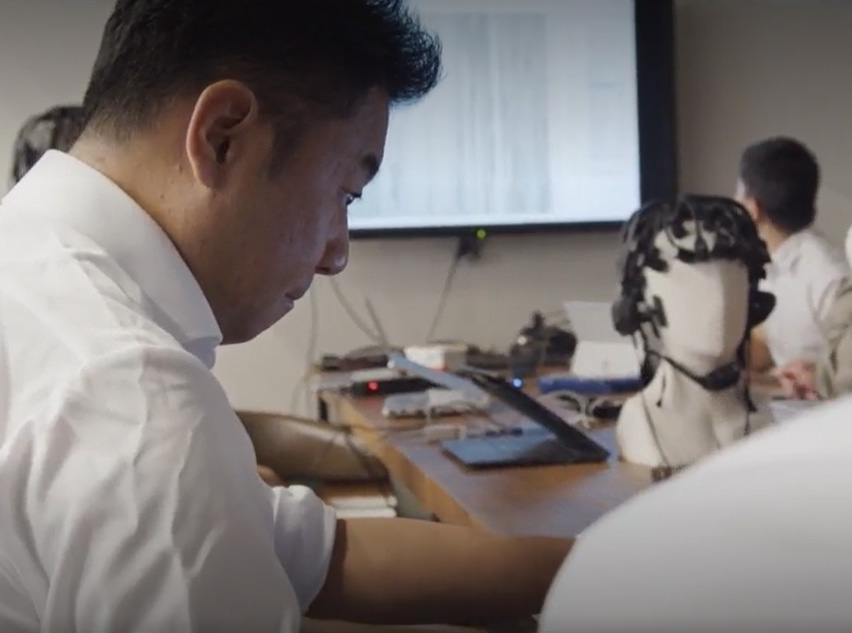 Each team brings unique strengths to development. Meiji Seika Pharma provides basic and clinical research support and market research. Hiroshima University conducts neuroscience research, and Macnica procures medical IoT devices while providing cloud, AI, and software development support.
Advancing quickly toward achievement
Currently, Sasaki's team is working on creating a model to group individuals based on the characteristics of their stress traits. This is a critical phase that will form the basis for future applied research and requires more data collection for a more precise model. Employees from Meiji Seika Pharma and Macnica are participating as research volunteers to help collect data.
Another major challenge is the device's size. Currently, data is collected using magnetic resonance imaging (MRI), but the expense and size requirements pose a significant barrier to practical application and commercialization. This is where Macnica's network as a semiconductor trading company proves beneficial. Their ability to procure devices and sensors from all over the world will definitely help us to miniaturize the devices.
Sasaki said, "Meiji Seika Pharma is a pharmaceutical company that has contributed to the treatment of depression for many years. We joined this initiative because we share Professor Yamawaki's enthusiasm. Together with everyone at Hiroshima University and Macnica, we hope to stand by those with mental illness and combat the social threat of depression."