(1) Risk Management System
The Group established a risk management structure that supports further growth to achieve the Meiji Group 2026 Vision. Under this risk management structure, we identify overall Group management risks, reduce risks, and manage appropriate risk-taking.
In April 2021, we established the Risk Management Department, which is independent of the Audit & Supervisory Board, to strengthen Group-wide risk management, and appointed an executive officer in charge of the department. The Executive Committee evaluates and confirms Group-wide management risks in line with the Group Vision and the risk control status and reports them to the Board of Directors, which evaluates and supervises the system. Thus, we can manage risks by adapting to changes in our operating environment.
Furthermore, we have established risk management systems that are suited to the Food and Pharmaceutical businesses, respectively. We regularly share risk information across the company, which includes risks common to all of our businesses and risks that have impacts on the whole Group. Accordingly, we identify, evaluate, address, and solve risks promptly. The executive officer in charge of the Risk Management Department reports information to the CEO & President and Representative Director.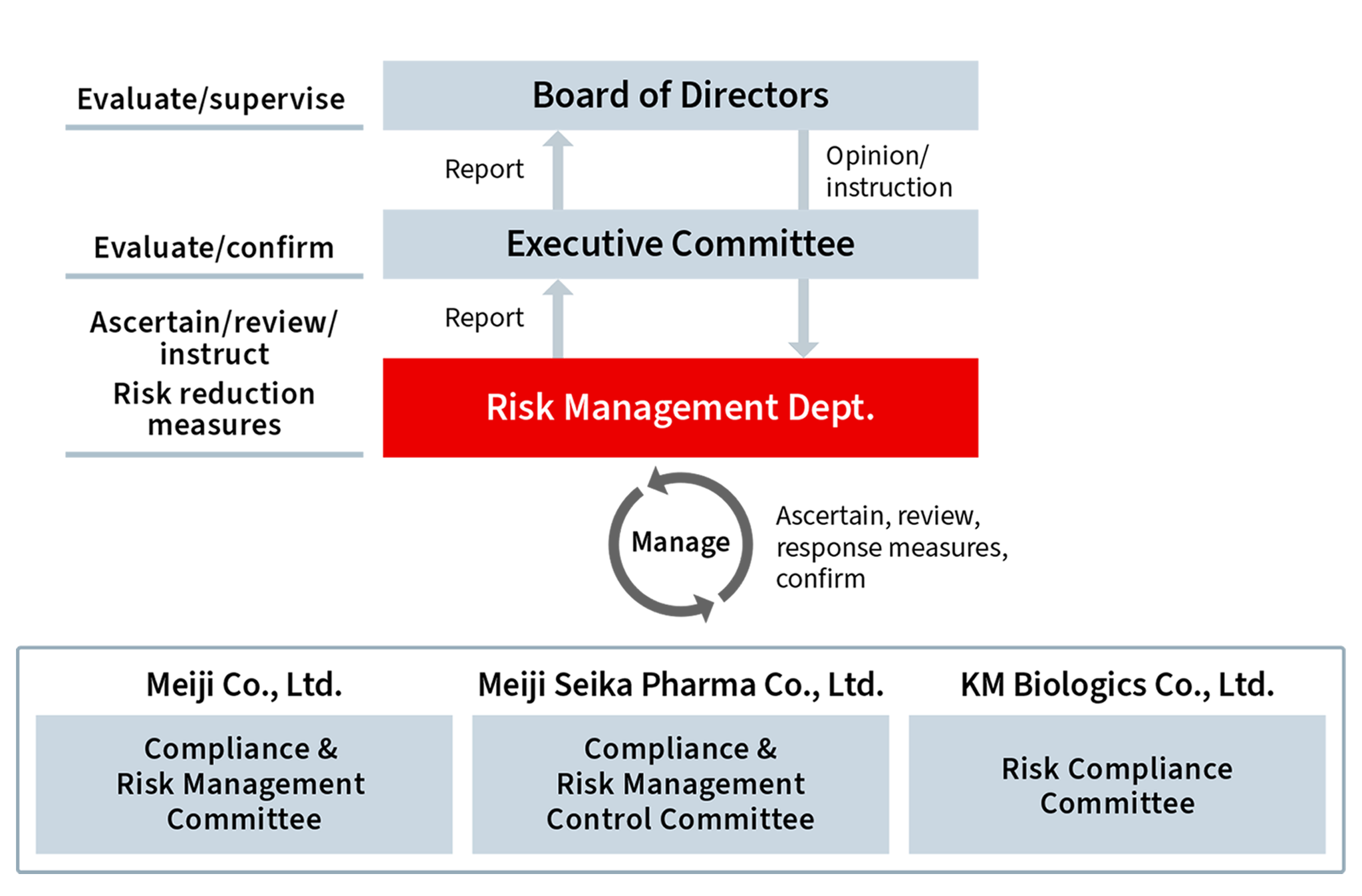 (2) The Group Business Management Risks
We appropriately identify risks and develop countermeasures considering the risk impact from a company-wide business management perspective. In this way, we not only minimize risks, but we also achieve sustainable growth and gain new growth opportunities. We outlined the three visions - the Business Vision, Sustainability Vision and Management Foundation Vision - in the Meiji Group 2026 Vision. We have identified the Meiji Group Business Management Risks based on those three Visions.
Among the matters related to the status of business, accounting, etc. as described in this annual securities report, the main risks that management recognizes as having a significant impact on the financial position, operating results and cash flows of the consolidated company are as follows.
The future risks outlined in the table below are categorized based on our medium- and long-term management strategies. We have assessed their importance to the Group, taking into account the likelihood of occurrence and the level of impact on the Group.
The information represents risks recognized by the Group as of the date of submission of this annual securities report. These risks are not a comprehensive representation of all the risks related to our businesses.
Business Risks
(As of June 29, 2022)
Risks
Countermeasures
Change in risk recognition from previous year
Importance to the Group
Sale and supply of products and services

Abandon to launch planned product
Changes in customer lifestyles and values
Negative rumors about the Company's core materials (milk, cocoa, etc.)

Establish solid Proofs of Concept (POC)
Gather information on market trends
Develop products that are friendly to the environment and society
Create products and services unique to Meiji that address social issues
Appropriately disseminate relevant information about products and materials

↗︎
$$
The majority of profits comes from specific products

Sluggish sales of products that account for a considerable portion of sales and profits

Implement promotions that maximize unique value
Improve product portfolio management
Explore new markets and new business domains

→
$$
Supply chains

Insufficient or excess procurement or price increases of raw materials
Cessation of production due to production problems, etc.
Difficulties in procuring raw milk
Unstable product supplies due to distribution problems

Gather information on raw materials markets and promote procurement strategies
Strengthen coordination between production and sales divisions
Diversify suppliers and consider alternative materials
Improve distribution efficiency through labor-saving/automation

↗︎
$$
Technological advances

Insufficient adaptation to rapid advances in digital technologies
Discovery of innovative treatment methods, manufacturing methods and formulation methods

Consider introducing new technologies as early as possible
Research new manufacturing and formulation methods, and search for alliances

↑
$$
Laws and regulations

Revisions that significantly impact corporate activities
NHI drug price revisions

Obtain information about system revisions early and implement countermeasures
Make appropriate approaches to relevant government authorities
Expand portfolio of products that are not affected by NHI drug price revisions

→
$
Overseas expansion and overseas Group companies

Rapid changes in society, or outbreaks of war or terrorism
Revisions of the systems that greatly exceed expectations in various countries

Gather information, and investigate and implement countermeasures early
Create product supply systems from multiple locations

↗︎
$$
Business plans, etc.

Failure to achieve the Visions or Medium-Term Business Plans due to change in business conditions
Growth slowdowns in Core Business, or failure to achieve targets for overseas markets or new business domains
Impairment losses on non-current assets or goodwill
Fluctuations in foreign exchange or interest

Enhance unique value and search for new value
Provide unique value in overseas markets
Manage business portfolio from the perspectives of profitability, growth and productivity
Make decisions and monitor investment and M&A plans appropriately
Use foreign exchange contracts and borrow at fixed interest rates

→
$
$$: Risks of greater importance $: Risks of great importance
Sustainability-related Risks
Risks
Countermeasures
Change in risk recognition from previous year
Importance to the Group
Caring for the Earth

Environment friendliness in corporate activities

Reduce CO

2

emissions and prevent fluorocarbon leaks, switch to renewable energies, appropriately treat wastewater and industrial waste, and conduct initiatives in compliance with ISO 14001
Manage supply and demand, and decrease food loss
Comply with policies related to the environment

→
$
Climate change

Analyze climate change scenarios according to the TCFD framework, formulate strategies and release information

↗︎
$
Thriving Communities

Sustainable raw material procurement
Understand diversity, and use a diverse workforce effectively
Consider human rights, and human rights issues

Increase the ratio of sustainably procured raw materials, such as cocoa beans and palm oil
Strengthen cooperation and collaboration with dairy farmers and other suppliers
Create organizations and cultures that value diverse perspectives and abilities
Address challenges of human rights based on due diligence
Strictly comply with policies, guidelines, etc. related to procurement, human rights, society, and so on.

→
$
Management Foundation-related Risks
Risks
Countermeasures
Change in risk recognition from previous year
Importance to the Group
Corporate Governance

Make business decisions in a timely and appropriately manner
Internal or external non-compliance

Improve effectiveness of the Board of Directors
Enhance corporate governance systems
Provide education on compliance and social media usage, and comply with internal and external policies

→
$
Damage to the Meiji brand

Product recalls or withdrawals from the market due to quality defects or unexpected side effects of pharmaceuticals, etc.
Unexpected harmful rumors about the Group or products

Pursue quality and safety
Communicate appropriately with each stakeholder

→
$$
Human capital and culture

Recruit and develop human capital required for corporate growth
Employee engagement
Effects of business environment on productivity

Appropriately implement succession planning
Improve employee training
Enhance employee engagement
Enhance health and productivity management and create comfortable work environments

→
$
Information asset leaks

Information leaks and system shutdowns due to unauthorized access, etc.
Data breaches due to inappropriate system management

Strengthen information management systems and information security
Strengthen education on information management and comply with regulations and policies

↗︎
$$
Disaster, emergency or other unforeseen circumstances

Temporary or full suspension of business operations due to disasters, pandemics or other unexpected emergency
Increases or decreases in product demand due to changes in business conditions in an emergency

Develop business continuity plans and risk management plans for swift recovery
Maintain a broad product portfolio across the Group

↗︎
$
The Board of Directors selected the priority initiative topics for FY2021 relating to Group business management risks and confirmed the initiatives of each operating company.
Priority initiative topics for FY2021:
(1) Confirmation of quality assurance systems and reliability assurance structures applied to contract manufacturers and development partners.
There was an incident whereby a hypnotic substance was contaminated in Itraconazole tablets manufactured by Kobayashi Kako Co., Ltd. and sold by Meiji Seika Pharma Co., Ltd. In response, we confirmed the quality assurance system and the reliability assurance structure applied to contract manufacturers and development partners.
(2) Discovery of innovative treatment methods, manufacturing methods and formulation methods
In responding to the rise of mRNA vaccines as COVID-19 vaccines, we confirmed recognition and evaluation of and response to the technology.
(3) Information leaks and system shutdowns due to unauthorized access, etc.
Damage suffered by companies due to ransomware and targeted email attacks have become more prominent, and therefore, we confirmed our countermeasures against unauthorized access under usual conditions and responses when such incidents occur.